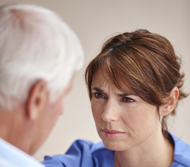 By Terry Fulmer
The subject of elder mistreatment featured prominently in the 2015 White House Conference on Aging, with commentary from experts, as well as from President Obama, who said, "We're going to train more prosecutors in how to combat elder abuse." That is one place to start.
However, the clinical workforce, including nurses, physicians, social workers, pharmacists, physical therapists and allied health workers, should be front and center on this issue. Elder mistreatment affects nearly one in ten older adults in this country, and can be identified by astute clinicians who use a systematic approach to screening and assessment that leads to proper identification and management. But few clinicians have such an approach, and instead may mistakenly attribute the signs and symptoms of elder mistreatment to the aging process or to disease, rather than to abuse, neglect, exploitation and abandonment. How can we change practice to ensure elder mistreatment is properly addressed?
One reason for limited attention to elder mistreatment is ageism. Symptoms such as unusual bruises or fractures—injuries that would never be overlooked in younger individuals, especially in children, are frequently written off due to old age. Older people do fall more often, and bruise more easily than younger individuals, but normalizing fall injuries and bruises leads to under-identification or complete lack of assessment for elder mistreatment.
Dementia is another clinical syndrome that can cloud a clinician's assessment of elder mistreatment. If the older person can't explain what has taken place, only those who are actively trying to determine if there is elder mistreatment will obtain the necessary information to decide whether or not the older person has been victimized.
Approaches to Assessing Elder Mistreatment
Screening tools and protocols are available through several organizations, including the National Center on Elder Abuse, the Agency for Healthcare Research and Quality and the National Institute on Aging. It is extremely important to embed processes and to have adequate administrative support for successfully implementing such protocols. Clinicians should be afforded the time to develop protocols and procedures, as well as to process elder abuse cases, just as they would process any other family violence case.
ASA Resources on Elder Mistreatment and Elder Justice
ASA is excited to announce two new online courses covering preventing, detecting and responding to elder mistreatment, offfered in partnership with the USC Leonard Davis School of Gerontology. Successful participants will earn a certificate of completion from USC. Also, CEUs are offered from select accreditation providers. Click here to learn more and register.
ASA's 2017 Aging in America Conference will feature more than 22 workshops covering all aspects of elder mistreatment and elder justice, including innovative models of prevention and intervention in the community and primary care settings, statewide elder justice initiatives, financial exploitation, and more. Click here to review the conference announcement.
In keeping with ASA's commitment to providing our members and stakeholders with access to information and resources, ASA has compiled several articles and web seminars on elder mistreatment and elder justice into an easy-to-use web resource—click here to visit.
Each organization's agency will be different, but the fundamental question stands: Is there any suspected elder abuse in the individual being assessed? Every older adult requires and deserves an elder mistreatment assessment, whether one uses a single-item screening question such as "Are you safe at home?" or a longer battery of questions to get at the case's clinical nuances. Every clinical setting should have an elder mistreatment protocol in place and ensure it is being effectively applied and monitored. This includes a screening protocol, a clinical approach to care planning and appropriate referrals to Adult Protective Services (APS) and legal entities, as needed. One such entity is the Multi-Disciplinary Team Model developed by Dr. Laura Mosqueda.
As with any clinical protocol, both cultural context and the structural situation of the older person's living environment must be considered. Is a paid caregiver, such as a nurse, caring for the individual and might the concern be malpractice? Or is a frail elderly spouse caring for the individual? A solid understanding of the family dynamic, including identifying caregiver(s) is extremely important, as is engaging an interdisciplinary team to effectively address these complex cases.
Screening and Response Strategies that Support Elders, Caregivers
Older adults feel extremely vulnerable when sensitive questions are asked about their caregiving experience. What if the caregiver finds out a complaint was voiced? Will they withdraw care, even if that care is less than optimal? Will they threaten nursing home placement? If the family is identified as the source of elder mistreatment, will the older adult be able to remain in the home? In sorting out the issues, clinicians must anticipate these worries and maintain confidentiality, and should provide opportunities for private interaction with older adults. It is important to let the older person know that if imminent harm is a possibility—as in the case of physical assault—reporting is mandatory and APS will become involved to help create a safe situation.
When elder mistreatment is identified, every effort must be made to have a strong plan of care and systems in place, such as involvement with APS, to ensure there won't be repeated problems. Is the caregiver aware of the concerns and can changes be made that prevent future problems? Is the older adult willing to accept services and is he or she competent to make that decision? This is a critical point for any clinician who has identified elder mistreatment to see that the right services and consultations have been arranged. Elder mistreatment cases are complex, time-consuming and rarely straightforward. Interdisciplinary team collaboration is essential and forms the cornerstone for successful care planning and positive outcomes.
Exemplars that use a multi-disciplinary team have specially trained physicians, nurses and social workers who understand how to assess, identify, treat and refer older adults who are suspected victims of elder mistreatment. These teams understand how to work with APS and other community resources to address the needs of the victim and the family. The John A. Hartford Foundation is committed to doing what it can to draw attention to all the ways practicing clinicians can successfully address and help eliminate elder mistreatment.
Terry Fulmer, Ph.D., R.N., F.A.A.N., is president of The John A. Hartford Foundation in New York City.
Editor's Note: This article appears in the July/August 2016 issue of Aging Today, ASA's bi-monthly newspaper covering issues in aging research, practice and policy nationwide. ASA members receive Aging Today as a member benefit; non-members may purchase subscriptions at our online store.