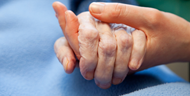 By Anne Cutter Mikkelsen
The concept of immersion caregiving is not new. It's the return of an old tradition supplemented by current science and increased social awareness.
Immersion caregiving means engaging wholly and deeply to help another person achieve fullness of life and in the end, a brilliant, peaceful and dignified departure.
While total immersion in caregiving is not always feasible, if you have all the ingredients, this model can be profoundly gratifying and transforming.
After several years adjusting to Parkinson's Disease, my husband Mike and I stumbled into a care-partner arrangement that literally embraced his condition. We joined the Parkinson's community, absorbing opportunities for education, advocacy and celebration. At the same time, we pursued our individual and combined passions.
As a professional chef, I was excited by the discovery that, among other factors, eating certain foods may help slow the progression of PD. Mike, a life-long artist, continued creating his sculptures to raise awareness of his illness. He attended yoga two days a week, while I trained as a Hospice volunteer and authored the book, "Take Charge of Parkinson's Disease." Together we wrote his life story, about his passion for cars, art, junkyards and life.
A year and a half before he died, Mike reported an acute observation. "I can't identify what it is exactly," he told me, "but something is happening inside my body. I have to pay attention now. I know I'm dying. Don't know when, but things are really changing." After almost 30 years of Parkinson's, Mike opened the door to help us both shift gears. Together, we began learning how to relinquish earthly desires and focus on the ultimate adventure.
In this session, we'll discuss: strategies for keeping a loved one at home during the dying process; the emotional and spiritual growth that may occur during caregiving and at the end of life; approaches to guiding the younger generations away from the currently accepted mode of a medicalized, lonely death; and how the connection to loved ones during the mystical process can unfold without meds.
Most importantly we'll explore how you can embrace the enlightening experience of dying. To begin: PAUSE. Close your eyes. Put your hands together. Prepare to witness the tender and the magnificent.
Suggested Resources:
"Take Charge of Parkinson's Disease," Anne Cutter Mikkelsen, Diamedica Publishing, New York, 2011.
"Hallucinations," Oliver Sacks, Knopf Publishing, 2012.
"More People are Dying at Home and in Hospice, But They Are Also Getting More Intense Hospital Care," Forbes.com, by Howard Gleckman, 2/06/13.
"Finding the Words (or Not) to Say Goodbye," New York Times, by Bruce Feiler, 12/28/2012.
"On Death and Dying," Elizabeth Kubler-Ross, Simon & Shuster, New York.
---
Anne Cutter Mikkelsen is an author and publisher based in Bellingham, Wash. Her sixty-minute workshop, "Innovative Strategies for Sustaining Long-Term Family Caregiving," will be presented at 11 A.M. on Thursday, March 13, 2014 in the Nautical Room (Harbor Tower, 4th floor) at the Manchester Grand Hyatt Hotel in San Diego. You can search the full program and create a personal conference itinerary using our online event search tool, which is also the best guide to last-minute program changes. Author's website: www.annecuttermikkelsen.com. Twitter: @takechargeofpd.