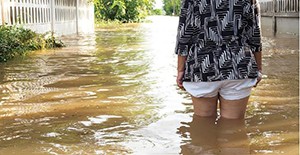 By G. Adriana Perez
The outsize impact of climate change on older women should be a national health priority for clinicians, scientists and professionals working in public health. Women account for 56.7 percent of adults ages 65 and older in the United States, and at ages 85 and older, they outnumber men by a ratio of five to two. Because women continue to outlive men, most older women live alone and may depend upon their social and community networks for assistance.
As the word climate indicates the average weather of a region over time, climate change means a change in the average weather that lasts for a longer period of time. While some causes of climate change are due to natural variability, researchers attribute the burning of coal, oil and gas as being a major contributor to climate change; burning these fuels results in heat-trapping gases such as carbon dioxide (CO2).
Studies have shown that increases in CO2 lead to increases in surface ozone, carcinogens and par­ticulate matter (PM2.5). Also known as "fine particulates," PM2.5 includes particles with diameters of 2.5 micron in size or less, which, as a result, can travel deep into our lungs, causing harmful effects that lead to or aggravate heart or lung disease. For older adults, this results in higher primary care and emergency room use, more frequent hospital admissions, restricted activity and an increase in prescription medication use.
Women's Health More at Risk
As women age, they are at risk for chronic diseases including cardiovascular disease, diabetes, chronic obstructive pulmonary disease (COPD) and asthma. It is important to note, air pollution can trigger COPD and asthma and increase the risk of heart attack in older adults, especially those who are diabetic or obese.
Many chronic diseases disproportionately affect older, ethnic minority and poor women. For in­stance, although heart disease is the No. 1 cause of death for all women, older Latinas experience high­er risk, due to higher rates of high blood pressure, diabetes, obesity and physical inactivity. Despite these factors, older Latinas are significantly less aware of their risk of heart disease; and prevention efforts often do not effectively reach diverse older adults.
Furthermore, older women also experience higher rates of poverty, compared to men. Most women have lower lifetime earnings, greater out-of-pocket annual healthcare expenses and many rely on Social Security for a longer period of time. These are all economic hardships that are wors­ened by climate change. Because of their health, socioeconomic status and longevity, it is impor­tant that any current and future initiatives on climate change and environmental health address the linguistic, cultural, social and financial needs of older, diverse women.
Women's Survival Odds in Peril
Older women's ability to overcome or survive the effects of climate change depends upon their functional and cognitive capacity. More than 50 percent of women ages 65 and older do not do the recommended amount of physical activity. As they age, women experience a decline in muscle strength, balance and coordination that often results in injury and chronic disease, including high rates of arthritis and osteoporosis.
During a climate change event, it may be more difficult for older women with bone loss and mobility impairments to respond, evacuate and recover, thereby experiencing a higher risk of in­jury or death. Also, older women suffer disproportionately from depression, Alzheimer's disease and other dementias. Climate change exacerbates all of these limitations.
Deaths from heat exposure are most commonly reported among adults ages 65 and older. And there is higher morbidity and mortality among older adults and women from evacuation efforts during hurricanes or extreme cold temperatures and storms.
For those women living in community, the effects of climate change also have an indirect effect upon their families. Many older women, particularly African American, Latinas and immigrants serve as caregivers to their grandchildren and families, often placing themselves at risk in order to help oth­ers. Thus, their health and well-being is an intergenerational priority.
Action Items for Advocates
As multidisciplinary advocates for older adults and their families, our work and practice should keep in mind the impacts of climate change on older women. While there are significant challenges to effectively addressing climate change, there is also tremendous opportunity to lead in this area. The first step is to raise awareness internally among our peers and externally among older adults to whom we provide healthcare or social services, and to the public.
Secondly, climate change remains understudied and underfunded. We must engage in or support research that examines the effects of climate change, in both the short and long term, as well as test interventions that may control or diminish these effects upon vulnerable populations.
As an Advanced Practice Registered Nurse providing care to primarily older adults, I am constantly reminded of the unique considerations I must give to older women patients in primary care. The ma­jority are diagnosed with heart disease, diabetes and asthma, therefore, my assessment and plan in­cludes a special focus on air quality, while still promoting safe, gradual increases in physical activity, especially activities that can be done with children or grandchildren, both in the home and outside the home, when appropriate.
Involving family members and caregivers in prevention and health promotion efforts also re­flects the cultural and social needs of diverse women. Decades of research among Latinas, show that "familismo" or the inclusion of family—especially in healthcare—supports the person and pro­tects against chronic disease and illness.
For those involved in long-term-care services, designing evacuation plans related to extreme weather should assess the capacity of their most vulnerable residents—older women—both pre- and post-disaster. Ultimately, because climate change research remains understudied, we must advocate for increased support and funding to effectively design and test interventions that pro­tect older adults, and specifically women and other vulnerable populations, from the negative con­sequences of climate change.
Finally, from a structural and policy perspective, the roadmap to climate change response must incorporate the voice and leadership of women across generations. For example, on average, wom­en are more involved in managing household and community resources, including the available natural resources that may impact survival during climate change events. Unfortunately, women continue to be underrepresented in federal, state and local decision-making bodies that address environmental health policy.
The United Nations encourages governments to incorporate women's perspectives into their national policies and action plans addressing climate change. In addition to involving women as change agents, and appointing them to leadership positions, the U.N. recommends including sys­tematic gender analysis and gender-sensitive benchmarks, with practical tools to support and raise awareness on climate change and gender issues.
G. Adriana Perez, Ph.D., C.R.N.P., F.A.A.N., F.G.S.A., is assistant professor of nursing at the Uni­versity of Pennsylvania School of Nursing in Philadelphia.