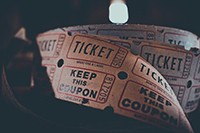 By Katherine Pieper and Stacy L. Smith
We are in a new age of consumption—media consumption that is. And it transcends demo­graphics. Individuals ages 60 and older represent roughly 20 percent of the U.S. popula­tion. In 2017, elders represented 16 percent of movie-ticket buyers in the United States and Canada, and spent more than 50 hours per week watching television, according to Nielsen.
As a sizeable share of the audience, one might expect that this cohort would feature prominently in the media it consumes. The USC Annenberg Inclusion Initiative, in partnership with the health insurance company Humana, set out to see if this expectation was true.
Older Adults Mostly Missing from Film
Across the 100 highest-grossing movies in 2016, only 11 percent of speaking characters were ages 60 or older. Not only are older adult characters rare, but also when they appear on screen, older characters are predominantly white and male. Only 26.4 percent of older speaking characters in film are women and roughly a quarter of elders are from under-represented racial or ethnic groups. Older females from under-represented racial or ethnic groups often are invisible. On-screen story­telling does not depict the diversity of the older consumer audience.
The Initiative's studies also examine the ways in which older adults are depicted. Only 22.6 percent of elders in film are shown traveling, and few older characters have health problems. Sim­ilarly, it is rare for them to die on screen, but of those who do, most older adults die as a result of violence. This paints a picture of elders that is counter to what we know to be true of the U.S. population, in which heart disease, respiratory illnesses and cancer are major causes of death in older adults.
Also, the language used to describe older adults is problematic. Of 57 top movies in 2016 that featured a leading or supporting older character, 44 percent contained ageist comments. The po­tential consequences of stereotyping older adults through the use of mischaracterized commen­tary are notable. Research shows (tinyurl.com/y7clgydt) that priming these stereotypes can nega­tively influence physical and cognitive health outcomes, such as performance on memory exercises, handwriting tasks or cardiovascular stress.
One additional finding from the Initiative's study of popular television was that fewer ageist comments were included in programming when a writer or showrunner who was age 60 or older was present. This underscores the importance of giving elders a voice when telling stories that focus on characters in this age group.
Addressing the Lack of Older Adults in Media
The conversation on inclusion in media has reached peak volume, but often, older adults are left out of the push for more diverse casting. What can be done to ensure that individuals ages 60 and older are part of our media landscape?
The Annenberg Inclusion Initiative (tinyurl.com/y8osrar7) has advanced several solutions that could increase representation in film and television—including for older adults. One is the use of an inclusion rider for film and TV productions. Stacy Smith introduced this concept to the entertainment industry in 2014, but we have watched the idea gain momentum since Frances McDormand an­nounced the phrase from the Academy Award stage this year. An inclusion rider is a clause that can be embedded into contracts to ensure that an equitable process is used for casting and behind-the-scenes hiring. Specifying that individuals ages 60 and older should be included in on-screen roles is one way an inclusion rider might tackle the absence of older adults in media.
A second solution starts with screenwriters. The majority of characters in a movie are incidental to the plot, yet males outnumber females (of any age) by roughly 2 to 1. To address the persistent lack of females in film, we have suggested that writers "just add five" female characters to their scripts. This will not only remedy the overall lack of female characters in movies, it can be an easy way to add older women to storytelling. The five female characters can be of any age, race or ethnicity and sexual orien­tation, and can include women with disabilities. By putting women in the script at the beginning of the process, writers can ensure that women—especially those ages 60 and older—are a part of our cultural narratives.
Lastly, consumers can push for more balanced representation in the media they consume. Indi­viduals ages 60 and older are a significant and growing percentage of our population and the media audience. They also have a sizeable spending power. With that influence, older adults can advocate with the dollars they spend and the television they watch to support the types of stories they want to see. As an example, films like Book Club, or last year's Victoria and Abdul feature older female characters in leading roles. By supporting movies that star individuals ages 60 and older, adults in this age group can advocate for more of these stories to be made.
Katherine Pieper, Ph.D., is a research scientist for the USC Annenberg Inclusion Initiative in Los Angeles. Stacy L. Smith, Ph.D., is founder and director of the Initiative. For more about the Initiative, visit annenberg.usc.edu/research/aii.
Editor's Note: This article appears in the July/August 2018 issue of Aging Today, ASA's bi-monthly newspaper covering issues in aging research, practice and policy nationwide. ASA members receive Aging Today as a member benefit; non-members may purchase subscriptions at our online store.