By Mark Toles, Heather M. Young, and Joseph Ouslander
Figure 1: Common Care Transitions in Nursing Homes

Source: M. Toles, 2012
Care transitions expose older adults to added risk for medical complications, decreased quality of life, and overuse of acute healthcare services (National Transitions of Care Coalition, 2010). As illustrated in Figure 1 (right), the rates and types of care transitions in nursing homes are shaped by the diverse needs, preferences, and health trajectories of older adults. In some instances, residents require only short stays with rapid transitions to home; in others, residents enter nursing homes, experience acute changes in health, and transition to and from emergency departments or hospitals before returning to the nursing home or returning to their own home.
Though still in the early development stages, a range of new strategies has been designed to prevent avoidable care transitions in nursing homes and to ensure the coordination and continuity of care during transitions. This article proposes a model that describes goals and new strategies for supporting older adults and their family caregivers during three common care transitions in nursing homes.
Nursing Home Demography, Trends, and Care Transitions
Figure 2: Length of Stay in Minnesota Nursing Homes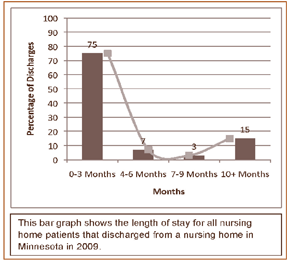 Source: M. Toles, 2012
Two demographic patterns in nursing homes complicate the goal of ensuring effective care transitions—shorter lengths of stay and greater health acuity. In 2009, 3.3 million residents received care in nearly 16,000 U.S. nursing homes. Unlike in the past, when people remained in nursing homes for years, most people today enter nursing homes for short stays that usually last no more than one to three months (see Figure 2, right). For example, in Minnesota, the mean length of stay was 248 days (eight months), while the median length of stay was 27.5 days (Minnesota Department of Health, 2012). The task of managing care transitions is now an expected component of nursing home services.
Older adults also now enter nursing homes with increasingly acute health conditions, which means they are more vulnerable to poor health and quality of life outcomes. As a group, nursing home residents have a median age of 85 years. They are often dependent upon caregivers for three or more conditions are advanced and professional assistance is required to manage geriatric syndromes, such as falls and incontinence. Thus, nursing home residents are highly vulnerable to harm from poorly executed care transitions, including inadequate communication of critical information from the hospital, medication errors, omissions, delays in follow-up diagnostic tests and treatments, and repeated hospitalizations.
A Conceptual Model of Care Transitions in Nursing Homes
The fundamental goal of those assisting older adults during care transitions is to promote safe and person-centered transitions that are most likely to achieve resident and family caregiver goals without complications (American Medical Directors Association, 2010). The question arises, then, what can be done about care transitions in nursing homes? How can they be made safer and more effective, person and family-centered, timely, efficient, and equitable?
Figure 3: Goals, Strategies, and Exemplars for Improving Care Transitions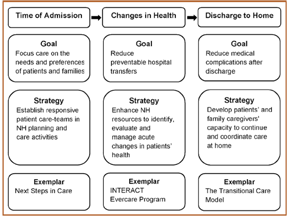 Source: M. Toles, 2012
Although a great deal more experimentation is needed to answer these questions fully, we propose the following three goals and related strategies for improving the quality of care transitions in nursing homes:
Starting at the time of admission, establish responsive care teams to focus care on the needs and preferences of residents and families;
During nursing home stays, enhance resources to identify, evaluate, and manage acute changes in health to reduce preventable hospital transfers; and,
Enhance residents' and family caregivers' capacity to coordinate and continue care at home to reduce medical complications after transition from the nursing home to home.
The model in Figure 3 (right) summarizes strategies and exemplars for each of these goals, with additional discussion below.
Focusing care on the needs and preferences of residents and families
In nursing homes, care transitions are coordinated in care teams composed of older adults, family caregivers, nursing home staff, and hospital or community partners in care. Limited interaction among care-team members constrains the delivery of person- and family-centered care; for example, routine nursing home processes (e.g., assessment of health needs) neglect or drown out the voices of residents (Koren, 2010); family caregivers miss opportunities to participate in care and champion the needs of their loved ones (Levine et al., 2010); and inconsistent communication between hospital, community, and nursing home providers disrupts the continuity of care (Coleman, 2003).
Without an organized team response to resident and family caregiver needs, nursing home admission processes are laden with risk for older adults. More than 15 percent of skin ulcers and 28 percent of respiratory infections that occur in nursing homes develop during care transitions (Doupe et al., 2011). Thus, the cultivation of care practices that empower, engage, and support full participation of all care team members (e.g., residents, families, and community partners) is critical for effective care transitions.
Perhaps no change is more important than engaging older adults and family caregivers in conversations about what they need and want (Berwick, 2009). At time of admission, nursing home staff members focus on assessing code status, active health problems, comorbidities, medications, functional status, and advanced directives. It is commonly believed that this emphasis on health information improves resident safety in nursing homes.
But, safe and effective care transitions are possible only with the greater engagement of residents and families (National Transitions of Care Coalition, 2010; Snow et al., 2009). As nursing home staff strive to improve care transitions at admission, they should discuss care goals with residents and family caregivers, including their motivation for getting better and descriptions of positive outcomes, things they hope will change, optimism or uncertainty about the future, and interventions they believe will foster healing and adjustment in the nursing home. An even more significant change would be to develop processes for responding to what residents and family caregivers want; for example, a systematic measurement of care that reflects how well residents have healed in relation to their goals.
The roles of family caregivers in caring for patients in skilled nursing facilities are numerous, from providing emotional support for patients, to partnering with staff to plan and deliver care, to collaborating in transitional care planning and identification of needed supports for continuing care at home. Directing family caregivers to educational resources, such as the guides and checklists in "Next Steps in Care" (available from the United Hospital Fund) will increase their understanding of care in skilled nursing facilities and their ability to participate in care teams.
For example, using the Fund's "Admission to Inpatient Rehabilitation Services" guide, family caregivers can explore common factors that influence rehabilitation's effectiveness, strategies to optimize treatments in the nursing home, and ways to prepare for continuing care at home. By incorporating these resources in routine care, family caregivers will more effectively learn to ask the right questions, participate in care and help to articulate residents' and their own needs and preferences. For details on all of the Fund's diverse tools in the campaign program, visit www.nextstepincare.org.
Finally, greater participation by hospital providers on nursing home care teams is essential to delivering safer and more person-centered care. Nearly 11 percent of all errors in nursing homes occur during transitions from hospitals to nursing homes (Desai et al., 2011). Thus, the systematic use of standardized transfer templates and forms is necessary to foster timely and accurate communication between hospital and nursing home providers (American Medical Directors Association, 2010); for example, to relay medication lists and advance directives from hospitals to nursing homes during transitions.
Reducing preventable hospital transfers
Hospitalization is a common care transition in nursing homes. Each year, more than 2 million nursing home residents transfer to hospital emergency departments, and nearly half are hospitalized (Wang et al., 2011). These hospitalizations interrupt relationships and patterns of care in nursing homes. They expose residents to added risk for adverse events in hospitals, such as falls, skin ulcers, and hospital-acquired infections. They are also very expensive. In a recent estimate, one in four skilled nursing facility residents was hospitalized within thirty days of admission—at the cost of 4.3 billion dollars per year (Mor et al., 2010). A substantial proportion of these hospitalizations is either unnecessary or preventable. To prevent such unnecessary care transitions, new strategies are needed to provide sub-acute and acute medical care in nursing homes (e.g., for dehydration and common infections).
Policies in the Affordable Care Act (ACA) create financial incentives for nursing homes to manage residents with acute changes in health, without transferring them to hospitals. For example, new pay-for-performance programs are being designed to reward nursing facilities with improved outcomes, including reductions in avoidable hospitalizations. Policy changes such as those mandated by the ACA are only a beginning.
Not all nursing homes have the staffing, training, and technical resources for managing sub-acute and acute health changes; it is necessary to increase the capacity of staff in nursing homes to deliver acute healthcare services. Nursing facilities will need physicians and advanced practice nurses to organize responses to resident health needs, interprofessional teams (nurses, social workers, pharmacists, dietitians, physical therapists) prepared to deliver more advanced care, and technical resources (such as communication tools) to help integrate care team responses to changing resident needs during acute care episodes. There are also incentives for hospitals that reduce re-admissions, a substantial proportion of which come from nursing homes. Hospitals all over the county are seeking nursing home partners who are better able to manage acute changes in condition safely and effectively without unnecessary transfer.
Interventions to Reduce Acute Care Transfers (INTERACT) is an exemplar strategy for preventing hospitalizations of nursing home residents. INTERACT is a quality improvement program with clinical practice tools, communication strategies, and related resources designed to assist nursing homes in identifying and managing acute changes in condition without hospital transfer when safe and feasible. Findings from a quality improvement project using INTERACT in thirty nursing homes indicated that the program was associated with a 17 percent reduction in allcause hospitalizations over a six-month period (Ouslander et al., 2011). Homes that more fully implemented the interventions had a 24 percent reduction. Although these findings have not yet been replicated in a randomized controlled trial, they suggest that the training, tools, and support in the INTERACT program are valuable strategies for reducing avoidable hospitalizations. To review key elements of the program, visit interact2.net.
Several approaches for reducing preventable hospital transfers have been effective. Probably the best-tested interventions use nurse practitioners working in collaborative teams with physicians (Konetzka, Spector, and Limcangco, 2008), as in the Evercare program, for example (Kane et al., 2003). In related research, Berkowitz and colleagues (2011) achieved comparable results with a set of interventions designed to reduce hospital transfers from a skilled nursing facility. In this study, facility-level interventions (e.g., standardized admission assessments, palliative care consultations for residents with recurrent hospitalizations, and multidisciplinary case conferences) were associated with a 19 percent drop in the rate of hospital re-admissions and a significant increase in the number of residents with palliative care deaths in the skilled nursing facility. Combined with results from the INTERACT and Evercare study (Kane et al., 2003), these findings suggest that developing targeted resources and care processes in nursing homes may be a useful strategy for reducing preventable hospital transfers.
Reducing medical complications after discharge 
Staff members plan discharges and make referrals for followup care at home after discharge from the nursing home. However, many critical transition services are not provided in nursing homes, and errors in medical care commonly occur during care transitions to home (American Medical Directors Association, 2010; Coleman et al., 2004). Consider the following case narrative:
A 90-year-old resident with a new stroke completes rehabilitation in a skilled nursing facility and transfers to her son's home for continuing care. After a stop to pick up medications in a pharmacy, the resident comes home and rests comfortably. Two days later, a pharmacist calls the resident's son to say that her anticonvulsant medication is now ready for pick-up. The son had not been told in the nursing home or in the visit to the pharmacy that an anticonvulsant medication was prescribed and not available. Thus, several doses of the medication were missed over the two days since the resident's discharge.
Residents and family caregivers are predisposed to anxiety, hardship, and complications during care transitions to home. For example, limited epidemiological data on nursing home transitions suggest that 13 percent of nursing home residents require a trip to the emergency department or rehospitalization within thirty days of their care transitions to home (Murtaugh and Litke, 2002).
Transitional care has emerged as the predominant model of services designed to promote coordination and continuity of care for older adults and family caregivers during transitions between settings and providers of care (Snow et al., 2009). Transitional care typically includes services to prepare residents for discharge (e.g., resident education and discharge planning), to follow-up after discharge, (e.g., telephone calls and home visits), and to bridge settings of care (e.g., resident health records and written self-care instructions) (Hansen et al., 2011).
Though rarely studied in nursing homes, transitional care interventions are effective in the care of hospital patients older than age 65, particularly as measured by reductions in hospital re-admissions (Naylor et al., 2011). It is now commonly believed that transitional care services will be important resources for older adults during their transfers from nursing homes to home (American Medical Directors Association, 2010; National Transitions of Care Coalition, 2010).
Although intervention studies with transitional care in nursing homes are just beginning, the following lessons from research thus far inform approaches for improving the quality of transitional care for nursing home residents:
Even medically complex nursing home residents can benefit from the effective implementation of transitional care interventions (Meador et al., 2011).
As noted by Hansen and colleagues (2011), studies of hospital-based transitional care interventions contain many components (e.g., inpatient and outpatient services) and analysis of the relative efficacy of individual components is difficult to estimate. Research is needed to identify the types of services required by different groups of residents. For example, relatively healthy nursing home residents may require transitional care services before discharge but briefer interventions after discharge, whereas more medically complex residents may require intensive services during and after transitions from nursing homes to home.
To be effective, transitional care interventions may need to target a wide mix of nursing homes and to coordinate services with Medicare or Medicaid waiver or HMO plans (Newcomer, Kang, and Graham, 2006).
Research is needed to determine whether and how staff members in nursing homes can be used in "re-engineered" nursing home discharge services to improve resident and family caregiver outcomes without using costly, added transitional care coordinators (Toles et al., 2012).
Conclusion
Today, older adults transition between settings of care to obtain healthcare that matches their clinical and social needs. In response to residents' vulnerability, the needs of family caregivers, and the frequency of care transitions, nursing homes have emerged as vital providers of services to ensure necessary and effective care transitions.
There are a range of potentially useful strategies to improve care transitions in nursing homes (see Figure 3, above) but most are in the early stages of development and require significant research before wide-scale adoption in nursing homes is possible. Our review suggests three primary research priorities, including the development and testing of interventions to facilitate person- and family- centered care starting at the time of admission; the development of resources to manage sub-acute and acute health conditions in nursing homes; and the delivery of transitional care in nursing homes to support residents and families when nursing home care completes.
Improvements in care transitions in nursing homes will also hinge on changes in system- and facility-level policies and resources (American Medical Directors Association, 2010; Golden et al., 2010; Maslow and Ouslander, 2012). At the system level, services that integrate healthcare (e.g., care coordination and electronic health records) are poorly developed; residents or their family caregivers must independently create continuity of care across multiple, discontinuous silos of care.
Incentives for optimal transitions are not always wellaligned. Decision making that often initiates care transitions is driven by reimbursement and regulatory policies that override resident or family preferences and reward duplicative health referrals and transfers. To comply with regulations or maintain expected profit margins, corporate and private owners of nursing facilities may lack incentives for adopting new strategies that reduce or improve the quality of care transitions. Facility-level factors also limit improvements in care transitions in nursing homes.
Significant developments in nursing home resources, culture, and management may be required to surmount barriers to improved care, including the availability of nursing and medical staff, diagnostic and pharmacological services, and adequate social services for resident and family engagement and follow-up. Cultural and political intervention will also be required to emphasize the need for improved care transitions in nursing homes and to establish medical homes for older adults that prioritize person-centeredness and continuity of care, whatever setting of care is required for resident and family needs.
---
Mark Toles, Ph.D., R.N., is a postdoctoral scholar and a John A. Hartford Foundation−Claire M. Fagin Fellow with the Duke University School of Nursing, Durham, North Carolina. Heather M. Young, Ph.D., R.N., F.A.A.N., is associate vice chancellor for nursing and dean at the Betty Irene Moore School of Nursing, University of California at Davis. Joseph Ouslander, M.D., is a professor and senior associate dean for geriatric programs at the Charles E. Schmidt College of Medicine, Boca Raton, Florida.
Editor's Note: This article is taken from the Winter 2012-2013 issue of ASA's quarterly journal, Generations, an issue devoted to the topic "Care Transitions in an Aging America" ASA members receive Generations as a membership benefit; non-members may purchase subscriptions or single copies of issues at our online store. Full digital access to current and back issues of Generations is also available to ASA members and Generations subscribers at Ingenta Connect. For details, click here.
---
Acknowledgements
Mark Toles's contributions were supported with a John A. Hartford Foundation−Claire M. Fagin Postdoctoral Fellowship and a National Institute for Nursing Research T-32 postdoctoral scholarship (T32NR009356) from the University of Pennsylvania School of Nursing. Thank you to Jessica Houlihan for assistance with the figures.
---
References
American Medical Directors Association. 2010. "Transitions of Care in the Long-Term Continuum." Practice Guideline. www.amda.com/tools/clinical/TOCCPG/index.html. Retrieved September 15, 2012.
Berkowitz, R. E., et al. 2011. "Improving Disposition Outcomes for Patients in a Geriatric Skilled Nursing Facility." Journal of the American Geriatrics Society 59(6): 1130–6.
Berwick, D. M. 2009. "What 'Patient-Centered' Should Mean: Confessions of an Extremist." Health Affairs 28(4): w555-65. 
Coleman, E. A. 2003. "Falling Through the Cracks: Challenges and Opportunities for Improving Transitional Care for Persons with Continuous Complex Care Needs." Journal of the American Geriatrics Society 51(4): 549–55.
Coleman, E. A., et al. 2004. "Posthospital Care Transitions: Patterns, Complications, and Risk Identification." Health Services Research 39(5): 1449–65.
Desai, R., et al. 2011. "Medication Errors During Patient Transitions into Nursing Homes: Characteristics and Association with Patient Harm." The American Journal of Geriatric Pharmacotherapy 9(6): 413–22.
Doupe, M., et al. 2011. "Nursing Home Adverse Events: Further Insight into Highest Risk Periods. Journal of the American Medical Directors Association 12(6): 467–74.
Golden, A. G., et al. 2010. "Care Management's Challenges and Opportunities to Reduce the Rapid Rehospitalization of Frail Community-Dwelling Older Adults." The Gerontologist 50(4): 451–8.
Hansen, L. O., et al. 2011. "Interventions to Reduce 30-day Rehospitalization: A Systematic Review." Annals of Internal Medicine 155(8): 520–8.
Kane, R. L., et al. 2003. "The Effect of Evercare on Hospital Use." Journal of the American Geriatrics Society 51(10): 1427–34.
Konetzka, R. T., Spector, W., and Limcangco, M. R. 2008. "Reducing Hospitalizations from Long-Term Care Settings." Medical Care Research and Review 65(1): 40–66.
Koren, M. J. 2010. "Person-Centered Care for Nursing Home Residents: The Culture-Change Movement." Health Affairs 29(2): 312–17.
Levine, C., et al. 2010. "Bridging Troubled Waters: Family Caregivers, Transitions, and Long-Term Care." Health Affairs 29(1): 116–24.
Maslow, K., and Ouslander, J. G. 2012. "Measurement of Potentially Preventable Hospitalizations." White paper prepared for the Long-Term Quality Alliance. Retrieved September 15, 2012. 
Meador, R., et al. 2011. "Going Home: Identifying and Overcoming Barriers to Nursing Home Discharge." Care Management Journals 12(1): 2–11.
Minnesota Department of Health. 2012. Case Mix Review Data: Nursing Home Length of Stay Calendar Years 2002–2009. www.health.state.mn.us. (Copy of report on file with author Mark Toles.)
Mor, V., et al. 2010. "The Revolving Door of Rehospitalization from Skilled Nursing Facilities." Health Affairs 29(1): 57–64.
Murtaugh, C. M., and Litke, A. 2002. "Transitions Through Postacute and Long-Term Care Settings: Patterns of Use and Outcomes for a National Cohort of Elders." Medical Care 40(3): 227–36.
National Transitions of Care Coalition. 2010. "Improving Transitions of Care." Retrieved September 15, 2012.
Naylor, M. D., et al. 2011. "The Care Span: The Importance of Transitional Care in Achieving Health Reform." Health Affairs 30(4): 746–54.
Newcomer, R., Kang, T., and Graham, C. 2006. "Outcomes in a Nursing Home Transition Case-Management Program Targeting New Admissions." The Gerontologist 46(3): 385–90.
Ouslander, J. G., et al. 2011. "Interventions to Reduce Hospitalizations from Nursing Homes: Evaluation of the INTERACT II Collaborative Quality Improvement Project." Journal of the American Geriatrics Society 59(4): 745–53.
Snow, V., et al. 2009. "Transitions of Care Consensus Policy Statement: American College of Physicians, Society of General Internal Medicine, Society of Hospital Medicine, American Geriatrics Society, American College of Emergency Physicians, and Society for Academic Emergency Medicine." Journal of General Internal Medicine 24(8): 971–6.
Toles, M., et al. 2012. "Staff Interaction Strategies That Optimize Delivery of Transitional Care in a Skilled Nursing Facility: A Multiple Case Study." Family and Community Health 35(4): 334–44.
Wang, H. E., et al. 2011. "Emergency Department Visits by Nursing Home Residents in the United States." Journal of the American Geriatrics Society 59(10): 1864–72.