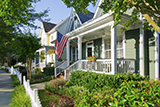 By Jennifer Molinsky and Christopher Herbert
Last month, the Joint Center for Housing Studies released a new report highlighting older adults' increasingly uneven access to safe, accessible, and affordable housing. Housing America's Older Adults: 2019 finds a record number of older adults are unaffordably housed, many in homes that lack basic accessibility features and connections to community-based services. Just as troubling, the numbers in unaffordable and unsuitable homes will almost certainly increase in the next decade given trends in income, wealth, debt, and homeownership, the limitations of the current housing stock, and the growing older population.
The report notes that lower-income older households are falling further behind their higher-earning peers in income growth (Figure 1; see also our interactive graphic). Between 2012 and 2017, the household incomes of the top 10 percent of earners increased by 22 percent, while incomes of those in the bottom decile actually fell by 4 percent. Among households aged 50-64, the median income for the highest earners set a new record of nearly $204,000 in 2017, yet the median income for the lowest earners, $14,400, was lower than in 2000 in real terms.
Figure 1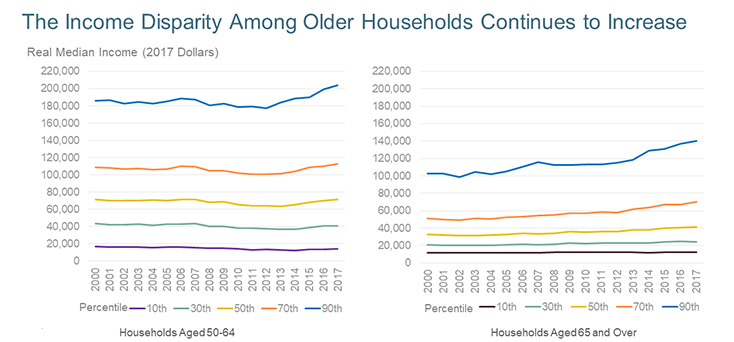 Notes: Household incomes are adjusted to 2017 dollars using CPI-U for All Items. Age is for head of household. Group quarters households are excluded. Percentiles are for each age group.
Source: JCHS tabulations of US Census Bureau, Current Population Surveys via IPUMS CPS.
Since housing affordability is a function of both a household's income and housing costs, this growing income disparity is a worrying sign that increasing numbers of older adults will face challenges paying for housing in the years to come. Already, about one-third of households headed by someone age 65 or over (nearly 10 million households) paid more than 30 percent of their income for housing in 2017, making them "housing cost burdened"—and half of that number paid more than 50 percent of their income on housing. Indeed, in 2017 the number of households age 65 or older facing cost burdens reached a record 9.9 million, an increase of nearly 50 percent since 2001. While households on the coasts are more likely to face cost burdens, no region is immune, particularly for the nation's older renters (Figure 2; see also our interactive map to see conditions in specific metro areas).
Figure 2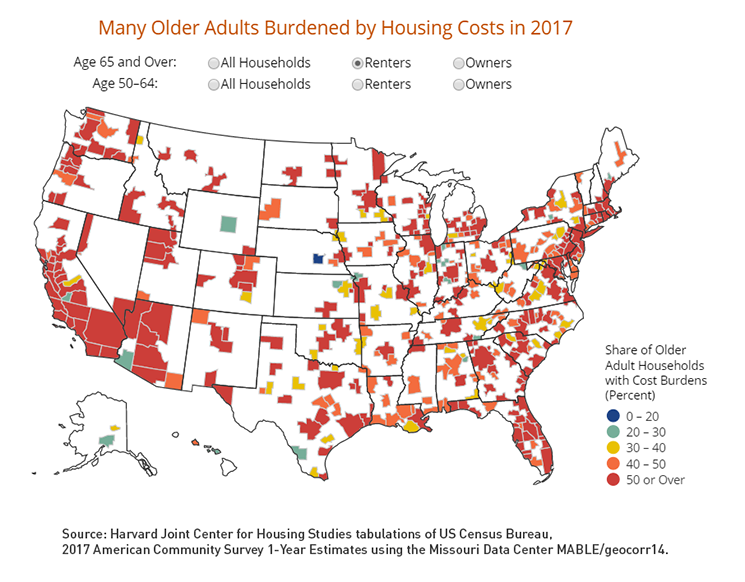 Those who are unaffordably housed often make budgetary tradeoffs that can affect their wellbeing, including cutting down on food and out-of-pocket healthcare expenses. Yet because housing assistance is not an entitlement, only one third of older households who meet the income threshold for assistance received that support as of last measure in 2015. Given both trends in income and growth in the older population, continuing to meet the needs of even a third of older households who qualify will require substantial new funding.
Please visit our report website to access Housing America's Older Adults 2019, additional data at the national, state, and metropolitan region levels, and interactive features.
The Joint Center for Housing Studies of Harvard University aims to advance understanding of housing issues and inform policy through research, education, and public outreach programs. You can find housing data, research papers and reports, our blog, and video of public events at our website.
Renters are much more likely to face cost burdens than homeowners, but one reason for the rising tide of cost-burdened older adults is that higher shares of people are also carrying mortgage debt into retirement than in the past. The share of homeowners aged 65-79 with mortgages grew from 24 percent in 1989 to 46 percent in 2016, while the share of owners age 80 and over with mortgages increased from 3 percent to 26 percent over the same period. And the median balances of the outstanding debt have also grown. In real terms, the median balance for households age 65-79 ballooned from $16,800 in 1989 to $77,000 in 2016, while the median balance of those 80 and over grew from $7,500 to $43,000. Mortgage payments certainly contribute to the higher rate of cost burdens experienced by those with housing debt. Indeed, mortgagees pay a median of $1,310 a month in housing costs in 2017, compared to $458 paid by owners without mortgages.
As our report shows, renters face their own difficulties. Compared to homeownership, renting provides less predictability in housing costs. Furthermore, though renters typically have lower incomes than owners, their median monthly housing costs are $830, higher than those who own their homes free and clear. Meanwhile, the median net worth of renters age 65 and over is just $6,700, compared to owners' median net wealth of $319,200 (of which just under half is in the form of home equity). Renters' net wealth is significantly lower than that of owners even among the highest earners of both groups. As a result, many renters are unable to afford supports and services in the home should they be needed.
Within two decades, households age 65 and over will represent fully a third of all US households. By then, nearly 18 million of these households will be in their 80s and over, more than double today's 8 million oldest households. As these oldest households are most likely to live alone and to have disabilities, there will be greater need for safe, accessible housing and supports delivered to the home—in addition to the growing need for affordable housing. Increasingly, older adults are also concentrating in low-density locations where remaining engaged in the community and receiving services is challenging.
Jennifer Molinksy is Senior Research Associate, and Christopher Herbert is Managing Director, both at Joint Center for Housing Studies of Harvard University, Cambridge, Mass.