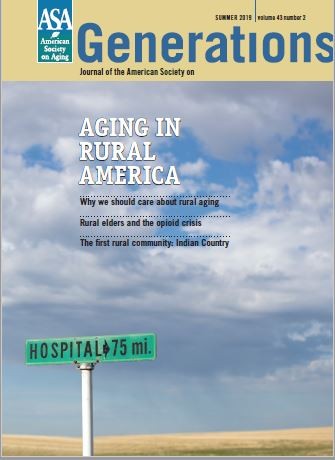 The concept of rural is multi-dimensional, as it represents a small population across an immense land mass. Often overlooked as merely the "fly-over states," especially by people who live in the nation's urban cores, rural America also increasingly skews older, as the younger population often migrates to the metropolises. Social isolation and a lack of services can define the elder experience in rural America, as does a sense of community and people's great willingness to help each other in times of need. 
The Summer 2019 issue of Generations, "Aging in Rural America" guest edited by Dennis Dudley, explores the dichotomy between the wealth and bounty of rural lands, and the challenges that scarce resources and social supports, coupled with the difficulties of navigating long distances over rough, rugged terrain, can present to older adults. The issue describes the demographic breakdown of rural America, addresses current barriers to aging in rural America (access to services, including healthcare, transportation, nutrition, and housing), lays out solutions to such barriers, and prognosticates on what might be in store in the future for older rural Americans.
It is challenging to age in rural America, as younger people (aka future caregivers) often have often moved away, distances are great, resources are scarce, and choice is limited when it comes to accessing necessities like healthcare and food. However, rural communities are bonded in ways not dependably seen in urban America, and many older adults will never leave, choosing instead to live out their lives in the family home, such as it is, and in a place where everyone is familiar and a connection to the land is inviolable.
In "Why People Choose the Rural Life," Kathy Greenlee clearly paints a picture of how rooted one can become in a rural community and why people choose these communities as home. She describes the tenacity of a community that came together to rebuild following a 2007 tornado in Greensburg, Kansas, and highlights scenes from her idyllic rural childhood to explain why she'll return, post-retirement.
Steven Hirsch, in his article, "Rural America by the Numbers," provides a demographic snapshot, past and present, of who chooses to live in rural America, and traces population shifts over time. In 1800, only 6.1 percent of America's population was urban, but by 2010, it topped 80 percent. Since the Great Recession, virtually all new jobs in the United States have been created in metropolitan areas. How does this affect older adults and their ability to access healthcare services and retirement, assisted living, and nursing home facilities?
In "Why Are Rural Older Adults Turning to Opioids?" William Benson, Kendra Kuehn, and Mandy Weirich discuss the opioid crisis and its impacts upon rural America, especially upon its older adults. Middle-age and soon-to-be-older adults have the highest prescription painkiller overdose rates in the country, and often these adults are victims of abuse by family and caregivers. Rural elders increasingly are caring for their grandchildren due to the parents' opioid addiction. The authors suggest that although solutions may be multi-pronged and complex, they are desperately and immediately needed.
Linda J. Redford, in "Building the Rural Healthcare Workforce: Challenges—and Strategies—in the Current Economy," concentrates on the challenges around attracting healthcare workers to rural communities. It has always been a challenge, but will likely become more so as the percentage of older adults grows in rural areas, and new methods are needed to attract and retain healthcare professionals and support staff, such as those involving technology and including immigrants.
"The First Rural Community: Indian Country" by R. Turner Goins, Lisa Scarton, and Blythe Winchester, details how the Eastern Band of Cherokee Indians and the Choctaw Nation of Oklahoma meet the needs of the elders in their communities and address transportation, nutrition, housing, and long-term-care challenges. Critically, the programs respect the heterogeneity of these communities.
Guest Editor Dennis Dudley's coda, "Why We Should Care About Rural Aging," makes an impassioned argument for all the reasons rural America does in fact matter, from its plethora of natural resources to the character of its community. The people living in rural America, its place in the geopolitical sphere of aging, its denizen's spirituality and their place in the environment—all are reasons why these communities will endure over the years, and why there are lessons for us all to learn from how rural Americans age.
ASA is pleased to offer this latest issue of Generations, which will reach ASA members and subscribers in late June through July 2019. Single copies of the issue can also be purchased from the ASA website.