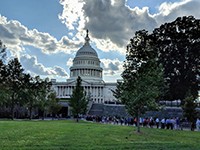 The September–October In Focus section of Aging Today tackles the older voter—how they voted in 2016, and what's to be expected in 2018 and beyond.
Kathy Sykes and Terri Lewinson explain who doesn't vote, who will (older adults), where such statistics break down racially and what this all might mean in the mid-terms. Teri Kennedy addresses the generational divide around gun control and voting, as well as a public health solution to gun violence. Juan Fernando Torres-Gil asks what might our shifting racial demographics mean—more competition between races and ages, or more collaboration?
Also in this issue, Noll Campbell, Craig A. Solid and Malaz Boustani write about the importance of patient education around common over-the-counter and prescription medications that can contribute to dementias; and Aging Today introduces readers to the Corps of Accomplished Professionals (CAPs), a group of ASA members seeking to give back to ASA and the field of aging, as well as exploring pre- and post-retirement conundrums.