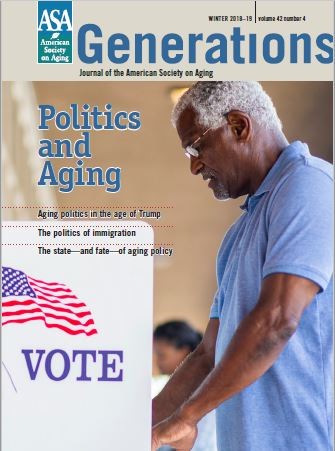 As a cohort, older Americans do not act or vote as one bloc, and they exhibit disparities in well-being that can exceed those found in young adults. How does that bode for the future of their voting patterns?
In "Nostalgia and the Swamp: Aging Politics in the Age Of Trump," Guest Editor Robert B. Hudson clarifies how older adults ushered in the era of Trump, and still skew conservative, but also how that likely will change as the diversity of this cohort becomes more pronounced. He also addresses how good the "swamp" has been for older adults, and how they profess to want both smaller government and more benefits. Hudson also presents a clear-eyed view of how well elders are faring today, and how they are split, as a cohort, between dependent and advantaged.
Robyn I. Stone, in her article, "The Politics of Immigration: Who Will Care for Grandma?" explains how current immigration policies have potentially dire consequences for the aging population, likely leading to a dearth of homecare workers needed to care for older adults, and an increase in the costs of such care. The article lays out the characteristics of the immigrant direct care workforce, including how such workers get to the United States, the importance of immigrants to long-term services and support delivery, and implications of new immigration policy for current and future direct care workers.
In "The Politics of Aging and Diversity: Moving Toward a Majority-Minority Nation," Juan Fernando Torres-Gil and Courtney Demko detail why the aging of our increasingly diverse population requires a new narrative about the value of immigrants, refugees, and minorities to elders' well-being. The authors argue that we can, as a nation, eventually view our new majority-minority status as a demographic benefit, and that gerontologists should draw upon a politics of aging and diversity to address tensions around this shift.
Judith G. Gonyea, in her article, "The Presence of Older Women in Current U.S. Electoral Politics," reflects on electoral politics, gender, inequality, and the marginalization of America's older women. Who defines our biggest problems in the United States, and who makes allocation decisions around them? It is not older women. This article explores how sexism and ageism intertwine to influence which voices are heard and thus shape the nation's agendas. Will the increasing fragmentation of social groups and political polarization potentially deepen inequality and further marginalize older American women?
As a wrap-up to this issue on politics, "Aging Policy: Where Is it Now, and Where Is it Going?" by Robert Blancato and Marie C. Gualtieri measures the wins and losses of the past two-plus years under President Donald Trump. It analyzes close calls for Social Security, Medicare, and Medicaid, which came through the first part of the Trump administration's tenure relatively unscathed, and predicts how aging policy may be affected going forward, depending upon who controls the House and Senate.
To access a full, online version of the Winter 2019 Generations, click here.
ASA is pleased to offer this latest issue of Generations, which will reach ASA members and subscribers in late January to mid February 2019. Single copies of the issue can also be purchased from our website.