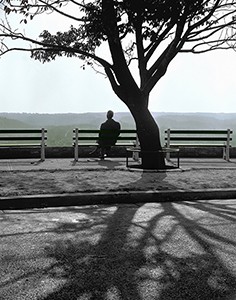 By Sara Afayee
Shirley, a woman in her late 80s, lives in rural Bedford County, Penn., and reports that her patient experience at
University of Pittsburgh Medical Center
(UPMC) Bed­ford Memorial Hospital has been unique in that her mental health has been valued at the same level as her physical health, and all of her visits to the medical center have been conve­niently orchestrated among healthcare providers.  Her experience is the result of primary and behavioral healthcare integration.
Behavioral health integration is particularly important for older adults. Nearly one in five older adults have one or more mental health and/or substance use conditions (referenced as be­havioral health conditions in this article) and, according to
a 2012 Institute of Medicine report
, the majority of older adults' behavioral health issues are identified and treated in primary care settings instead of specialty behavioral health settings.  Moreover, rural communi­ties, which tend to be older and in poorer health,
may especially benefit from integrated care
. Shirley entered UPMC experiencing extreme anxiety and depression. Today, she lives in an as­sisted living facility where she leads games and bingo for residents, gets her hair and nails done and dresses "to the nines" daily, as reported by Rodney Burket, psychiatric case manager for home health at UPMC. 
UPMC Bedford Memorial is partly funded through a three-year Rural Health Care Services Outreach Grant Program (Outreach Program) administered by the Health Resources and Services Administration (HRSA),
Federal Office of Rural Health Policy
. The Out­reach Program supports projects that demonstrate creative or effective models of outreach and service delivery in rural communities. With Outreach Program grant funds, UPMC has expanded its existing network of organizations with the stated goal of "evaluating ongoing depression symp­toms across the continuum of care at every community visit made by the patient." In the past two years, UPMC has integrated behavioral health and primary care services for more than 1,223 older adults in rural Pennsylvania, connecting the clinical dots for individuals who may not have other­wise accessed behavioral healthcare. 
What Does Integrated Care Mean in Rural Areas? 
According to the Substance Abuse and Mental Health Services Administration (SAMHSA)/Health Resources and Services Administration Center for Integrated Health Solutions'
Six Levels of Collaboration/Integration
, a spectrum of services and competencies is required for integrated care, from minimal collaboration to full collaboration and integration. Full collaboration and integration involve an intentional system redesign that includes consistent communication about workflow and culture to all team members, including patients and their families, to increase quality of life for identified populations. An organization that aims to reach full integration must get buy-in from all key leaders involved in the patients' healthcare universe. Integrating care for older adults in the clinical setting is critical because chronic diseases are
more prevalent in older years
, underscoring the importance of evaluating and treating comorbidities. 
Sample Programs in Rural Communities 
The Outreach Program requires that grantees have partnerships, so UPMC Bedford Memorial worked closely with
UPMC Community Nursing and Home Health
 and
UPMC Home Nursing Agency
to form a consortium. Thelma Dibble, who serves as vice president of UPMC Community Nursing and Home Health, has personally seen the lack of behav­ioral health providers, particularly psychiatrists, in rural communities. Because of patient access to psychiatry visits via telemedicine, referrals of older adults to the UPMC program rose by 96 percent in the second year of its Outreach Program grant. The mental health nurses from the two home health agencies are able to provide care to their patients in their homes or where they receive telemedicine services. 
Another Outreach Program grantee,
Transitions of Western Illinois
(TWI), is a nonprofit agency that provides a comprehensive array of mental health, educational and rehabili­tation services. They have expanded their community support services for individuals with serious mental illness (SMI), including older adults, to include a whole health perspective by em­ploying community support workers in organizations that did not have mental health support staff prior to grant funds. These workers connect individuals to primary care and other needed health services, identify and track key health indicators and provide health advocacy. 
Mark Schmitz, TWI's associate executive director, says that a lack of historical healthcare knowledge or records for each older adult with SMI is a challenge. However, integrating com­munity support workers and other existing mental health providers who have a long­standing knowledge of the individual into a primary care system can bridge this knowledge gap and translate into more engaged patients. In a recent consumer survey, 78 percent of respon­dents said that having access to a community support worker helped them take action on the recommendations of their healthcare team. 
Considerations for Organizations Pursuing Behavioral Health Integration
The stellar work accomplished thus far by UPMC and TWI required significant workflow redesign and leadership buy-in. Organizations aiming to integrate behavioral health and primary care for older adults should begin by conducting a needs assessment of the populations currently served and determining the benefits to streamlining the multiple care systems. Full systems integration can happen by building smart, sustainable partnerships, making use of work currently being done in siloes in the community. Organizations should strongly consider local aging resources and include them as key partners and decision makers. Every aspect of the program—from the mission statement to staff recruiting and training—should take into consideration the unique needs of older adults. Finally, organizations should explore the implementation of evidence-based and promising practices in rural communities to contribute to the body of knowledge about what works.
Sara Afayee, L.G.S.W., M.S.W., is a Public Health Analyst at the U.S. Department of Health and Human Services' Health Resources and Services Administration in Rockville, Md. 
Resources from HRSA
Growing Older: Providing Integrated Care for an Aging Population is a publication from the SAMHSA-HRSA Center for Integrated Health Solutions that offers tips for safety net primary care providers to be prepared to meet the behavioral health needs of older adults. The publication can be viewed here:
www.integration.samhsa.gov/integrated-care-models/older-adults
. 
Editor's Note: This article appears in the September/October, 2017, issue of Aging Today, ASA's bi-monthly newspaper covering issues in aging research, practice and policy nationwide. ASA members receive Aging Today as a member benefit; non-members may purchase subscriptions at our online store.