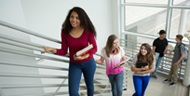 By Jeanne Sokolec
The social determinants of health are commonly accepted as the conditions in which people are born, grow, live, work and age—circumstances shaped by the distribution of money, power, privilege and resources. This definition affects the well-being of marginalized persons and groups throughout their life cycle. In older adulthood, a major concern is healthy aging, which includes optimal levels of social, physical, economic and mental well-being. For groups who have been marginalized throughout their lifetimes, healthy aging is compromised by past injustices, lost opportunities and diminished social, health and economic experiences.
One classic example of the consequences of marginalization is aging LGBTQ individuals. Ageism coupled with homophobic policies and individual treatment has concrete and practical effects on health and mental health for older LGBTQ persons. For older adults in general—and, more specifically, older LGBTQ persons—racial and cultural biases can make their situations even more profoundly unhealthy. These negative factors contrast directly to the belief that older adults need to live in affirming environments regardless of their demographic descriptors.
As health is defined in its broadest sense, marginalization can lead to a diminished sense of self-esteem, isolation and even depression. LGBTQ persons who have suffered from these mental health issues during their lifetime come into older adulthood with these issues. In addition, mental health issues can be exacerbated in older adulthood as concerns arise about where one is going to live. In other words, "Will I be accepted with my gender identity and sexual orientation?" or "How will my partner and I be treated?" 
Some older LGBTQ adults are fearful that they will have to go back into the closet to be accepted once they cannot live independently. All of the above is even more concerning to older transgender persons. Education and advocacy have created a better understanding and acceptance of LGB persons, but this understanding and acceptance does not always extend to people who are transgender.
So what do LGBTQ older adults need? They need the same things that every other older adult needs: elder-affirming programs and services; culturally competent—both in older adult issues and LGBTQ issues—service providers; strength-based services to increase a sense of empowerment; and allies from the non-LGBTQ community who can support and serve as co-advocates.
The issues of aging and more specifically the issues of LGBTQ older adults are not going to be solved by any one discipline. Practitioners in the field, including healthcare providers, social service providers, professionals from public health, etc., are going to have to work together given the complexity of all the issues. At the higher education level this will require a breakdown of traditional silos. This can only happen if the administration not only gives their imprimatur, but also creates structures allowing cross-disciplinary academic appointments and addressing other administrative concerns.
Key to having an interdisciplinary process is educating future practitioners in multiple areas to have both aging—and aging within the LGBTQ population—as part of their undergraduate and graduate studies. Undergraduate education typically requires courses in psychology, sociology and political science, along with a number of electives. In addition, colleges and universities are finding ways to include cultural competence in the curriculum and in extra-curricular activities as the diversity of the undergraduate population grows. Undergraduate students may have more opportunities to experience diversity because they live on campus in shared living spaces.
It is typically at the graduate level that students solidify career goals. In graduate programs for social work, medicine, nursing and public health—all the people related careers—it's necessary to include material on aging and the LGBTQ population. Inclusion can mean all courses speak to the LGBTQ population and aging when discussing the life course. Even when there is a specific course on practice with the LGBTQ population or working with older adults, this content should also be infused in other courses to make sure all students are exposed. Graduate programs, especially in the professional schools, require internships. It is highly likely that any student in an internship will encounter LGBTQ individuals and-or older adults, making the theoretical material in courses mandatory.
How to organize teaching in a specific area is hotly debated. Generally it's a choice between having a specific course or infusing the knowledge across the curriculum. Both are more likely to produce learning beyond mere facts. In addition, a set of sequential activities across the academic program can further highlight specific skills.
Depending on the school's geographic location, community organizations with programs for those who are LGBTQ can serve as internship sites. This may be more difficult in non-urban and rural areas. If specific organizations are not available, statistics show that in every setting practitioners are going to encounter people who identify as LGBTQ. This makes knowledge of specific populations, as well as sensitivity, necessary for all future professionals. Many schools are also incorporating a form of service learning as a requirement. This is another opportunity beyond internships to work with community organizations that serve the LGBTQ population, or it can be an opportunity to meet a diverse population.
However, neither knowledge acquisition nor personal sensitivity happens in a vacuum. There is an implicit curriculum—or school culture—with as much influence on students as their course schedule. Students feel accepted or marginalized within this school culture. Due to ageism and homophobia, students and practitioners can benefit from self examination, even when they profess to be liberal and open to all. We are all the products of what goes on in the larger society and need to make sure that we are aware of any biases and stereotypes that could be lying dormant in spite of our best efforts. 
The community often looks to universities for speakers and consultants with various areas of expertise. Collaborations between community organizations and academic departments and professors can further expand knowledge about the diversity of populations that organizations—at least in urban areas—are experiencing.
Our country is in a state of transition, from the expansion of gender stereotypes to understanding sexual orientation, gender expression and the variations that occur in how individuals identify themselves and how they want to live. So it is not surprising that colleges and universities across the country are struggling with the same issues; how to provide experiences to both inform the general student body in issues of diversity as well as welcome students from diverse groups. Students, both those who are LGBTQ and their allies, are vocal about wanting to be heard and respected, and about what they expect from the academic setting. Successful advocacy efforts in the past in many areas bode well for change. Change is a process, meaning that as new issues arise, there will be new knowledge to be learned and sensitivities to be further developed.
---
Jeanne Sokolec, Ph.D., is an associate clinical professor in the School of Social Work at Loyola University Chicago, as well as director of the Bachelor's of Social Work program.
This article was brought to you by ASA's LGBT Aging Issues Network.
Photo by NEC Corporation of America