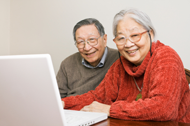 By Debby Dodds
We are nearly two decades into the 21st Century and the social consequences of aging still regularly include feeling isolated or depressed. The World Health Organization recently stated that, "Older people who feel they are a burden perceive their lives to be less valuable, putting them at risk of depression and social isolation."
A well-designed intergenerational program can contribute to feelings of purpose and healthy aging, which are essential to overcoming some of the social consequences of aging. Older people can have an enormous impact on younger people by simply being themselves, making social connections that transcend conventional aging stereotypes.
As professionals serving older people, many of us often utilize volunteers that provide transportation, food and household services. As our country's youth continue to volunteer they are doing so in new and unconventional ways such as through FaceBook groups and crowdfunding. We may also find that youth volunteers fill some of the more pressing socio-emotional needs, such as increased socialization for older individuals, in ways that we have not previously imaged.
Digital Native as Tech Savvy Teachers
If you work with youth volunteers, it's likely you are beginning to see a new breed of volunteer emerge—the tech volunteer. Many young adult volunteers are millennials, those born between 1984–1997, and are considered to be digital natives, a term coined by Marc Prensky (PDF). A digital native is a person born or brought up during the age of digital technology and therefore familiar with computers and the Internet from an early age.
The Baby Boomers and those older are conversely considered to be digital immigrants or a person born or brought up before the widespread use of digital technology. There is an important distinction here which Prensky describes in relation to language acquisition. In general, when learning a new language, immigrants retain their accents or some semblance of how they used to speak.
Research tells us that when people learn languages later in their lives, it is not as natural as early language acquisition. It often requires mentoring and daily practice to acquire the new skill. This is also true for those adopting technology later in life: it's not always intuitive but it is beneficial and contributes to healthy aging.
Intergenerational Volunteers As Potential Employees?
Young adult volunteers benefit from these programs as well. Students gain professional experience, references and recognition that contribute to becoming successful citizens. This is a key point because as aging professionals, we realize that our workforce shortage is not going away. Intergenerational volunteer programs can both augment our workforce and create a vetted source of potential employees.
Jumpstart an Intergenerational Technology Volunteer Program
If connecting these dots might benefit your organization, why not consider recruiting tech-savvy young adult volunteers? You can empower them to be creative with technology, music or other apps for the aging digital immigrant population. Older adults will find benefit in learning and using personal technology. Perhaps more importantly, they may find value in the relationships they develop with the younger volunteers.
Interested in some tips and tricks to jumpstart an intergenerational technology volunteer program? Please join Music & Memory Director of Wisconsin's Music & Memory Student Program, Julie Hyland; CoFounder of Generations Connect, Michael Potteiger; and myself, for some ideas on February 16, 2017 at 10:00 AM Pacific, 11:00 AM Mountain, 12:00 PM Central, 1:00 PM Eastern in our webinar, Intergenerational Mentoring Success Stories: Harnessing Digital Natives as iPod & iPad Volunteers for Older Adults.
Debby Dodds, M.S., is Team Gerontologist at Generation Connect in York, Penn.