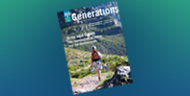 By Kathy Sykes and Karl Pillemer
Only the mountain has lived long enough to listen objectively to the howl of the wolf," wrote Aldo Leopold more than sixty years ago in A Sand County Almanac (1948, 1987). Leopold invested his life in observing nature. His keen appreciation for ecological systems became the foundation for his profound land ethic, which stressed taking the long view of humanity's relationship with nature to preserve its integrity, stability, and beauty.
Such a perspective is characteristic of the gerontological worldview. Like the environmentalists whom Leopold counseled to "think like a mountain," in gerontology we too take the long view of human life. When we take time to look deeply, we can see both the fragility and the trength of each human life, each tree, each creature, each stream and mountain. And we can discern the fundamental interconnectedness and
interdependence in life. 
In this issue of Generations, we explore research and practice on aging and the environment and discuss elements that bring the two fields together. Making this connection is critical at the present time because of two societal trends: the rapidly growing aging population and mounting concern about environmental sustainability, specifically climate change.
John Muir warned that "when we tug at a single thing in nature, we find it attached to the rest of the world." Worsening environmental hazards are "things that tug" at human health in later life, including such threats as air pollution, drinking-water contaminants, heavy metals in our bodies—as well as the greatest public health threat to our world, climate change. We offer this issue to alert and inform readers about the critical importance of the environment to an aging society, and to explore how gerontologists, environmental scientists, and older people themselves can come together to find common cause.
Why Should Gerontologists Address Environmental Issues?
One reason that gerontologists should address environmental issues is straightforward: Climate change is the biggest global health threat of the twenty-first century (Costello et al., 2009), affecting all population groups, including older people. Writing in The Lancet, Richard Horton (2009) described a study of the threats of climate change in which "[a] systematic review of the evidence showed that the risks from changing patterns of disease, food insecurity, unsafe water and sanitation, damage to human settlements, extreme events, and population growth and migration were far more severe for human health than most observers had understood." The researchers found that the threat was not only environmental and economic, but also affected human health and mortality.
The recent series of scientific studies conducted by researchers from the United Kingdom and the United States for The Lancet and the National Institute of Environmental Health Sciences (Horton, 2009) makes clear that when greenhouse gases are reduced, health benefits result in both the immediate and the long term. That health dividends are considerable is an emerging and compelling message. One study found that short-lived greenhouse pollutants such as sulphates, organic and black carbon, and ozone are
significant risk factors for cardiovascular mortality. Reducing these pollutants—created primarily by combustion by-products from power, transport, and household sectors—will offer an immediate benefit for health (Horton, 2009). Reducing emissions through more walking and cycling and less use of motor
vehicles will bring tremendous health benefits. Heart disease and stroke could drop by 10–20 percent, with reductions in breast cancer (12–13 percent), dementia (8 percent), and depression (5 percent) (Haines et al., 2009). 
Responses of species to warming across the Northern Hemisphere are well documented by changes in the timing of growth stages, especially the earlier onset of spring events, migration, and lengthened growing seasons (Intergovernmental Panel on Climate Change, 2007). Climate change causes plants and animals to migrate to higher elevations and toward the Pole. Lengthened growing seasons contribute to greater amounts of tree pollen, which can exacerbate the health problems of people living with chronic diseases such as asthma or other pulmonary conditions. Climate change adversely affects older people, particularly during extreme heat events. Environmental hazards are especially onerous for individuals with chronic conditions, compromised immune systems, and other problems that diminish their capacity to respond to threats to health.
Climate change also imposes a moral responsibility for all of us who have lived long. Having been a part of the Earth for many decades, we have been contributors to greenhouse-gas emissions. Older adults share responsibility for what has been taking place both as individuals and as citizens of their nations. Older adults can accept this responsibility and take action to reverse course. They can provide leadership in moving from destructive consumption and apathy to action that will ensure that our small but important part of the globe is sustained, that our families are protected, and that our national leaders are alerted to the need to forge a new course toward responsible action.
Although the consequences of climate change are global, many of the efforts needed to advance policies to set a new course to protect the environment are singularly local. The politics associated with a search for solutions are community-based and demand flexibility and innovation. Public policy interventions must recognize the need for solutions that immediately improve the local environment and that will open new avenues of communication and concerted action.
A Pressing Need for Research, Practice, and Policy
The interaction of aging and the environment creates a pressing need for new research and appropriate developments in practice and policy. Although population aging has enormous implications for the environment, the gerontological community has produced little research to inform the debate about how the older population is affected by critical environmental issues. Filling this research gap is essential. Frail older people, like the very young, are especially susceptible to environmental hazards. "Environmental
Threats to Healthy Aging," a recent report by the Greater Boston Physicians for Social Responsibility (Stein et al., 2008), described the situation as follows:
Much of the chronic disease burden could be reduced by addressing the broad environmental context of health, and prioritizing primary prevention at many levels—from the individual to the family, community, society, and ecosystem. Throughout our lifecycle our health is deeply connected to other stages of life, and to the ecosystems around us that are literally our lifeblood. We have innumerable opportunities to jointly improve health through the lifecycle and to restore degraded ecosystems.
It is critically important that gerontologists address the effects of climate change and other environmental problems, for several reasons. First, public health research suggests that environmental problems disproportionately compromise the health of the older population. Health disparities that affect the older population and environmental justice issues require attention.
Second, older people are coming to play a larger role in contributing to certain environmental problems. For example, older adults are major consumers of pharmaceuticals and personal care products, the improper disposal of which may have significant ecological effects.
Third, older people constitute an important source of solutions to environmental problems. Individuals in midlife and beyond have life experience, patience, and time—important resources that can help solve environmental problems in our communities. Older people can be mobilized and trained to promote environmental issues and become part of the movement to take seriously the impending climate change that threatens future generations and the planet.
In the Issue
This issue of Generations provides diverse perspectives on how and why the environment is an aging issue and what older people can do to preserve the environment. The authors include a bench scientist who offers his views and an elder who has made an encore career of educating the public about the consequences of the melting ice caps. Each article reveals the interconnections between the environment and health and well-being. The articles also highlight the many creative efforts that are currently under way to protect our natural resources. Woven throughout the issue is a concern for the disparities that exist in the way various groups are affected by environmental problems, along with practical strategies and interventions that we can implement immediately to influence public policies.
The issue is organized into three sections that follow an ecological as well as human life course continuum. The first section, "Environmental Hazards and Their Impact on Well-Being," focuses on the relationship between environmental health and older adults. David Filiberto and colleagues examine the challenges that older vulnerable populations will face in adapting to climate change. Andrew Geller writes from a public health perspective, calling for a better understanding of the health risks that environmental exposures pose for older adults. Ilene Ruhoy and Lenard Kaye note that pharmaceuticals in water systems have possible detrimental influences and promote "take-back events" that attempt to collect unwanted drugs for proper disposal.
The second section, "The Environment of Our Communities: Where We Live, Work, and Play," examines issues relating to communities and the built environment. Arthur (Chris) Nelson discusses the influence the baby boom population has had on America's built environment and relates the idea of the "new urbanism" to the aging population. Philip Lee and Steve Heilig highlight the importance of policy to control the effects of chemicals on the environment and health, focusing on the national organization "Health Care Without Harm." Nancy Wells and Joseph Laquatra discuss green residential environments for the health and well-being of older adults.
The third section, "Getting Involved to Make a Difference for the Environment," examines the growing phenomena of civic engagement, volunteerism, and policy making for the environment in later life. Karl Pillemer and colleagues provide evidence that environmental volunteerism promotes physical and psychological wellbeing among older adults and suggest ways for environmental organizations to become more "elder-friendly." Donna Butts and Sheri Steinig examine the actual and potential interconnections between younger and older generations regarding ways to improve the environment.
Harry (Rick) Moody offers a framework for mobilizing older adults as agents for collective generativity through environmental action. Robert Binstock and colleagues propose a new institutional arrangement intended to promote extensive engagement of older Americans in contributions to their communities, the American Community Environmental Services.
The issue concludes with a look at innovative interventions to address the twin issues of aging and the environment. These groundbreaking approaches are leading the way toward turning the insights from research on this topic into programs both for and by older people. Programs described include the Building Healthy Communities for Active Aging National Recognition Program; the Viable Futures Toolkit; the Chesapeake Bay Legacy Institute for the Environment; an EPA series of fact sheets on topics related to
the environment and the health of older people; a program for safe drug disposal; and the Community Earth Councils movement. Henry Hart describes his late-life environmental career. 
Leaving a Legacy
President Barack Obama, in his opening remarks at the UN General Assembly, made the following call to action:
The danger posed by climate change cannot be denied. Our responsibility to meet it must not be deferred . . . . Future generations will look back and wonder why we refused to act; why we failed to pass on an environment that was worthy of our inheritance.
This call must be heard and embraced because the path we are on threatens the survival of our planet and all her inhabitants. The challenge for today's older adults is to protect and to leave to their children and grandchildren a healthy and sustainable environment. The articles in this issue represent first steps toward a road map for how to meet that challenge.
---
Kathy Sykes is senior advisor, U.S. Environmental Protection Agency, Washington, D.C.
Karl Pillemer, Ph.D., is Hazel E. Reed Professor, Department of Human Development, and director, Cornell Institute for Translational Research on Aging
Editor's Note: This article is taken from the Winter 2009–2010 issue of ASA's quarterly journal, Generations, an issue devoted to the topic "Gray and Green: The Intersections of Aging and the Environment." ASA members receive Generations as a membership benefit; non-members may purchase subscriptions or single copies of issues at our online store. Full digital access to current and back issues of Generations is also available to ASA members and Generations subscribers at Ingenta Connect. For details, click here.
---
References
Costello, A., et al. 2009. "Managing the Health Effects of Climate Change." The Lancet 373: 693–733.
Haines, A., et al. 2009. "Public Health Benefits of Strategies to Reduce Greenhouse-Gas Emissions." The Lancet 374: 1830–4.
Horton, R. 2009. "The Climate Dividend." The Lancet 374: 1869–70.
Intergovernmental Panel on Climate Change (IPCC). 2007. Synthesis Report. Geneva, Switzerland.
Leopold, A. 1948, 1987. A Sand County Almanac. New York: Oxford University Press.
Stein, J., et al. 2008. "Environmental Threats to Healthy Aging with a Closer Look at Alzheimer's and Parkinson's Diseases." Boston: Greater Boston Physicians for Social Responsibility and Science and the Environmental Health Network. Retrieved December 4, 2009.