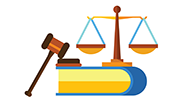 By Fay Gordon
As older adults navigate potential economic and health care changes, a network of trained and supported legal services attorneys will be more important than ever. In late 2016, a White House report analyzing different legal aid programs underscored the importance of legal aid to aging with dignity. The report concluded: "[it is] clear that access to justice helps individuals and families secure basic necessities, like health care, housing, employment and education while also enhancing stability and increasing public safety."
In the aging services world, the nexus between the aging and legal services network is found in Title III of the Older American Act (OAA). The OAA created the III-B legal services network for older adults. Today, through the OAA, over 1,000 legal services attorneys provide nearly 1 million hours of legal assistance to older adults every year.
With this vast network and the significant value of legal assistance in mind, the Administration on Community Living (ACL) decided to create a new National Center on Law and Elder Rights. ACL contracted with Justice in Aging to build the center, which will launch this year.
NCLER is creating the first-ever free, comprehensive legal training and technical assistance curriculum for the aging and legal services network. With our valued partners, the American Bar Association Commission on Law and Aging, the National Consumer Law Center, and The Center for Social Gerontology, NCLER will provide a full range of centralized, coordinated tools and resources for aging, legal, disability and elder rights networks across the country.
To do this right, we're looking for input from our experienced ASA colleagues. We want the center to meet the network's need—and to do so in a way that is efficient, non-duplicative, and useful to busy professionals. We hope you'll join us at ASA's 2017 Aging in America Conference as we introduce NCLER and share ideas on how to make the center useful to your program. On Tuesday, March 21 at 3:00 p.m., Justice in Aging will introduce NCLER in Roosevelt 3 (East Tower).
We hope you'll join us. See you in Chicago!
Fay Gordon, JD, is Project Manager, National Center on Law and Elder Rights, Justice in Aging, Oakland, Calif.