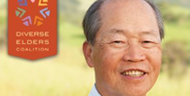 The Diverse Elders Coalition has recently launched a #TellACL campaign with Caring Across Generations to encourage people to tell the Administration for Community Living (ACL) what they need to age successfully. Whether that means aging services in your native language, better access to healthcare that accounts for cultural traditions, better data collection on your community, or something else, they want to hear from you!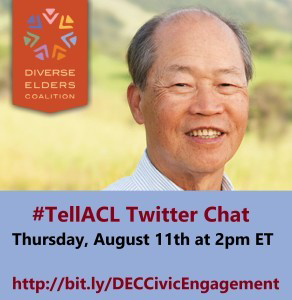 This Thursday, August 11th, at 2pm EDT, the Diverse Elders Coalition and Caring Across Generations will host a Twitter chat using hashtag #TellACL. Join the chat to talk about the aging needs of communities of color, LGBT communities, and American Indian/Alaska Native communities. This is a great opportunity to reach legislators and policymakers, aging organizations, funders, and individuals who provide services to diverse elders! Make sure your voice is heard. Click here to let them know you'll be participating, and be sure to watch the Diverse Elders Coalition Twitter account (@DiverseElders) all this week for updates!
If you can't join the chat on Twitter, you can still sign comment cards that will be delivered to the Administration for Community Living in Washington, DC on August 22nd and used to refine the aging services provided by each state in our nation. This is a chance for diverse elders and their families, friends, and communities to shape the future of aging policy in America! Check out the links below for the comment card that speaks most to your community and its needs and click to sign:
Follow the Diverse Elders Coaltion on Facebook and Twitter for important campaign updates, and subscribe to their e-newsletter, Common Threads, to stay in touch with coalition members and the work that they are doing on behalf of diverse elders.