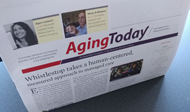 By Alison Biggar
The July–August issue of Aging Today has an enlightening "In Focus" section that brings mental health issues in the aging cohort out of the shadows. The section includes an article by Weill Cornell Medicine Psychiatry Professor Jo Anne Sirey who writes about the pervasive stigma associated with mental illness, especially among older generations, how it creates barriers to care and what might be done to ameliorate it.
Elsewhere in the issue, Kim Callinan and Kimberly Taccini of Compassion & Choices address the nonprofit's efforts to expand end-of-life care, minimize suffering and maximize quality of life. Terri Lewinson, an associate professor in Georgia State University's School of Social Work, proposes considering extended-stay hotels as potential low-cost, long-term housing options for elders; and Dan Cohen of Music & Memory makes life livable for people with advanced dementia through music.
For the Aging and Disability Business Institute, we look at one Marin County, Calif., agency's efforts to develop programs that deliver value to area healthcare providers.
A new effort supported by several major foundations and eight national aging organizations to address pervasis ageism in U.S. culture is described in an article by Aging Today staff. These organizations have worked with the Frameworks Institute to develop a set of resources that organizations can use to begin changing the way the experience of growing older is discussed and perceived.
The issue's back-page article highlights millennial Amanda Cavaleri's efforts and strategies to attract a young, eager workforce into the aging services sector.