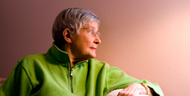 By Ken South
LGBT elders face the same challenges of living alone these days, as do their heterosexual counterparts, but with additional barriers. For instance, while heterosexual elders may find it hard to live alone, a majority of them have adult children available to them, even if they live some miles away. The great majority of LGBT elders do not have adult children to look out for them.
According to Outing Age 2010, "Limited existing research provides some evidence that lesbian and gay elders are more likely to live alone than are heterosexual older adults. Population based data collected by the New York City Department of Health in 2005–2007 suggests that among adults over 50, gay and bisexual men are twice as likely to live alone as are heterosexual men, while lesbian and bisexual women are about one third more likely to live alone than are heterosexual women. Another study found that 75 percent of gay and lesbian elders in Los Angeles lived alone. This high percentage was confirmed in a 2006 study of LGBT older adults living with HIV/AIDS—which reports that almost 70 percent of its participants live alone. Such statistics may suggest that LGBT older adults in general are vulnerable to certain physical and mental health challenges for which elders who live alone are at greater risk; these include falls, malnutrition, depression, and substance abuse."
LGBT elders and the professionals who are be assisting them may find the following tips helpful, just in case. As an older gay man who has lived alone for some time, I have found these safety tips add a sense of comfort to my life.
I live in a private apartment in a home with a gay male couple. We are friendly, but they are basically landlords. It occurred to me several years ago that if I ever had a stroke, heart attack or fell unconscious, they would be at a loss as to who to contact. I don't think they even know I have a sister who lives 200 miles away, let alone a way to contact her.
So, I told them about the strong box in my apartment that contains all my important papers—my will and power of attorney, etc. Right on top is an envelope labeled Just in Case. In it are the names, emails and phone numbers of my sister, physician, lawyer, employer, accountant, clergy, etc. I hope they never have to open it, but what a difference it will make for me if they do. I also keep a mini version of the same information in my wallet.
Another place to store this vital information is in one's cell phone. Paramedics and hospital personnel will often look at a patient's phone for an ICE (In Case of Emergency) number to know who to call, so it's a good idea to have an app clearly labeled ICE. Smart-ICE4family, or the single guy/gal version, ICE4me, are examples of apps that allow input of that information, and pertinent medical conditions. If you carry a smartphone, you might consider using an app developed by the American Bar Association called My Care Wishes, which allows you to store copies of important documents like advance directives and power of attorney forms, in addition to emergency medical contact information and insurance particulars.   
And a medical ID bracelet is always an important option, especially for those who have serious drug interaction issues. There are numerous such products on the market, and they, too, can be life savers.
No one really likes to think about it, but as an old Boy Scout, I know it's critical to "be prepared," just in case!
---
Ken South is the director of Credentialing Programs for the American Academy of HIV Medicine (AAHIVM). In conjunction with ACRIA and the American Geriatrics Society, AAHIVM recently launched HIV-Age.org, a site for clinicians seeking best practices for managing the care of older HIV patients.
This article was brought to you by the editorial committee of ASA's LGBT Aging Issues Network (LAIN).
Help us improve AgeBlog and rate this post by clicking here!