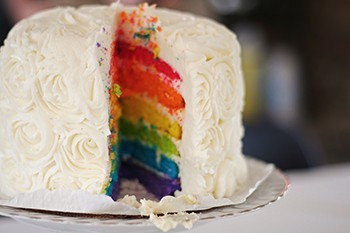 If you're interested in the law and policy horizons for LGBT Elders, especially in the wake of the Masterpiece Cake Supreme Court decision, Aaron Tax (SAGE) and Murray Scheel (Whitman-Walker) have a panel session for you!  
We will look at how we can ensure equal access to aging services, supports and safety net programs for LGBT older adults post-Masterpiece Cakeshop. We will describe how the Masterpiece Cake decision will impact the everyday lives of LGBT older adults and why and how religious exemptions harm both people of faith and LGBT older adults.
After explaining the possible impacts of the decision, we will explore practical solutions as well as both legal and policy advocacy efforts to neutralize discrimination against LGBT elders based on religious beliefs by service providers in housing, direct services and supports, and healthcare and continuing care communities. 
This information will equip LGBT older adults as well as providers and advocates to understand the current legal situation. Our time together will end with a discussion of how LGBT older adults, their advocates, and their allies can use legal and policy advocacy to address and deflect claims of religious exemption to non-discrimination laws, and practical steps to assist clients in the face of discriminatory practices and policies. In particular, we will look at how the First Amendment religious freedom clauses themselves may provide a shield against discrimination based on Religious Freedom Restoration Act of 1993 (RFRA). 
This is a session for folks engaged in policy advocacy, litigation, as well as direct service—we hope you will bring your own questions and experiences to the discussion!
Don't miss Just Desserts: What Can LGBT Older Adults Expect in the Wake of Masterpiece Cakeshop? on Tuesday, April 16 at the Hyatt Regency New Orleans - Strand 11 B (Level 2) during the 2019 Aging in America Conference. Learn more about LAIN here.