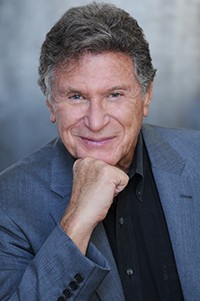 Editor's note: This past January, ASA surveyed its members about what it takes to be a leader in the field of aging, what members would like to learn about how to develop leadership knowledge, skills and abilities, and who best personifies leadership. ASA members identified respected leaders in aging—many of whom are well known to the ASA community and to the field at large. This following Q&A with Ken Dychtwald is the second in a series of leadership profiles we will feature online in the coming months.
Don't miss a recorded conversation between
ASA CEO Peter Kaldes &
AgeWave CEO Ken Dychtwald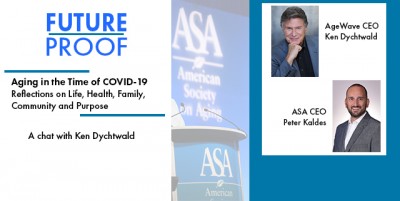 ​
​
Future-Proof | Aging in the Time of COVID-19: Reflections on Life, Health, Family, Community & Purpose - A Chat With Ken Dychtwald
Watch the recording here.
Ken Dychtwald, Ph.D., is founder and CEO of Age Wave and a psychologist, gerontologist and author of 17 books on aging-related issues, including the forthcoming What Retirees Want: A Holistic View of Life's Third Age. (Preorder on Amazon here; a portion of proceeds will benefit ASA.) He has spent the past four decades helping people in business, healthcare, finance, the media, advertising, travel and leisure, and retirement to understand how aging and the demographics of the age wave will impact us all.
AgeBlog: How might you describe the ways leadership in the field of aging differs from leadership in other fields?
On the plus side, leaders in the aging field lead from their hearts. These are kind, high-minded, impassioned people. But on the negative side, the field is not a particularly visionary or forward-leaning ecosystem.
Today, many people are innovating around aging in the fields of technology, transportation, leisure, education, housing, biotech and more. But they don't see themselves as working in the field of aging. Because the aging field has not embraced innovation, opportunities for collaboration and wider inclusiveness have been missed.
AB: How did you use networking to progress in the field of aging?
Every step of the way in my life and career, someone reached out and pulled me up a little—from the fields of gerontology or business or communications. I have so much gratitude for all of those people who saw me as an idealistic young dreamer and then an ambitious professional, and pulled me aside to show me how to be more thoughtful, professional and impactful. It wasn't my alma mater, but my ever-evolving network that helped me the most in my career.
Also, a network is a living, breathing organism that continually needs refreshment and course corrections. One has to be careful to keep their network from becoming stagnant.
AB: What sort of education did you find most helpful?
Failure. I surely have had my fair share of successes, for which I'm grateful. But failures have taught me a lot about how to self-improve, become wiser, try harder and often see things that I had been missing, making my next attempts more impactful.
I've written books that I thought would change the world, and they flopped. I've had ideas I thought were transformative, but no one cared. I created businesses that went bankrupt.
Also important regarding education is that I'm continually on the hunt for new ideas, new insights—new ways to think about things. Maybe that's my best advice regarding education: be curious. Don't ever stop being a learner!
AB: What do you think is the most critical skill to have as a leader?
Inner fortitude. We often imagine leaders in their glory moments. However, leadership means stepping out in front—and by definition, you'll be charting new territory. Some of the time, you'll be told no and people will disagree with or even attack you. You may doubt yourself and you'll need to learn to commit to your convictions.
You'll also want to have a balanced life. At age 40, in 1990, I landed on the cover of "Inc." magazine, when my eighth book Age Wave came out. As I traveled through airports, everywhere I looked, there I was on the cover. What happens is many of the other magazine cover people reach out to you, and you form a kind of friendship network. But as I got to know these famous leaders, I found that many were alcoholics, their kids didn't get along with them, etc. Sometimes trying to be leader can wound you, even break you. I've been determined to have a loving and flourishing family life with my parents, who are now deceased, my wife, children and brother. And that requires that I don't let the ups and downs of attempts at leadership ruin that.
AB: Can you speak to one leadership challenge encountered on the job and how you met it?
In 2015, I was troubled by this foul person, Donald Trump, running for office, and who I thought was unworthy. I also felt that neither he nor Secretary Clinton were focusing enough attention on the subject of aging. It wasn't front and center in any debates. I was very upset. I tried to activate the Maggie Kuhn in me and wrote a letter to the heads of 83 aging organizations in America. It said we cannot miss this moment to have issues pertaining to our aging population neglected, or worse, avoided altogether. We need to come together to prevent this from happening.
Of those 83 organizations' leaders, only [former ASA President and CEO] Bob Stein responded. The other 82 just ignored me.
So how did I deal with it? First, I felt really angry, and then sad. Then I decided to put on a national press conference by myself to talk about these issues, knowing that it would have been far more effective with some of the other leaders' collaboration. However, still in 2020, the candidates are not talking much about the challenges and opportunities of our aging nation. I'm still angry.
AB: What might you say to inspire younger potential leaders in the aging sector?
Be bold, be compassionate, be collaborative, go outside the dotted lines. And be smart. And when you communicate, you have got to have the facts right, you have to have the correct information. There are lots of folks in the field of aging who are living with 1980s data—and may not even realize it. That's another quality you should have—the desire to be an expert and the willingness to do the extra work in your field—and on yourself—to possibly become one.
---