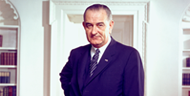 By Joseph A. Califano, Jr.
When President Harry Truman proposed national health insurance, the American Medical Association (AMA) defeated him through an unprecedented $2.8 million public relations campaign that effectively branded his national health insurance proposal as socialized medicine—even as part of a Communist plot. While Truman's proposal was killed, in 1946, Congress passed the Hill-Burton program to increase the number of hospital beds, especially in poor states.
In 1960, Congress responded by enacting a program to finance state efforts to help the elderly with healthcare, sponsored by Senator Robert Kerr of Oklahoma and Congressman Wilbur Mills of Arkansas, then chairman of the House Ways and Means Committee. Under the Kerr-Mills legislation, the federal government provided states with 50 percent to 80 percent of the funds they spent for medical assistance to the aged. The poorest states received the highest federal match. Beneficiaries were limited to those in severe financial need. States were free to provide a full range of benefits, from hospital, surgical, and physician care to drugs and false teeth. But by 1963, only thirty-two of the fifty states had established programs, and of these, five large industrial states (New York, California, Massachusetts, Michigan, and Pennsylvania), with only 32 percent of the population older than age 65, were receiving 90 percent of the funds. That didn't sit well with Messrs. Kerr and Mills from Oklahoma and Arkansas.
Shortly after President Lyndon Johnson assumed office in 1963, he said, "We are going to fight for medical care for the aged as long as we have breath in our bodies." Pending Democratic proposals provided only hospital benefits for the aged. Johnson wanted more—a wide range of healthcare first for the elderly and the poor—but he recognized that to overcome the opposition of doctors, hospitals, insurance companies, and their allies (like the Chamber of Commerce and the National Association of Manufacturers) he would have to accept certain compromises. Some had already been made during the long history of Medicare-type legislation and were incorporated in his proposals, such as the provision ensuring hospitals would be paid their "reasonable cost" of providing services to the elderly. Johnson's inclusion of some concessions softened the American Hospital Association opposition and that of Blue Cross and some commercial insurance companies.
Under intense pressure from LBJ, the Senate Finance Committee held public hearings on Medicare in August 1964. The committee refused to report out a bill. But Johnson and his supporters in the Senate were able to attach Medicare to a bill that had passed in the House providing for increased Social Security benefits. (In those days, there was no automatic cost-of-living increase in Social Security benefits; Congress usually voted an increase in each election year.) Despite strong election-year pressures for the Senate to abandon the Medicare amendment in conference and let the Social Security benefits increase go into effect, Johnson refused to yield and the bill died in conference. During the conference, House Ways and Means chairman Wilbur Mills promised to give Medicare first priority in the next session.
A few weeks later, when Johnson brought a two-to-one Democratic majority into the House on his coattails, Mills was ready to act. After two months of hearings, Mills astutely proposed combining the Democrats' hospitalization-insurance bill for the elderly with a Republican alternative that would create a voluntary program of surgical and medical insurance for them, to be paid through individual premiums and general revenues. In addition, as Johnson reminded Mills that his Kerr-Mills law failed to get help to the poor in smaller states, Mills changed eligibility for the Kerr-Mills program to include most people on welfare and the "medically indigent," without regard to age—a proposal that would ultimately be called Medicaid.
There was a price to be paid. In addition to acceding to the hospitals' demands for cost, plus reimbursement, the legislation provided that these programs would pay physicians' fees that were "reasonable," "customary," and in line with those "prevailing" in their community. While cost, plus reimbursement was widely used in the hospital industry at the time, insurers in the mid-1960s did not commonly pay physicians according to their "customary" fees. Nevertheless, Johnson accepted this system to blunt AMA claims that government would control doctors' fees. Medicare's adoption of this system had the ripple effect of bringing it into wide use among Blue Shield and commercial insurers, something the medical profession had been trying unsuccessfully to achieve. As a result, physicians would gain even greater power to charge what the traffic would bear. Johnson agreed because his focus was almost entirely on access, and rarely on cost.
Sitting in Johnson's small green hideaway office one day, White House and Health Education and Welfare (HEW) lobbyists Larry O'Brien and Wilbur Cohen (later to become HEW Secretary) responded to Johnson's demand that they move the Medicare bill out of committee.
"It'll cost a half-billion dollars to make the changes in reimbursement standards to get the bill out of the Senate Finance Committee," Cohen said.
"Five hundred million. Is that all?" Johnson exclaimed with a wave of his big hand. "Do it. Move that damn bill out now, before we lose it."
A "compromise" was born. It went beyond Medicare paying hospitals on the basis of what their services cost, and doctors their reasonable, customary, and prevailing fees.
To keep big government out of the practice of medicine, the legislation also gave health insurers the tasks of paying and auditing doctors and hospitals. And it gave hospitals the right to pick which insurers they wanted as their auditors. This avoided a direct relationship between the providers and the federal government. Not everyone was happy. But with these changes, some health insurers supported Johnson's proposal and hospital resistance was neutralized. The changes also effectively gutted the arguments of the doctors whose opposition continued; congressmen and senators could now answer their contentions by saying, essentially, "You're free of government interference, even on your fees, and a lot of your nonpaying patients will now be sources of income to you."
Medicare and Medicaid Are Born
So Medicare and Medicaid came out of their legislative birth pains in 1965.
Two serious problems erupted after the law was passed. First, the AMA indicated that doctors might not participate. In July 1965, on the day after announcing the Vietnam military troop build-up, LBJ met with AMA leaders in the cabinet room.
Sitting around the table, the doctors waited for LBJ to start the meeting. Johnson said he needed physicians in Vietnam to help serve the civilian population. Would the AMA help get doctors to rotate in and out of Vietnam for a few months at a time?
"Your country needs your help. Your President needs your help."
Of course, the AMA would start a program almost immediately, the doctors responded.
"Get some reporters in here," Johnson said.
The President announced the AMA medical program and lavishly praised the doctors present. But the reporters wanted to know about Medicare. Would the doctors support the Medicare program?
"These men are going to send doctors to Vietnam where they might be killed," Johnson said indignantly. "Medicare is the law of the land. Of course they'll support the law of the land."
Johnson turned to AMA president Dr. James Appel. "Tell him," he said.
"We are, after all, law-abiding citizens," the top AMA official responded. "We have every intention of obeying the new law."
Johnson shook hands warmly with the delegation.
The other problem was more difficult. Under the recently enacted 1964 Civil Rights Act, hospitals that received federal funds had to be desegregated. Southern (and even some Eastern, Western, and Northern) hospitals balked. The President had me, as his chief assistant for domestic affairs, give him daily reports about hospitals signing up.
"Make sure every hospital in Texas signs up," he said. I gave him reports of hospitals across the South (and where we had difficulties elsewhere) until we had them signed up.
We in the Johnson Administration anticipated sharply increased demand for healthcare services, so we pushed through Congress laws to train more doctors and nurses, build more hospitals, and set up community health centers. We assumed (incorrectly) that we were playing by traditional economic rules: the more doctors and hospitals, the more competition, the more efficient and less costly the services. By 1967 and 1968, we realized how misguided this assumption was. The rise of healthcare costs was accelerating dramatically.
In 1968, the President's Special Message to Congress: "Health in America" (Johnson, 1968) sounded the alarm on rising costs and cited three major deficiencies:
The tilt of insurance plans that "encourage doctors and patients to choose hospitalization";
The fee-for-service system with "no strong economic incentives to encourage [doctors] to avoid providing care that is unnecessary"; and,
The fact that "hospitals charge on a cost basis, which places no penalty on inefficient operations."
President Johnson requested authority from the Congress to "employ new methods of payment as they prove effective in providing high-quality medical care more efficiently and at lower cost" (Johnson, 1968). He warned that unless the nation restrained hospital costs, its healthcare bill could hit $100 billion by 1975, and the cost of medical care for a typical American family would double in seven years. Newspapers and leaders on Capitol Hill challenged Johnson's numbers and dismissed his words as hyperbole aimed at getting his program passed. Congress failed to act. As it turned out, in 1975, America's healthcare bill actually hit $130 billion, and the cost of medical care for an American family doubled in fewer than six years.
Reflecting Back
Looking back over Medicare, Medicaid, and the related Great Society laws we passed in the Johnson Administration, I am struck by two things.
First, we developed those programs and laws based on the healthcare system at the time, a perception that mightily affected our cost estimates. Compared to today's scientifically exotic world of medical care, it was a rudimentary system. There were no organ transplants, no sophisticated and incredibly expensive diagnostic tools like PET scanners, little expensive chemotherapy and surgery, and the heart, cancer, and stroke legislation designed to establish centers of medical excellence in many cities was just beginning to kick in.
Second, as I note in the new introductory essay in the new 2015 edition of my book, The Triumph and Tragedy of Lyndon Johnson: The White House Years (Califano, 2015), we did not appreciate the way Medicare and Medicaid would inject the federal government into a host of ethical problems and religious convictions. With the extension and explosion of the older adult population has come end-of-life issues, even euthanasia and assisted suicide, for example. With the sexual and medical revolution, controversies abound about funding abortion and contraception and who gets whose organs and transplants.
These issues—cost of care and ethical and religious concerns—pose infernally complex questions for our free and uniquely diverse society that will challenge our nation and its leaders for many years to come.
---
From 1965 to 1969, Joseph A. Califano, Jr., was President Lyndon Johnson's chief assistant for domestic affairs and, from 1977 to 1979, President Jimmy Carter's secretary of Health, Education, and Welfare. He is founder and chair emeritus of the National Center on Addiction and Substance Abuse at Columbia University in New York. Califano is the author of more than twelve books, including a new edition of his book, The Triumph and Tragedy of Lyndon Johnson: The White House Years, originally published in 1991 and republished by Simon and Schuster in February 2015 with a new 7,500-word introduction.
Author's Note
The quotes in this article are from the Public Papers of President Lyndon Johnson, or from the author's books, The Triumph and Tragedy of Lyndon Johnson: The White House Years (New York: Simon and Schuster, 2015); America's Health Care Revolution: Who Lives, Who Dies, Who Pays (New York: Random House, 1986); and, some material in this article also comes from those books.
Editor's Notes:
The entire Summer 2015 issue of Generations is available on AgeBlog thanks to the generous support of The Benjamin Rose Institute on Aging, Compassion & Choices and Robert Wood Johnson Foundation President's Grant Fund of the Princeton Area Community Foundation. Click here to read more.
This article is taken from the Summer 2015 issue of ASA's quarterly journal, Generations, an issue devoted to the topic "Medicare at 50" ASA members receive Generations as a membership benefit; non-members may purchase subscriptions or single copies of issues at our online store. Full digital access to current and back issues of Generations is also available to ASA members and Generations subscribers at Ingenta Connect. For details, click here.
Image courtesy of Violet Jiang on Flickr
---
References
Califano, J. 2015. The Triumph and Tragedy of Lyndon Johnson: The White House Years. New York: Simon and Schuster.
Johnson, L. B. 1968. 111—Special Message to the Congress: "Health in America." Retrieved March 12, 2015.