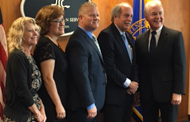 After unanimous confirmation in early August by the U.S. Senate, Lance A. Robertson was officially sworn in on August 11, 2017, as the Assistant Secretary for Aging and the Administrator, Administration for Community Living (ACL), within the U.S. Department of Health and Human Services (HHS).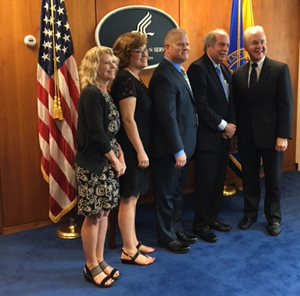 Attending the Aug. 11 ceremony were (L−R), Carol Sala, Martha Roherty, Lance Robertson, Bob Blancato and Tom Price.
Among those attending the swearing-in ceremony (and pictured, at right, with Assistant Secretary Robertson) were Carol Sala, former administrator, Division of Disability and Aging Services, Nevada State's Department of Health and Human Services, Martha Roherty, executive director, National Association of States United for Aging and Disabilities (NASUAD), American Society on Aging (ASA) Board Chair Bob Blancato, president, Matz, Blancato & Associates, and HHS Secretary Tom Price.
Robertson, with his extensive knowledge of and experience in the aging services and disabilities networks, previously served for nearly a decade as the Director of the Aging Services Division at the Oklahoma Department of Human Services; he had also served as an administrator at Oklahoma State University, where he co-founded the university's Gerontology Institute. Robertson also is a former NASUAD Board member and NASUAD past president.
Mr. Robertson was the recipient of the Oklahoma Aging Professional of the Year Award, the Salute to Leaders in Aging National Award, the National CareHeroes Professional Award, and the 2015 National Association of States United for Aging & Disabilities (NASUAD) President's Award. He was given 2013 Honorary Alumni Award status for the College of Human Sciences at Oklahoma State University.
Mr. Robertson is a graduate of the 2010 Governor's Executive Development Program for State Officials, and a proud graduate of the first class (1997) of the Oklahoma Aging Advocacy Leadership Academy. His undergraduate degree is from Oklahoma State University and he has a Master in Public Administration degree from the University of Central Oklahoma.
ASA congratulates Mr. Robertson on his new role, and looks forward to continued work with the ACL in its service to America's older adults and people with disabilities. "Lance Robertson is eminently qualified for this post," said ASA Board Chair Bob Blancato. "He enjoys great support in aging and disability groups. I think his four priorities as outlined in his Senate confirmation hearing are a prelude to ACL and ASA having great leadership in years ahead," Bob added.