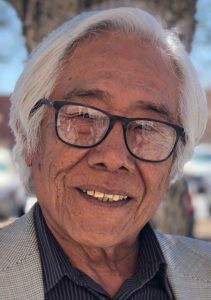 Editor's note: This past January, ASA surveyed its members about what it takes to be a leader in the field of aging, what members would like to learn about how to develop leadership knowledge, skills and abilities, and who best personifies leadership. ASA members identified respected leaders in aging—many of whom are well known to the ASA community and to the field at large. This following Q&A with Larry Curley is one in a series of leadership profiles we will feature in Aging Today and online at ASA's AgeBlog in the coming months.
---
Larry Curley is Executive Director of the National Indian Council on Aging (NICOA) in Albuquerque, New Mexico. Curley, who along with members of the National Tribal Chairmen's Association founded NICOA in 1976, was named a 2019 Influencer in Aging by NextAvenue. 
Curley's route to his current position began after graduate school at the University of Arizona, when he worked with a mentor, Professor Ted Koff, who held a grant from the state of Arizona to conduct training sessions about the state's aging population. Curley was disappointed in the lack of trainings focusing on the Indian population, so Koff put him in charge of what became a three-day conference in Arizona on the aging Indian population. 
Curley then wrote a grant to create a National Indian Conference on Aging, and drafted Title X legislation to secure direct funding for Indian programming. This legislation, which eventually became Title VI, [of the Civil Rights Act of 1964] was successful, and that 1976 National Conference spawned the group who originally met to convene the NICOA.
Curley worked for NCIOA for five years, but left to run a nursing home and, subsequently, a hospital in Indian Country. In 2018, he was invited to return to NCIOA as its executive director. "My job is to look at what happens with older Indians at the national and local levels, to identify their needs and advocate on their behalf. I'm always looking for opportunities where NICOA can help to set the national agenda," Curley says.
ASA: How might you describe the way leadership in the field of aging differs from leadership in other fields?
Larry Curley: One has to have a tremendous amount of empathy and an understanding of the issues facing older people, to understand not just what they think and how they feel, but to know much more about the customs, traditions and culture of that population—it's important to know how to behave. Above all, I've learned over 40-some years of managerial- and executive-level leadership that leadership has to provide hope. Hope is critical because it provides the impetus to continue to get things done, despite conditions.
Specifically, for the older population, it is important to let them know that there can be a better tomorrow, so that they buy in and believe there will be brighter days ahead, and that the next generation of older adults will have it better than they did.
ASA: How did you use networking to progress in the field of aging?
LC: Networking is critical. I am smart enough to know I don't know everything. Part of networking is to find others in the field who know more than you do, to gather information from them and solicit their support. The aging network is most conducive to information exchange, people are helpful and willing to provide counsel and advice. The aging network is one of most awesome groups of people you could ever work with.
ASA: What sort of education did you find most helpful?
LC: I have a Master's in Public Administration, with an emphasis on nursing home administration. It provided me with the foundation for all the work that has emanated out of that. I credit Professor Koff with providing me with that opportunity. I also worked with Marian Lupu, who founded and was Executive Director of the Pima Council on Aging in Tucson, and who was one of the past presidents (1977 to 1978) and a founding member of the Western Gerontological Society, which later became ASA. She was instrumental in sharing her experience with me. These two fantastic individuals were part of my foundational education.
Learning to manage people has been my greatest educational experience. People make a mistake when they say that anyone can learn how to manage—management is an art. I can teach you how to mix paint and to stretch a canvas, and you can learn [those basics], but you have to have something extra inside of you that will allow you to create a Mona Lisa.
ASA: What do you think is the most critical skill to have as a leader?
LC: To be humble enough to know your limitations and to be able to ask people for help. Being a member of the Navajo Nation, and because of the way I was taught as a young person, I realize that whatever education I received, that education was not just for me—you must use your education to help your people. It is community property. My training and the way I was raised made me understand that I am no better or less than any other individual, entity or living being. A leader has to have that sense of equality and empathy, plus the ability to listen, to know when to talk and to have a vision of where an organization needs to go.
ASA: Can you speak to one leadership challenge encountered on the job and how you met it?
LC: Unfortunately, I can't come up with any specific challenges, other than the usual things, like ensuring an organization's financial stability, and to find those resources necessary to sustain the organization. My staff, they are absolutely phenomenal, and go above and beyond what you ask—they take the initiative. My role is to give them the freedom and latitude to explore their potential and take on new skills and learning opportunities: these are challenges. What any good leader does is to find resources, and to have a vision of where the organization needs to go and to fit the resources into that vision.
ASA: What might you say to inspire younger potential leaders in the aging sector?
LC: There is fantastic opportunity in this field. One has to believe that a single person can make a difference. I want young people to know that regardless of the work they do in this field, they themselves are, one day, going to get old. There are things they will learn from the time they are young until they get to my age [70]—they will learn a lot. One thing that has been helpful and inspiring for me is working with the older population.
When I was working with the Pima Council on Aging in Tucson, I got to meet many, many older people and, in my lifetime, every one of them has given me advice and counsel. Once I sat down and thought of all the older people I'd known, and I added up their ages: The total was more than 2,000 years of experience to be gained! 
When I first left Pima to move to Washington, D.C., one woman I knew in Tucson, Kathyrn Knowles, said to me, "Larry, I have one wish, and it is that one day, in the last 30 seconds of your life, you will be able to say, 'I have no regrets.' " That's what I'm trying to do, and it's what young people should do, too.
---
Don't miss Larry Curley on Future Proof with ASA CEO Peter Kaldes. Click here to join us.

---
Larry Curley was named a 2020 Influencer in Aging by Next Avenue and recently participated in a web seminar moderated by Richard Eisenberg where he discussed what concerns him about aging in America, what he's most optimistic about and where he thinks the future of aging in America is heading. You can watch the free webinar here or read the highlights from Next Avenue.
---