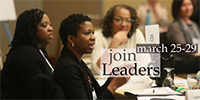 The Leadership Institute (LI), which includes an annual five-day leadership development intensive held during the Aging in America (AiA) Conference, in 2017 graduated 52 participants—a diverse group of new leaders in the field of aging. Aging Today recently spoke with three of these graduates—up-and-coming leaders who share characteristics that bode well for the future of the field of aging.
All three graduates spoke highly of the LI training, rating it extremely effective, and cited the DISC profiling exercise as one of the most memorable highlights. Run by Robert Carpenter, the exercise is an intuitive learning model that allows participants to discover their preferred leadership behavioral style and to learn to adjust that style to respond to the needs of staff. The DISC also teaches employee−boss communication techniques, and offers strategies for overall management effectiveness.
Key Takeaways, in Their Own Words
"I've been through DISC before," said Ladisa Onyiliogwu, who works in the Department of Senior Services in Atlanta, "but this was a much deeper dive, and, as a note taker, I captured lots of information to use with my team. One key takeaway was some of the toolkits to manage other people and better interact with team members."
William Tarter, Jr., policy planning associate and community advocacy for The Center for Community Solutions in Cleveland echoed Onyiliogwu's enthusiasm: "It was extremely rewarding to be able to talk [to] people with similar characteristics, but [also to hear] from others who weren't in the same [personality] category, and learn how to work well together in a work environment."
National Health Director at the Oasis Institute Sarah Lovegreen especially appreciated the knowledge gleaned regarding personality types and being able to share this with her Oasis team members so they could all learn "how we can interact more effectively." Lovegreen lauded the "great planning tools that encouraged us to revisit [what they learned at the Conference] days and weeks post-conference."
Lovegreen has already begun using her new skill set to help her "manage up" to a new supervisor, a collaborative person who encourages brainstorming. She says she's helping him to understand the best pace at which to tackle his long list of goals for transforming and growing Oasis.
Both Onyiliogwu and Tarter valued the chance they had while attending the Institute and during other Conference sessions to interact with and learn from leaders in the field of aging.
"One of the key things I took away from the panel discussion," said Onyiliogwu, was when LI panelist Laura Trejo, general manager of the City of Los Angeles Department of Aging, "reminded us of how we can collaborate with different agencies in government, without them becoming fearful that we're going to take something from them, and how to use resources wisely within our own agency."
"During the Conference was the vote on the skinny bill," said Tarter, "so it was an unplanned educational opportunity on how senior organizations and leaders were getting involved, in real time, with each other and with elected officials to detail the impact that the legislation would have on [older adults]. I saw firsthand the effectiveness of senior advocacy on public policy."
Plans for the Future
These three leaders-in-training have targeted plans for the future, with Onyiliogwu hoping in 10 years to be a county manager, and Tarter philosophically expecting to do whatever it takes to ensure people are informed at the policy level about the challenges facing our nation's aging society and the effects that impending legislation may have on elders.
Lovegreen wants to continue her nonprofit leadership development, and growing that skill set to work with a nonprofit agency having a mission that combines aging and health. The Missouri Foundation for Health sponsored a half dozen people from Oasis and nearby nonprofits to attend the LI, and Lovegreen says they still get together for coffee to catch up and sometimes even discuss leadership ideas.
"So many nuggets of information came out of the Institute that I have brought back to Atlanta to use," says Onyiliogwu, "that I highly recommend it to anyone interested in growing as a leader."
The 2018 Leadership Institute runs Sunday, March 25, through Thursday, March 29, at the 2018 AiA Conference. For more information and to register, go to www.asaging.org/2018-leadership-institute-agenda.