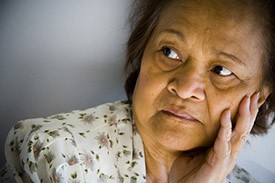 By Carol Marak
Aging safely and independently at home is a natural desire of older adults. We want a space to call our own, and we prefer that place to reflect the person we've become, surrounded by dear friends. However, a large number of individuals ages 65 and older, 27 percent, according to the U.S Census, live alone.  
The physical and mental challenges escalate with age, loss, immobility, dependence, and social isolation. These deficits have the potential to increase the risks for depression, falls, and chronic illness.
Current gerontology and geriatrics research has found that adults are increasingly aging alone, geographically distant from family or friends and with multiple chronic diseases. Carney claims it is challenging for clinicians to identify these individuals, who often struggle with managing the growing difficulties and complexities involved in delivering care to this population.
"Clinicians often may not recognize or know how to address the needs that these patients have in managing their health," Carney said. "While many such patients function well at baseline, the slightest insult can initiate a cascade of avoidable negative events."
Dr. Maria Carney, along with aging alone experts and professionals, will host a panel discussion called Solo Aging: A 360-Degree Perspective, at the 2018 Aging in America Conference on March 29. The panelists include Sara Zeff Geber, Ph.D., President/Owner, LifeEncore, Carol Marak, BS, Aging Advocate, and Editor at Seniorcare.com, Wendi Burkhardt, BS, Founder and CEO, Silvernest LLP, and F. Scott Moody, BSIE, xMBA, CEO, K4Connect.
This session will address the solutions for Solo Aging - for individuals and society. The panel will share their research findings as well as their own experiences, inventions, and unique perspectives for making the post-sixties fulfilling and meaningful for all, regardless of family connections. Attendees will learn:
Where can solo agers find the social support systems they need?
How should they prepare for the journey?
What are their housing options? What are the risks associated with aging alone?
Conference attendees working with older adults in local communities should join the discussion and discover how to help clients avoid isolation and loneliness, to protect themselves financially and legally, and identify the needs of the community.
Other discussion points will address:
A model for creating community teams to care for aging alone patients with medical, functional, social, and safety needs
A roadmap to enable vulnerable populations to link and access social services, adult protective services, and senior agencies
How the residential communities (retirement communities, assisted living, continuous care, skilled nursing) can create a nurturing and family-like environment for their Solo Ager residents
The types of local community-based services would support a person who lives alone in the suburbs
How clinicians can help patients, who have no one to count on after a hospital visit or a medical test
Understanding of how a person aging alone can compensate for help when family is not around
Models for creating community services for seniors who have no family support
Knowledge of community and privately held resources to help those aging alone to prevent and avoid hospital admissions
New technology that helps a Solo Ager remain safe at home.
Carol Marak is an aging advocate and editor at Seniorcare.com