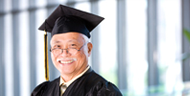 By Sandra von Doetinchem
It is my greatest pleasure to contribute to the American Society on Aging as the chair of the Lifetime Education and Renewal Network (LEARN) Council since nearly three years. I would like to thank the whole council for their amazing work, their enthusiasm and passion in the field of lifelong learning, as well as for the time they have devoted to LEARN. I would also like to thank these members who will complete their terms of service at the 2016 Aging in America Conference: Gay Hanna and Laci McKinney.
In addition, we are welcoming our newest appointees to the council: Greg Finch, Linda Maurice, and Ann Simanis, whose terms begin right after the conference. Please join me in wishing them all the best, great success, and much fun working on the council.
The 2016 Aging in America Conference is coming closer and I hope that you can join us in Washington, D.C. I am thrilled to present to you the program that the LEARN council designed, which will all take place on Wednesday, March 23, under the sobriquet The Experiential Lightness of Aging wherein we will explore successful, innovative, scientifically proven programs that enhance and honor the aging process through a holistic approach.
LEARN Program Agenda for Wednesday, March 23:
9:00 A.M.–10:00 P.M.
Creative Aerobics
Terri Tobey and Joshua Berrett will introduce a 30-minute aerobic routine, which incorporates story, visualization, music, dance, cardio and rhythmic movement. Afterwards, all of the elements of the routine will be deconstructed to explain how and why the "bonus" creative elements enhance healthy mind-body symbiosis, with special emphasis on the power of music.
12:30–2:00 P.M.
Latest Trends From Lifelong Learning Research and Practice and Resultant Best Practices
Judi Bonilla, Michelle Buhmann, Linda Maurice, Janna Overstreet, and Mary Staackmann, with join me in discussing the latest trends from lifelong learning research and proven practices. The panel will address the question of who these modern students are and what draws them to lifelong learning. Findings from an international lifelong learning study will be shared with the audience.
2:30–3:30 P.M.
Caring for the Caregiver: A Program for the 21st Century
Lynne Berrett and Joshua Berrett invite ASA members to explore the virtual world of Second Life and how this tool can support family caregivers who have to stay close to home. Members will learn how Second Life can offer family caregivers social, spiritual and educational activities that nourish body, mind and spirit, reduce isolation and loneliness and promote health through positive immersive experiences.
4:00–5:00 P.M.
LEARN IV - The Boomers are Coming! Are You Ready?
The wave of baby boomers is just starting to hit - are we ready? Senior Centers and organizations serving older adults often talk about programming for Baby Boomers and trying to attract this younger audience. How do we do that successfully? Baby Boomers as a generation are just entering the lifestage that these organizations serve, yet they are different than our current customer in many ways. Linda Maurice and Mary Staackmann will discuss the Boomers cohort, their values and trends as a generation, and how that can affect their preferences in programs and where they participate. North Shore Senior Center's efforts to prepare for the generational shift that is beginning, and the probable impact it will have on the Center and programming, will be reviewed.
Peer-Group Sessions:
Sunday, March 20
6:45–7:45 P.M.
Creativity and Aging Peer Group
Greg Finch, MetLife Award winner and founder of the National Center for Creative Aging, invites ASA members to share their work, questions, and issues related to the field of creativity and aging in America.
Tuesday, March 22
6:00–7:00 P.M.
Lifelong Learning Practitioners and Researchers Peer Group
Judi Bonilla and Mary Staackmann welcome you to discuss research, programs, and trainings with those of you who are lifelong learning researchers and practitioners. The peer group will be a chance to share ideas and concerns with others in the field.
In addition to these exciting conference sessions, LEARN has planned a variety of activities and events for this year such as webinars, book reviews, and AgeBlog contributions that will hopefully be of interest to you.
Stay tuned and see you in Washington, D.C.!
---
Sandra von Doetinchem is chair of ASA's Lifetime Education and Renewal Network