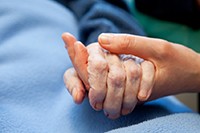 By Rosemary Jordan and Erin Partridge
Elder Care Alliance will be facilitating a peer group meeting for Life Enrichment Directors or people in analogous roles at the Aging in America conference. As we have launched an internal Community of Practice for our Life Enrichment Directors and worked on quality improvement and professional identity, we have encountered some exciting triumphs as well as difficult conversations. We will be using Appreciative Inquiry methods to have a conversation about the role as it is, the role as we wish it was, and the role as imagine it could be.
These types of conversations can be difficult:
Can we identify our difficulties without getting sucked into complaining?
Can we address sensitive issues around professionalism and quality improvement without stimulating defensiveness?
Can we imagine into the future without being heartbroken about the changes that seem impossible?
Appreciative Inquiry provides a method to have these conversations with our feet firmly planted on positive ground and our eyes turned toward the future. We plan to cover the current experiences, our shared hopes for the future of the work, and establish a group of people interested in continuing to discuss how we can do great work and feel fulfilled as we do it.
We look forward to having this conversation during our Life Enrichment Directors Peer Group with everyone in San Francisco during the Aging in America Conference. To continue the conversation after the conference, connect here.
Rosemary Jordan, MPH/MPP, is Vice President of Business Development at Elder Care Alliance. Erin Partridge, PhD, ATR-BC, is Experiential Researcher-in-Residence at the Elder Care Alliance.