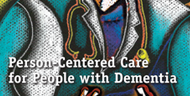 By Kathy Greenlee
She could always remember the farm. The best gift we could give her was to take her away from the nursing home, drive to the country, and look at the wheat. If we were lucky, we ran into someone we knew working the fields. Back in the nursing home, she kept reminders: a four-foot metal windmill, a concrete pig, and a plastic chicken. But in the country, during the drive, she could remember and she could see.
Right now, in the United States, about five million people live and struggle with Alzheimer's Disease and related conditions, such as vascular, Lewy body, and fronto-temporal dementia (U.S. Department of Health and Human Services [HHS], 2013). With increasing age comes increasing risk of dementia. The coming age wave means a substantial rise in the number of people with these and other dementias. Roughly fourteen million older Americans are projected to have dementia by 2050.
The significance of these numbers requires the attention of policy makers at all levels as we consider how best to provide care for people with dementia, support their families, fund critical services, and invest in research. The numbers capture our attention. But it's the number one that captures our heart. To most of us, dementia is about a loved one.
For me, that person is my maternal grandmother, Carol Forward. Grandma Forward had vascular dementia and macular degeneration. She traveled through and taught me about every level of long-term care. She started her dementia journey in independent housing at a continuing care retirement community, eventually moving through assisted living, skilled nursing, specialized dementia care, and hospice. And while her experience with dementia was personal to her and to my family, it very much reflects the experience of millions of families in this country—and in the world—who deal with dementia every single day.
Congress passed, and in 2011 the President signed, the National Alzheimer's Project Act, which requires the Secretary of the HHS to create a national plan to overcome Alzheimer's Disease by coordinating research and services across federal agencies, speeding development of treatments for the condition, improving diagnosis and coordination of dementia services, and improving outcomes for those at highest risk for getting dementia.
Person-centered dementia care is critical to meeting these goals. Such care involves knowing the person with dementia, where they are in their disease stage, and their unique background. While my grandmother blossomed during her drives through the country, this particular experience was hers alone. It reflected her past, her memories, her family, and her farm. During one visit to see her, I was running short on time, so I drove her through a neighboring town. At one point during the middle of our trip, Grandma blurted out, "Am I supposed to recognize any of this?" I was improvising and, quite obviously, not doing a good job of it. My plan didn't work because it wasn't the right one for her.
For people with dementia to remain independent and safe in their communities requires person-centered care; person-centered care is not possible without dementia-capable service systems and staff. Dementia-capable systems are those that "get it" with regard to the unique needs of those with dementia and their families. These systems identify the person with dementia, and ensure that workers are trained to get to know them and their specific needs as well as those of their caregivers.
At the Administration for Community Living (ACL) we are committed to advocating for older adults, people with disabilities of all ages, and their families. We recognize that cognitive impairment and dementia know no age. People can have dementia in their 30s and 40s, and almost everyone with Down syndrome develops dementia when they reach their 50s and 60s.
To respond to the needs of people with dementia, their families and caregivers we created the www.alzheimers.gov website, which provides basic information about Alzheimer's Disease and other dementias, as well as connections to detailed, reliable information and community resources in English and Spanish. ACL's National Family Caregiver Support Program and Alzheimer's Disease Supportive Services Program provide supportive services to caregivers and people with dementia through local area agencies on aging. ACL also recognizes the higher risk that people with Down syndrome have for acquiring Alzheimer's Disease, and has begun discussions with stakeholders about how to better serve this population.
ACL is proud to be a part of the larger efforts of HHS and other federal departments to implement the Secretary's National Plan to Address Alzheimer's Disease through its Advisory Council on Alzheimer's Research, Care, and Services. These efforts include working with the Centers for Medicare & Medicaid Services on cognitive screening as part of the Medicare Annual Wellness visit, and efforts to reduce the use of anti-psychotic medications among people with dementia. We also work with the Health Resources and Services Administration and the Department of Veterans Affairs to develop training for healthcare and long-term-care staff. And we collaborate with the National Institute on Aging, at the National Institutes of Health, to increase awareness of the importance of participating in Alzheimer's research and ACL's supportive services.
I believe the farm was never more important to Grandma Forward than it was when she was in the nursing home. One of the hardest parts of loving someone with dementia is witnessing the clear signposts of change: during one drive with my mother and me, we could see the farm slipping away from my grandmother. The place became unfamiliar to her but the essence of the farm woman never left.
People are themselves, always. We need care that supports the whole person for their whole life. What Grandma never lost was the food. During the last days of her life, she and my mother recalled recipes. I like to think she went to heaven thinking of fried chicken, mashed potatoes and gravy, and chocolate pie.
I applaud Generations for its commitment to this issue and focus of this edition. I am glad to partner with you as we move together as a country to help improve the lives of those we love. Like my Grandma. And yours.
---
Kathy Greenlee is Administrator of the Administration for Community Living and Assistant Secretary for Aging, U.S. Department of Health and Human Services, Washington, D.C.
Editor's Note: This article is taken from the Fall 2013 issue of ASA's quarterly journal, Generations, an issue devoted to the topic "Integrating Services for Dual Eligibles." ASA members receive Generations as a membership benefit; non-members may purchase subscriptions or single copies of issues at our online store. Full digital access to current and back issues of Generations is also available to ASA members and Generations subscribers at Ingenta Connect. For details, click here.