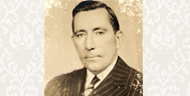 By Larry J. Polivka
No nationally prominent spokesperson for older persons has emerged, since Senator Claude Pepper (D-Ala.), to pursue even a portion of the broad aging policy agenda that he did so much to advance. Since Pepper's death in 1989, aging advocates and policy makers have spent more time and energy fending off proposals to cut aging programs than they have spent pressing for improved or new programs—this, in advance of the impending increase in the ages 65 and older population. Such diminished interest in aging issues has occurred not only among Republican policymakers, who have historically been less supportive of aging programs, but also among Democrats.
In his last several years in Congress, Claude Pepper was widely known as the leading advocate for the elderly. He was also in a position as a policy maker to shepherd much of his vision for improving the lives of older people into law. He, however, always thought of his policy advocacy and legislative initiatives as part of a larger campaign to change the image of older persons and free Americans from the negative stereotypes that distorted their views of older adults, and to impart how ageism harms everyone. He felt his greatest achievement in working on behalf of the elderly was that:
The national attitude toward old people has made a 180-degree turn. More and more, younger generations have come to realize that in their elders they have a precious and useful asset, not a burden. Old people are the same persons they were when they were young. Some may not hear so well, may have to wear glasses, [and] maybe are a step slower when they walk. But they are not useless, and they must not be treated as outcasts, as more and more Americans have come to realize (Pepper and Gorey, 1987).
Not all of this gratifying change in attitude stemmed from the efforts of the Select Committee, or from Claude Pepper. But they both helped.
The Advocacy Work of Claude Pepper
Sen. Pepper's legislative achievements on behalf of the elderly included the elimination of mandatory retirement, which was customarily set at age 65—excepting a few occupations like airline pilot. H.R. 4154 made it as illegal to discriminate against a person because of age, as it is to discriminate against a person because of sex or race.
He also successfully sponsored several other pieces of legislation during his years in the House as Chair of the Special Committee on Aging, which was established largely in response to his lobbying of the House leadership, and in the 1980s as Chair of the Rules Committee. These legislative initiatives included the expansion of home healthcare in Medicare; additional benefits like hearing aids, dentures, and eyeglasses in the Medicare and Medicaid programs; the Older Americans Act (OAA), with its many community-based programs; a stiffening of regulations regarding the quality of nursing home care; improved housing support for older adults; increased funding of jobs earmarked for the elderly under the OAA; the establishment of ten Alzheimer's Research and Care Centers, and more.
From when he entered the Senate in 1937, Pepper was a powerful advocate for Social Security. And in the early 1980s, he led a campaign to resist President Reagan's effort to address an imminent shortfall in the Social Security Trust Fund through instituting benefits cuts. This campaign led to the establishment in 1983 of a Social Security Commission (the Greenspan Commission) to address the shortfall through an equitable mix of small benefit reductions and increases in the payroll tax. Pepper played a major role as a Commission member in keeping reductions as small as possible and, he opposed all reductions—as both a Commission member and a member of Congress.
Pepper was not in the Senate when the Social Security program became law in 1935, but he was in Congress when the big debate over Medicare was raging in the early 1960s, and was a sponsor of 1965 legislation establishing the program. By the 1970s, Pepper was widely recognized as a leading voice in support of both of these indispensable pillars of the U.S. retirement security system. He pushed for improvements in both programs, and furiously resisted any effort to cut benefits in either one. He played a critical role over the last twenty-five years of his life in making these programs the perceived "third rail" of American politics.
Pepper's last major aging initiative before his death in 1989 was a proposal to include in-home and community-based services as benefits in the Medicare program. His intention was to make non-institutional long-term-care services to be universal benefits funded through the Medicare program. This was an extension of his constant effort to improve home healthcare in both the Medicare and Medicaid programs.
The Post-Pepper Years and the Decline of Aging Policy
Since Pepper's death, aging issues have gradually slipped from prominence as major public policy concerns and important issues in election campaigns. This slippage is one of the reasons Hudson and Gonyea have suggested that the older population, even as it grows and becomes a larger percentage of the electorate, may be losing its status as an advantaged group in American politics, and could eventually become just another contender status group among many (Hudson and Gonyea, 2011). This shift in status is a result of several factors, but the loss of a powerful political supporter and passionate advocate has clearly diminished the perceived importance of aging issues within the general public and among policy makers.
In 1998, President Clinton was apparently preparing to propose, through his Chief of Staff Erskine Bowles, to Republican leaders a bipartisan plan to protect long-term Social Security Trust Fund solvency by cutting benefits. But Clinton was besieged by political difficulties before the plan could be fully developed and presented to Republican leadership.
In 2005, President Bush proposed the partial privatization of Social Security as a top priority for his second term. He fell well short, however, of getting enough congressional support for the proposal within months of introducing it.
President Obama has in the past proposed that the cost of living adjustment (COLA) be tied to the chained CPI (Consumer Price Index), rather the standard CPI. If implemented, this proposal would reduce benefits for the average beneficiary by about 7 percent by the time he or she reached age 80, and even more by age 90, when most beneficiary resources have been depleted, and Social Security is more critical than ever as a source of income.
Aging policy agenda falters
Besides these proposals to reduce or privatize Social Security, very little over the past twenty-five years has emerged as a national priority for action on behalf of older persons. It is certainly important to recognize the value of the Medicare Part D prescription drug benefit and the Affordable Care Act (ACA) provisions that improve Medicare benefits, especially the reduction of the doughnut hole in the Part D program. On the other hand, the proposal to create a universal social insurance long-term-care program, the CLASS Act, was first passed as a part of the ACA and then repealed in 2013. Funding for the Older Americans Act program hasn't risen much in more than twenty years, and Congress has failed to reauthorize the Act for the last two sessions. The Senate did vote for reauthorization, however, in July 2015.
In addition to the loss of Claude Pepper in 1989, I believe at least four other factors are responsible for the absence of support among policy makers for aging-related initiatives such as long-term-care reform, Social Security benefit increases for low-income beneficiaries, or even improvements in the smaller programs benefitting older Americans, like the Older Americans Act programs.
The major factor is the rise of a conservative economic agenda since the 1980s that prioritizes tax cuts or, at most, minimal tax increases on high incomes and wealth, cuts in spending on current programs and privatization of what remains (which has resulted in the austerity-focused federal budgets of the past five years), and the targeting of Social Security and Medicare as major sources of unsustainable future budget deficits.
A second factor, which is related to the targeting of Social Security and Medicare, is the intermittent effort since the 1980s to discredit these programs in the eyes of the public through media attacks on their fairness from an intergenerational equity perspective, and on their fiscal sustainability without ruinous tax increases. Since the 1980s, wealthy critics of these programs have financed such media campaigns at regular intervals.
These campaigns have contributed to the third fact, which is the gradual erosion of effective, sustained advocacy for aging issues over the past several years. The well-funded efforts to discredit aging-oriented programs like Social Security have not succeeded in achieving their major objectives, whether that might be privatization or major cuts in benefits, but they have made it significantly more difficult for advocates to make their case for program improvements or for new programs like comprehensive long-term care through the Medicare program. This recent erosion of aging advocacy is especially striking given the long history of strong public and often bipartisan policymaker support for aging programs, and may be the clearest evidence we have of how influential neoliberal ideology has become since the 1980s.
Finally, the role of money and wealthy contributors in political campaigns and policy development has made it increasingly difficult to place aging priorities on the policy agenda unless they reflect the interests of the major corporations and the wealthiest Americans (Hacker and Pierson, 2011; Gilens and Page, 2014). Aging policy priorities seldom reflect these interests.
If Pepper Were Here Now
This bipartisan indifference to aging issues, however, could change substantially over the next ten to twenty years with the aging of baby boomers and the doubling of the ages 65 and older population. A recent sign of this may be the March 27, 2015, Senate vote on the 2016 budget, when all but two Senate Democrats voted in support of an amendment by Senator Elizabeth Warren (D-Mass.) to increase Social Security benefits. This is a dramatic turn away from the focus on cuts that has dominated the Social Security debate for many years (Meckler, 2015).
This is precisely the kind of stance Pepper would have pushed his colleagues in Congress to take long before that March Senate vote. He would also have pressed his party to support the provision of community-based long-term-care benefits in the Medicare program. He would have fiercely resisted the view that an austerity budget based on spending and tax cuts was a necessary remedy for budget deficits, making improvements in our system of retirement security and long-term care impossible. He was a strong proponent of the view that a deep recession was precisely when increased federal spending was needed to compensate for the loss of consumer demand in the private sector, and that spending on enhanced Social Security benefits and limited new long-term-care benefits in the Medicare program would benefit the economy and strengthen retirement security for millions.
Pepper would have used these and other aging-related policy issues to help change the narrative around the role of government in meeting public needs by anchoring it in a comprehensive political agenda for older adults and threats to their retirement security. Pepper's advocacy for older adults was founded on his long-held perception that a clear focus on helping other people was both good politics and good public policy. He thought that the Democratic Party's support for Social Security, Medicare, and Medicaid were enduring sources of political advantage for the party that should be carefully nurtured and never taken for granted.
I think this is a major reason Pepper would have been surprised and disappointed by his party's reluctance over the past twenty-five years to embrace major improvements in these signature programs, including the addition of long-term-care benefits to the Medicare program, which was a major priority for him during his last years. The long-term-care challenge has grown enormously since 1989, but policy makers remain reluctant to address it, even with the now rapid aging of the Baby Boom Generation.
Pepper would have seen this now long-standing reluctance to strengthen Social Security and improve Medicare as not just moral and policy failures, but also as a political failure. He would have pointed to the tendency in recent elections for older voters to strongly support Republican congressional candidates and to polls showing that the public is much less inclined than in the past to perceive Democrats as more supportive of Social Security than Republicans (Hudson, 2014). He would have considered these election and polling results closely related and insisted that the results are indications that the Democrats must regain the public's confidence in them as the party most devoted to protecting the interests of older Americans—before being able to reduce the large Republican advantage among older voters and become more competitive in future mid-term congressional elections.
If he were alive today, Pepper would emphasize that older voters are likely to dominate elections, especially mid-terms, for many years to come—new demographics notwithstanding—and the party most responsive to their rising anxieties about retirement security, healthcare, and long-term care is the likeliest to win most elections. I think he would have led efforts to achieve an ambitious aging policy agenda with the following policy priorities:
Make home- and community-based services (HCBS) a benefit in the Medicare program. At this point, HCBS often are provided through the Medicaid program as a waiver-funded program, as either a fee-for-service or managed-long-term-care (LTC) benefit.
This means that only those poor enough to qualify for Medicaid are eligible to receive these in-home or assisted-living services as alternatives to receiving care in the much more expensive and least preferred nursing home program. A Medicare HCBS benefit would reduce the need for expensive nursing home services, greatly enhance the quality of life of impaired older and younger disabled persons, and reduce financial pressure on families paying for LTC services, and on stressed state budgets. It would entail additional federal expenditures, but these would be manageable over a period of several decades. These expenditures could be paid for through a small increase in the Medicare payroll tax, or some other small tax increase. At a minimum, this proposal could play a major role in elevating the LTC issue to the level of importance it deserves as the nation prepares for a doubling of the older population by 2040.
Raise Social Security benefits for the poorest beneficiaries. Two-thirds of these beneficiaries are single women, ages 70 and older. More than 2 million beneficiaries are now officially poor, and a small increase in their monthly payments could raise them above the poverty level and provide them (and many of their family members) with an economic boost.
Increase funding for the Older American Act (OAA) programs. These service programs, since 1980, have collectively lost more than a third of their purchasing power. This means the gap between the need for these highly cost-effective programs and their availability has been increasing steadily for many years. Total funding for OAA programs is now about $2.4 billion, and increases of 5 percent to 10 percent for the next several years would at least prevent the gap between needs and services from growing.
Current and aspiring policymakers could use these and possibly other aging agenda priorities to enhance their electoral prospects and their ability to influence policy—just as Claude Pepper did throughout his long career. I'm certain that Pepper's advice to them would be, "What are you waiting for?"
The leadership opportunities available to anyone willing to take up these critical issues with a clear, strong voice are enormous. So, what are you waiting for?
---
Larry J. Polivka, Ph.D., is Claude Pepper Scholar in Residence at the Claude Pepper Foundation at Florida State University in Tallahassee, Florida.
Editor's Note: This article is taken from the Fall 2015 issue of ASA's quarterly journal, Generations, an issue devoted to the topic "Ageism in America: Reframing the Issues and Impact." ASA members receive Generations as a membership benefit; non-members may purchase subscriptions or single copies of issues at our online store. Full digital access to current and back issues of Generations is also available to ASA members and Generations subscribers at Ingenta Connect. For details, click here.
Image via keyslibraries on Flickr.
---
References
Gilens, M., and Page, B. I. 2014. "Testing Theories of American Politics: Elites, Interest Groups, and Average Citizens." Perspectives on Politics 12(3): 564–81.
Hacker, J. S., and Pierson, P. 2011. Winner-Take-All Politics: How Washington Made the Rich Richer—and Turned Its Back on the Middle Class. New York: Simon & Shuster.
Hudson, R. B., ed. 2014. The New Politics of Old Age Policy (3rd ed.), p. 89. Baltimore, MD: The Johns Hopkins University Press.
Hudson, R. B., and Gonyea, J. G. 2011. "Baby Boomers and the Shifting Political Construction of Old Age." The Gerontologist 52(2): 272–82.
Meckler, L. 2015. "Democrats Rethink Social Security Strategy." The Wall Street Journal, April 5. Retrieved July 17, 2015.
Pepper, C. D., and Gorey, H. 1987. Pepper, Eyewitness to a Century. Orlando, FL: Harcourt Brace Jovanovich, Publishers.