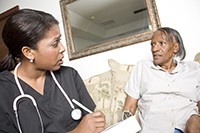 By Adela Carlin, Dolores Cole and Padraic Stanley
Medical providers, lawyers and social workers are often in a position to engage older adults in conversations about advance planning. However, they have limited time and resources to provide the necessary support and guidance. Advance care planning requires time, communication, emotional support and guidance; which possibly contributes to this discussion rarely happening in outpatient medical visits, where the usual time with physicians is about 13 minutes. Interestingly, having expressed knowledge of a person's preferences and goals of care is key in the provision of patient-centered care.
For many of us, the process will include legal documents commonly known as advanced directives.  Self-help materials are available, but not surprisingly, only a limited number of people feel comfortable completing these legal documents on their own.  Moreover, researchers recently found that race, income, education, and having a regular source of medical care are factors that influence the completion of advance directives. It has been documented that African American and Latino older adults are less likely to have advance directives, when compared with non-Latino Whites.
In 2015, a health promotion program in a large academic hospital and a reputable legal aid agency embarked on a partnership to help older adults engage in conversations about planning for their future medical care.  The partnership started with a series of workshops in English and Spanish that were offered as part of the wellness activities offered by the health promotion program for adults and caregivers, regardless of where they receive medical care.  The workshops included peer to peer discussion, tips on starting the conversation with family and friends, and tools older adults can use to plan for their future medical care.  Based on the favorable feedback received from participants, the partnership now includes assistance completing legal documents.
For more information on this topic, please read Generations Spring 2017 and join us for the Evidence-Based Health Promotion and Partnerships Symposium on March 29, 2018 at the Aging in America Conference.
Adela Carlin is an attorney and Dolores Cole in an outreach coordinator with the Legal Assistance Foundation in Chicago, Illinois. Padraic Stanley is a program coordinator with the Rush University Medical Center Department of Social Work & Community Health.
Completion of Advance Directives Among U.S.Consumers
Jaya K. Rao, MD, Lynda A. Anderson, PhD, Feng-Chang Lin, PhD, and Jeffrey P. Laux, PhD
Am J Prev Med. 2014 January;46(1):65-70