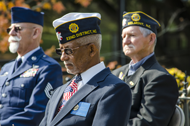 By Kathleen M. Sullivan
Like many who direct senior centers or nonprofits serving LGBT older adults, I consistently look for ways to better serve my clients and support my staff. With tight budgets and multiple demands, it's not always easy, and can be rather daunting. Poverty, isolation and disability create a trifecta for LGBT older adults that often precipitates functional and cognitive decline.
Leveraging the resources of other organizations and agencies is one way to better serve clients, reduce staff workload and triage those with the greatest need. For LGBT organizations working with older adults, one often-overlooked agency is the local Veteran's Administration (VA). LGBT veterans by and large served their country while keeping their true identities to themselves. Such closeting is immensely stressful and set LGBT service members apart from those with whom they served. In addition, LGBT veterans felt less of a connection to the very entities they swore to serve—Marine Corps, Air Force, Navy, Army and Coast Guard.
One result of this disengagement is that few LGBT veterans apply for the benefits they earned through their service. As one veteran told me, "I got out of the service, folded my uniform and put it in the far back left hand corner of my closet. That part of my life was over and I never wanted to think about it or talk about it again. It was all too painful." Unfortunately, as veterans age, some will be living at or below the poverty line, others will continue to feel isolated and many will fear entering long-term-care facilities due to past discrimination and marginalization.
The following articles provide a framework of needs—from the perspective of research, training, leadership and partnerships. Few organizations provide any programming for LGBT veterans, with the exception of the State of Oregon and the Los Angeles LGBT Center, but all could provide programming and leadership for these older adults.
Programs such as those Ralph Mills' article outlines are fundable. Mills has raised more than $1 million in less than three years for his veterans project at the LGBT Center in Los Angeles, and he and his staff have helped hundreds of LGBT veterans. Weston Donaldson and Heather Smith give us a clear mandate to partner and train our local VA to better serve LGBT veterans—particularly those in long-term-care and skilled-nursing environments. Finally, Nathaniel Boehme is a leader in Oregon and nationally on creating a systemic approach to providing services for LGBT veterans.
While the call to serve our veterans may appear as yet another item on an organization's long "to-do" list, consider this: according to The Aging and Health Report by the LGBT National Aging Resource Center, 26 percent of LGBT older adults are veterans—thus every agency serving the older adult LGBT population already serves LGBT veterans. A quick and virtually painless method to find out how many veterans your organization currently serves is to ask every case management client if they are veterans, and even request a show of hands at events such as movie night or game day. Better tracking of veterans can greatly help your organization optimize services to these clients and raise the necessary funds to support your organization or agency.
Kathleen M. Sullivan, Ph.D. conducted the first study of LGBT older adults living in retirement communities populated by predominately LGBT older adults. She is a sought-after trainer and was responsible for creating the successful Veterans Initiative in Los Angeles that has leveraged over five million dollars for LGBT older veterans in Southern California. She can be contacted at LGBTSeniorVeterans@gmail.com.
This article is brought to you by the Editorial Committee of ASA's LGBT Aging Issues Network (LAIN)