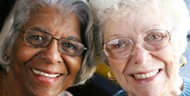 This article is brought to you by the Editorial Board of ASA's LGBT Aging Issues Network (LAIN)
By Barbara Howard
Professionals are often surprised about the convergence of the for-profit world and aging services, and are even more astounded when businesses focus on the LGBT segment in particular.
Why? The LGBT consumer represents a growing market segment that remains relatively underserved by many companies. In the United States, more than 4 percent of the adult population, or 15 million consumers, self-identify as gay, lesbian, or bisexual (see the 2006 Core Solutions — Lesbian, Gay, Bisexual, Transgender Study from Experian Simmons). With an estimated buying power of $835 billion in discretionary income by 2011 and a need for specialized planning to address protection and service solutions, this consumer market should not be overlooked (see the 2008 edition of "The Multicultural Economy" from The Selig Center for Economic Growth).
So it is no wonder that the MetLife enterprise has developed resources and tools to meet the needs of this underserved market.
MetLife market research conducted in 2009 found that LGBT consumers are quite astute – they can be very loyal to specific brands and are more likely to seek out companies that support the LGBT community. Moreover, the research showed that LGBT consumers consider MetLife to be one of the most reputable and favorable brands in the insurance and banking industries. There are many reasons for these positive perceptions, and most stem from MetLife's long-standing support of the LGBT community:
MetLife offers its U.S. employees and their domestic same- and opposite-sex partners a variety of benefits, including health, adoption and supplemental life insurance, among others.
MetLife has a recognized LGBT affinity group, Gays, Lesbians and Allies at MetLife (GLAM), which consists of associates, including senior management, from across the company.
MetLife has consistently received a perfect score on the Human Rights Campaign Foundation's (HRC) Corporate Equality Index, a rating system for how major U.S. corporations treat their LGBT employees and consumers. MetLife was recognized in 2011 by SAGE, the nation's oldest and largest non-profit agency addressing the needs of LGBT elders, as the first recipient of their Corporate Leadership Award.
MetLife's recognized research organization and thought leader, the Mature Market Institute (MMI), has conducted two national samples of LGBT Boomers to assess their plans, fears, and hopes about aging and the future.
Given the size of the LGBT marketplace, its specialized needs, and the loyalty it displays toward companies that respect and demonstrate a commitment to the market, the question really isn't "why?" Rather, the question is: "Why not?" Most organizations, quite frankly, would do well to sharpen their business focus for this important and increasingly visible segment of mainstream America.
---
Barbara Howard is Director, Education, in the Reverse Mortgage Division of MetLife Bank where she is responsible for the department that oversees the education, training, and consultation services for internal and external audiences on aging, retirement, and retirement funding issues. Prior to joining MetLife Bank, Barbara worked as the Director of Gerontology for the MetLife Mature Market Institute for more than eight years. Barbara is a member of the LAIN Leadership Council and ASA's Board of Directors.