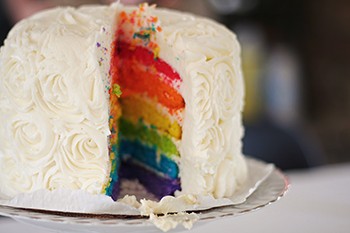 By Michael Adams, Robert Blancato and Jack Nadler
When Jack Phillips, owner of the Denver-based Masterpiece Cakeshop, told a young gay couple that he would not sell them a wedding cake because he has a religious objection to same-sex marriage, he set in motion a chain of events that led from an encounter in his bakeshop to a case now before the U.S. Supreme Court.
While some people are calling this the "cake case," much more is at stake than whether or not bakers can refuse to sell wedding cakes to same-sex couples. The Court's decision could seriously impair the ability of LGBT older adults to access the services and supports that they need to live out their later years with dignity. That is why SAGE, which advocates for and with LGBT elders, and the American Society on Aging, which represents professionals who work with older adults, have filed a "friend of the court" brief in this case.
How Did We Get Here?
After Phillips refused to serve them, the couple filed a complaint with the Colorado Civil Rights Commission. The Commission ruled that Phillips had violated the state's "public accommodations" law, which expressly prohibits businesses that serve the public from discriminating against LGBT people. The Commission issued a straightforward order: If Phillips wants to continue to sell wedding cakes to straight couples, he must sell wedding cakes to same-sex couples. 
Before the Supreme Court, Phillips contends that the First Amendment to the U.S. Constitution—which protects the free exercise of religion—gives him a license to discriminate. Specifically, Phillips argues that Colorado cannot enforce its laws against discrimination because doing so would require him to "participate in events" and "express ideas" that "offend his religious convictions."
But the Colorado Commission did not order Jack Phillips to participate in a same-sex marriage ceremony. Neither did it require him to express support for same-sex marriage. The Commission simply ruled that, if Phillips wants to sell wedding cakes to the public, he has to sell wedding cakes to all members of the public. Phillips' argument comes down to the assertion that, notwithstanding Colorado's public accommodations law, his religious beliefs entitle him to refuse to serve LGBT people.
The implications of that argument for LGBT older adults are terrifying.
Discrimination and the Erosion of Dignity
As a result of a lifetime of discrimination, LGBT elders frequently have poorer physical and mental health than other older Americans. They also have higher rates of poverty. LGBT elders are twice as likely as other older Americans to live alone, half as likely to have close relatives to call for help and four times less likely to have children to assist them. Consequently, LGBT elders are especially dependent on senior centers, assisted living communities and long-term-care facilities—each of which, like Phillips' bakery, is generally considered to be a public accommodation.
LGBT elders already face significant discrimination when they seek to access many public accommodations. 
Fear of discrimination deters many LGBT older Americans from going to local senior centers, while older same-sex couples are often dissuaded from moving to adult independent living communities. Some LGBT elders have been denied admission to nursing homes and other long-term residential care facilities because of their sexual orientation or gender identity. And those who have been admitted to such facilities have been subjected to discrimination, harassment and even physical segregation.
This discrimination does not always end with their deaths. LGBT people have been denied service by funeral homes. They have been barred from being buried beside their spouses and partners. In perhaps the final indignity, they have been prevented from having their relationships acknowledged on their gravestones.
Following the Supreme Court's 2015 marriage equality decision, many LGBT elders dared to believe that they could live out the remainder of their days in dignity, as full and equal citizens. To the extent that businesses and nonprofit organizations sought to discriminate against them, state public accommodations laws offered significant protection.
The Phillips Case Fallout 
If the Supreme Court rules in favor of Phillips, however, laws in 21 states and the District of Columbia that expressly prohibit discrimination on the basis of sexual orientation and gender identity will be  rendered largely unenforceable. Many institutions that provide services to older adults—especially long-term-care facilities—are affiliated with a religious denomination. Some will inevitably claim that a government order that requires them to treat LGBT people the same as everyone else unconstitutionally violates their religious rights.
The impact of a judgment for the baker, however, would have a much broader sweep. Like Jack Phillip's bakery, many businesses and nonprofit organizations are not affiliated with any religious denomination, but are operated by people who profess religious convictions. They, too, could claim a constitutional right to refuse service to LGBT people.
This misguided application of the First Amendment would have a devastating impact on LGBT elders' hard-won rights. LGBT older Americans would be forced to return to the lives they thought they had left behind—lives in which they never knew when they would be denied the equal treatment that most people take for granted, but in which they were certain that the law would not protect them.
Michael Adams is the executive director of Advocacy & Services for LGBT Elders (SAGE). Bob Blancato is president of Matz, Blancato and Associates and is Chair of the ASA Board of Directors. Jack Nadler is a partner at Squire Patton Boggs, Washington, D.C., which represents the two organizations in this matter.
Editor's Note: This article appears in the January/February 2018 issue of Aging Today, ASA's bi-monthly newspaper covering issues in aging research, practice and policy nationwide. ASA members receive Aging Today as a member benefit; non-members may purchase subscriptions at our online store.