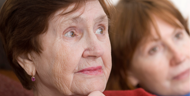 By Kristina Hash
When I was a teenager in the '80s we lived with my grandmother, who had dementia. My mother was a "woman in the middle"—she had a few children at home, a parent who needed care, a full-time job, a husband and a house to take care of. My grandmother had helped to raise me so I was thankful to be able to return the love and care for her. This experience set the stage for my education and my work in the fields of aging and social work, including a doctoral dissertation looking at the caregiving and bereavement experiences of older gay men and lesbians who provided care for their partners.
In talking to study participants, it was clear they experienced many of the same challenges non-LGBT caregivers in studies over the past decades have faced—emotional, physical, financial and role strains. But the treatment they faced at the hands of professionals in healthcare and other settings, families of origin, supervisors and co-workers, was unique. Even though encountering unsupportive professionals was not the norm, one participant shared that she always carried a "fear" that she and her partner could be treated poorly.
Lack of legal relationship status also was a barrier and stressor in the lives of these caregivers and their partners. Like caregivers in other studies, they benefitted from many positive aspects of the experience, including returning care and love and experiencing personal growth. But several widowed participants expressed a concern about who would be there to take care of them if and when they needed care. I will always remember one man saying he did not want to become an "old chair" in his daughter's house.
The ASA LGBT Aging Issues Network and the Metlife Mature Market Institute in 2006 conducted a much larger study on LGBT aging. The results of this national survey of 1,000 LGBT persons found that their sample had a slightly higher incidence of caregiving (for family members, partners and friends) and had more men serving as caregivers when compared to the previous caregiving studies of the general population. The overwhelming majority expected to serve as caregivers in the future, although some (particularly those not married or partnered) worried about whether there would be a caregiver available should they need care in the future.
As a follow-up, LAIN and Metlife in 2010 conducted another study comparing LGBT baby boomers (more than 1,200) with a group of their non-LGBT counterparts (1,200). In this study, LGBT baby boomers were more likely than the comparison group to serve as a caregiver to family and friends, and provided more hours of care. Not surprisingly, LGBT baby boomers were also more likely to provide care to friends and to have a "chosen family" to rely upon for support.
Since 2001 when I conducted my dissertation study, especially in the past year, we have seen unprecedented progress in relationship recognition for same-sex couples. I hope this will remove many of the barriers faced by individuals who provide care for same-sex partners, husbands or wives. It may also make it easier for couples, in terms of family leave and other benefits, to provide in-home care to aging parents.
I, too, have come a long way since 2001. Last summer, in a bordering state, my partner and I were legally married. We figured it was time, given our 16 years together, a house, a 9-year-old child, 3 dogs and 2 guinea pigs. Because we are a same-sex couple, we have put many legal documents (such as wills and powers of attorney) in place to protect a relationship not yet recognized in our home state. We both have older parents living in another state and have discussed the possibility of needing to provide care for them or each other at some point in time. Perhaps we may become the "women in the middle" someday.
---
Kristina Hash, LICSW, Ph.D., is the David K. Brown Scholar, and associate professor and director of the Gerontology Certificate Program at the West Virginia University School of Social Work. Hash recently published Aging in Rural Places: Programs, Policies and Professional Practice (New York: Springer, 2014).
This article was brought to you by the editorial committee of ASA's LGBT Aging Issues Network (LAIN).
Help us improve AgeBlog and rate this post by clicking here!