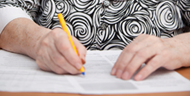 By Nancy J. Knauer and Andrea Anastasi
Patrick Atkins and Brett Conrad lived together as a committed couple for 25 years. Though Brett's family was supportive, Patrick's family strongly disapproved of the relationship. In 2005, Patrick suffered a ruptured aneurysm and was hospitalized. Patrick's family immediately restricted Brett's ability to visit Patrick, eventually forbidding it completely. Because the couple had no estate-planning documents or durable powers of attorney in place, Brett had to petition the court to be appointed Patrick's guardian. But Patrick and Brett lived in a state that prohibits same-sex marriage and gives priority to parents in guardianship cases. After several painfully long years of litigation, Brett was unable to overcome the statutory preference for legally recognized next of kin, and Patrick was left in the care of his disapproving parents.
It's not an uncommon story. In many states, guardianship systems have numerous structural gaps and blind spots that place lesbian, gay, bisexual, and transgender (LGBT) individuals and their families at risk. Although guardianship laws have undergone a remarkable period of reform over the past several decades, these reforms have been largely silent on issues related to sexual orientation and gender identity. This silence disadvantages LGBT people and their families by leaving guardianship law open to the influences of anti-LGBT bias ranging from cultural insensitivity to outright hostility, as was the case with Patrick's family. Statutory preferences for legally recognized next of kin can separate long-time partners or the person most closely connected to the individual's care and well-being, and a "best interest" standard may empower hostile family members to isolate and attempt to "cure" LGBT persons under guardianship. Advance planning for LGBT adults is critical.
It is also imperative to educate people who serve as public or community guardians or work in the guardianship system about the unique challenges facing LGBT elders. Respect for the sexual orientation and gender identity of the person under guardianship is essential to the concepts of dignity and self- determination—the core values of guardianship reform.
What Is Guardianship?
A guardian is appointed to care for the personal and property interests of an individual, who may be referred to as an incapacitated person or ward. Typically, guardianships are established when an individual is incapable of caring for her own personal or property interests, which can happen as a person becomes increasingly infirm due to age or illness. Though guardianship laws vary from one jurisdiction to another, there are three key considerations that are of special importance to LGBT individuals and their families: determination of capacity, choice of guardian rules and decision-making standards.
What Can Loss of Capacity Mean?
Capacity standards ordinarily take into account an individual's ability to engage in deliberative decision-making and, in some instances, the perceived reasonableness of the individual's actions. In other words, the value assigned to a particular decision or action may ultimately determine whether an individual has the requisite capacity to engage in the activity. This can place closeted LGBT individuals who are estranged from their legally recognized next of kin at risk. Take for example, a nephew who is contacted when his estranged uncle starts experiencing cognitive difficulties. If the nephew believed that his uncle was a "confirmed bachelor," he may be shocked to find his uncle living with another man and assume the "roommate" is exploiting him.
Choice-of-Guardian Provisions Complicated by Marriage Equality Laws
Choice-of-guardian provisions generally establish an order of priority to determine who serves as guardian, and these provisions invariably privilege legally recognized next of kin. For LGBT individuals, the patchwork of marriage equality laws in the United States further complicates matters. Full marriage equality will resolve the disadvantages imposed on same-sex partners and, presumably, the ambiguity that exists in certain jurisdictions regarding the ability of transgender individuals to marry (or remain married). For example, if Patrick and Brett had been legally married under state law, then Brett would have had clear priority to serve as Patrick's guardian.
But even full marriage equality will not address the larger issue posed by the reliance of LGBT individuals on "chosen family," because marriage allows an individual to make his partner part of his family, but there is no comparable mechanism to make his best friend part of his family. In order to protect LGBT individuals and their families, choice-of-guardian provisions should be expanded to include non-marital partners, regardless of gender, and provide a mechanism for the recognition of chosen family.
Decision-Making Standards
Guardianship ultimately involves questions of decision-making—how and under what conditions should or will decisions be made for the person under guardianship or on their behalf? In the United States, guardianship systems incorporate aspects of three decision-making models: the best-interests standard, substituted decision-making and supported decision-making.
Under a best-interests standard, the guardian makes decisions and otherwise exercises her authority to further the "best interests" of the person under guardianship. There is no attempt to establish the actual wishes of this individual or what she would have wanted in a given situation. Decisions are reached by reference to a value set that determines what constitutes the individual's "best interests." These values typically include considerations such as autonomy, self-determination and respect for life. For some guardians, these values may also include disapproval of LGBT identities, as was the case with Patrick's mother and guardian, who testified in court that she held an unshakable belief that "homosexuality is a grievous sin."
The substituted judgment standard requires the guardian to act consistent with what the person under guardianship would have wanted if she had capacity. This standard can provide greater protection for LGBT older adults, unless they are closeted and their preferences are unknown.
Finally, a supported decision-making model assumes a certain level of decision-making capacity and provides an individual with support to maximize autonomy and self-determination.
The Importance of Advance Planning
Given the vulnerabilities faced by LGBT individuals and their families under current guardianship laws, alternatives to guardianship are very important. The ability to execute powers of attorney and advance healthcare directives provides LGBT individuals the opportunity to opt out of the guardianship regime. For instance, a durable power of attorney allows an individual to designate anyone, including a partner or friend, to make decisions about personal and financial affairs on her behalf. It can also designate a person to serve as guardian. Similarly, an advance healthcare directive can designate a friend or partner to make healthcare decisions if the grantor is incapacitated. The outcome for Patrick and Brett could have been very different if these documents had been in place.
Cultural Competency and Anti-LGBT Bias
Even with these precautions, there will remain instances when the most carefully drafted documents will prove ineffective because third parties and other gatekeepers refuse to respect them due to a lack of cultural competency or anti-LGBT bias.
This was the case in 2008 when 88-year-old Harold Scull fell at his Sonoma County home where he had lived for 25 years with his long-time partner, Clay Greene. Over Harold's objections Clay called the paramedics, and their lives were quickly turned upside down. The Office of Public Conservator/Public Guardian was appointed as guardian of the estate and person for both Harold and Clay, disregarding clear instructions in the couple's estate-planning documents. Harold died four months later, alone in a nursing home. Clay, who was 77 at the time, was unaware of Harold's death because he had been placed in a secure dementia ward at a different long-term care facility. Clay eventually obtained counsel and sued the county for civil rights violations. Without admitting wrongdoing, the county settled the case for an amount in excess of $600,000, and agreed to modify its public guardianship procedures to prevent similar events in the future. Stories like this illustrate the importance of outreach efforts to educate the public and stakeholders around LGBT issues.
Help and Resources
Several resources are available to assist with questions concerning guardianship and advance directives. Lambda Legal's Help Desk can provide information, assistance and referrals to LGBT-friendly attorneys in your area. Nonprofit organizations like SAGE (Services and Advocacy for GLBT Elders), community centers and legal clinics also may offer free services to assist in executing advance-planning documents. Your state's bar association can also connect you with a local lawyer, and may also have forms available. Several law schools, including Cardozo School of Law in New York City, University of Pittsburgh School of Law and Wake Forest University in Winston Salem, NC, have legal clinics that provide information concerning adult guardianship.
---
Nancy J. Knauer, JD, is the I. Herman Stern Professor of Law and director of Law & Public Policy at Temple University Beasley School of Law in Philadelphia, Pa. Andrea Anastasi is a Law & Public Policy Scholar and a JD candidate at Temple University Beasley School of Law. Contact them at: nknauer@temple.edu and andrea.anastasi@temple.edu.
This article was brought to you by the editorial committee of ASA's LGBT Aging Issues Network.
Help us improve AgeBlog and rate this post by clicking here!