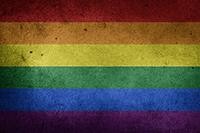 By Jeanne Koller
Social isolation and inadequate support systems are trending topics in the field of aging, and unfortunately it seems that older adults in the LGBT+ community may be particularly at risk for both.
As we live longer lives we must grapple with the challenges and opportunities longevity provides. But the opportunities may be limited and the difficulties may be overwhelming for the most vulnerable, oppressed and disenfranchised older adults. People with inadequate support systems may be risk. Having adequate social support means knowing that there are people to turn to when the need arises and may involve emotional support, practical help or guidance from others.
LGBT+ older adults, especially transgender elders, are at greater risk for lacking an adequate support system and being socially isolated in comparison with other older adults. A number of contributing factors account for this. Specifically, the current cohorts of older LGBT+ adults may have had struggles with their families of origin, resulting in rejection and estrangement. And, they may not have had children; may have had children in earlier heterosexual marriages and are now estranged from those children; and may rely upon friends rather than family for support. Unfortunately, these similar age friends may need care themselves, or may be deceased.
For these reasons, LGBT older people are twice as likely to be single and live alone and four times less likely to have children. A study conducted in San Diego found that "68 percent of the LGBT seniors indicated that they had neither family nor younger friends that they could count on for support and assistance as they age."
Although living alone can increase the risk of social isolation and the risk of having inadequate support, it is not the only factor. It is important to note that living alone does not necessarily mean one is lonely or isolated—one can live alone, have lots of family and friends to rely upon when the need arises and feel completely satisfied with this support system. Conversely, one can live with others and still feel lonely.
To further complicate the issue, loneliness is not the same as social isolation. Loneliness has been defined as a "negative emotional state" that occurs when the amount of social interaction is less than what is desired. In other words, loneliness is one's perception of being alone and isolated. Objective isolation or social isolation is quantifiable, meaning a lack of relationships and lack of a social support system. In sum, people who think they need more support may feel lonely and if they have a lack of social support they are likely to be socially isolated.
Why does it matter if people are isolated or lonely? Unfortunately, both loneliness and social isolation are risk factors for worse health behaviors, worse emotional health, worse physical health—and have been connected to early mortality. One study found loneliness "associated with higher odds of having a mental health problem and . . . isolation . . . associated with higher odds of reporting one's health as being fair/poor."
Social ties and quality social relationships can combat social isolation by affecting our biological and psychological health and our behaviors. For some, intergenerational relationships can provide this social safety net. However, as previously mentioned, some older adults do not have family, have estranged relationships with family members or have close but toxic family relationships, leaving them without adequate assistance. Families of choice (people considered to be family who are not related by marriage or blood) and friendships are potential sources of support. However, if people rely heavily upon contemporaries for support they may outlive the members of their support system and find themselves alone as they get older. Many current LGBT+ older adults relied heavily, or exclusively, on friends as an alternative family system and are now living alone, with inadequate supports.
Awareness that LGBT+ older adults may be at risk for social isolation and inadequate social support is only a first step toward ameliorating these problems. We must find ways to help. SAGE: Advocacy & Services for LGBT Elders created the SAGE Table event in 2017—a unique initiative aimed at combatting loneliness and social isolation in the LGBT+ community "through the power of intergenerational connections." I had the privilege to host a SAGE Table event in 2017 at the Rutgers School of Social Work. The event was a fun way for people of varying ages to share and connect over a meal and I am looking forward to the next national SAGE Table event planned for Nov. 8, 2018.
Of course more needs to be done. Interventions have been developed to combat both loneliness and social isolation and many of these strategies report success. Yet the evidence base for these interventions is weak and further research is needed. Gardiner, Geldenhuys, and Gott (2018) reviewed research already conducted and identified three factors associated with the most effective interventions—adaptability of an intervention to the local context; a community development approach involving service users in the design and implementation of the intervention; and productive, rather than passive, activities and interventions to promote engagement.
Specific to LGBT + older adults, Zian's recommendations include expanding the availability of LGBT+–affirming senior housing services; expanding safe LGBT+ affirmative social opportunities; and expanding and enhancing LGBT+ care-related services. We hope that creating safe spaces for LGBT+ older adults with their input and involvement will make a difference.
Jeanne Koller, PhD, LCSW, is Coordinator for the MSW Certificate in Aging & Health in the graduate school at Rutgers, The State University of New Jersey, in New Brunswick, N.J., and is a member of the LAIN Editorial Committee.