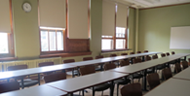 By Michael P. Dentato & Holly Deni
A quick Google search shows that more than 50 U.S. institutions of higher learning now offer lesbian, gay, bisexual, transgender and queer (LGBTQ) studies courses, minors or majors. There are more than 100 colleges and universities that host LGBTQ student centers and departments. These statistics demonstrate the success of LGBTQ equality and inclusion initiatives on our college campuses, but significant challenges remain. From the creation of affirming classroom and field settings for LGBTQ students, faculty and administrators, to the need to more effectively prepare all students to work with LGBTQ clients—there is still much work to be done.
In class, many professors grapple with how best to integrate LGBTQ perspectives into course content. What are useful methods for accurately representing and teaching a minority viewpoint in the larger context of a particular discipline? How is higher education preparing future professionals in social work, law, psychology, medicine, gerontology and other fields to assist their LGBTQ clients and patients? How can lives and situations outside the realm of most student experience be understood in a way that creates empathy and acceptance? How might the prevailing social climate of the parent institution and its host town or city affect, or even prevent, the integration of such material into the curriculum?
The roadblocks to effectively including LGBTQ viewpoints in the classroom are exacerbated when attention is turned to LGBTQ elders and their unique needs and concerns. The double prejudices of ageism and homophobia work against simple solutions. Traditional college-age students are many decades from experiencing firsthand the issues of aging. Most will not live a life defined and prescribed by the gender of the person they love. How can professors provide a lens through which students can begin to contextualize lives that seem so far removed from their own?
On behalf of LAIN's Editorial Committee, Holly Deni contacted Dr. Michael Dentato to guest-edit a suite of articles chronicling the efforts of faculty members, across various disciplines, and recent social work student graduates to represent the perspective, experiences and needs of LGBTQ elders. Through academic and social media channels, we sent out a call for articles from across the country. The responses to our request, found in this series of articles, provide insight into some of the current work in classrooms and in experiential learning venues. We hope these pieces are inspirational and instructive for all professionals in aging who have a stake in advancing LGBTQ aging issues and inclusion across the spectrum.
---
Michael P. Dentato, Ph.D., M.S.W., is an assistant professor in the School of Social Work at Loyola University Chicago. His teaching, scholarship and research focuses on LGBTQ health and health disparities; student preparedness to practice with LGBTQ community; and program design, evaluation and non-profit management.
Holly Deni, M.Ed., MLS, is the current chair of LAIN's Editorial Committee. As director of ElderLife, a division of Locker Financial  Services, LLC, a fee-only financial planning company in Little Falls NJ., she specializes in elder care and retirement benefits issues and LGBTQ aging. She recently completed an advanced certificate program in gerontology at Rutgers University. 
This article was brought to you by ASA's LGBT Aging Issues Network.
Image via WalrusWaltz on Flickr