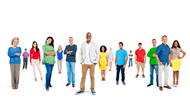 By Corey Prachniak-Rincón
If our paths happened to cross a few years back at the Aging in America conference, when I was in the middle of a two-year legal fellowship addressing LGBTQ aging, please try not to think less of me when I say what came next in my career: I have gone to the other end of the aging spectrum, and just began working on policy relating to LGBTQ youth. I say "aging spectrum" because aging is not just a phenomenon for older adults. It is a process experienced, celebrated, and sometimes suffered by children, young adults, and those of us in the middle, too—both those of us who are LGBTQ and everyone else. We are all aging, all the time, although there are points along the way that are more challenging than others.
We can look at these differences partially as disparities; while society has made itself relatively comfortable with the changes that manifest as we age through the middle of our lives, it sometimes forgets about the needs and dignity of those who approach their "golden years." Similarly, youth often face disparate treatment when their needs are overlooked, especially youth who are vulnerable due to factors such as race, immigration status, and economic circumstance.
From a law and policy perspective, there are many similarities between the challenges facing LGBTQ youth and those facing LGBTQ older adults, partially because all youth and older adults can experience biased treatment in society.
There are questions of agency—of who should be making decisions for the individual on topics like accessing sexual health services among youth or of deciding healthcare preferences among older adults. There are problems related to unique housing needs, such as foster care and homelessness services for a disproportionate number of LGBTQ youth, and long-term-care facilities for LGBTQ older adults. And there are issues of family support, especially when the traditional nuclear family structure falls through, which can mean LGBTQ youth being left on the street and LGBTQ older adults being denied recognition and affirmation, even in the execution of their final wishes.
In many cases, these issues manifest because existing failings in social services (e.g. insufficient support for people with instable housing) intersect with programs relating to gender identity or sexual orientation (e.g. LGBTQ individuals facing additional discrimination, isolation, or abuse within these flawed systems).
One question among many to consider is this: If we all have experienced youth, and will likely experience being older adults, why do we often lack empathy for those groups? Are we too soon to forget the past, and too short-sighted to consider the future?
Within the LGBTQ population, the answer could be more complex. Because all LGBTQ people face at least some degree of stigma and discrimination within their lives, it is possible to blur all disparities and not recognize that some LGBTQ people have special needs and may have different experiences that require attention and support.
White LGBTQ folks must seek to understand how racial injustice compounds with LGBTQ discrimination and frequently increases and complicates disparities faced by queer people of color. LGBTQ individuals who enjoy U.S. citizenship should recognize the intense discrimination and vulnerabilities that are increasingly faced by those who do not. Cisgender (that is, non-transgender) LGBQ people should be allies and advocates on unique issues facing transgender individuals, especially trans people of color, who encounter compounded disparities on virtually every health and socioeconomic marker.
I believe those of us working with LGBTQ subpopulations like older adults and youths can play an important role in the process of building our collective capacity for empathy and understanding. Particularly when it comes to vulnerable populations on both ends of the aging spectrum, there is a unique opportunity to help people consider the needs and suffering of others based on a relationship to their past experiences and future possibilities.
LGBTQ older adults and youths can serve as advocates for each other, as many already do. But perhaps too often, our 60-plus meetings clear out by 2:00 PM to make room for youth programs at 3:00. Fixing this division falls not on the populations seeking services, but on people like me who work professionally in this area and may be overly focused on the urgent needs of the day and not on the long-term goal of advancing equity, ending disparities, and dismantling the socioeconomic and political structures that actively seek to divide us.
When I was asked to contribute to this blog, I had to pause for a moment and think, "Does aging really apply to my work anymore? Do I have anything to say?" Next time, I promise not to have to think twice.
Corey Prachniak-Rincón is the Director of the Massachusetts Commission on LGBTQ Youth, an independent state agency celebrating its twenty-fifth year. They hold a J.D. from Georgetown Law and an M.P.H. from Harvard University, and previously led a two-year initiative on policies and programs relating to LGBTQ aging. All views expressed herein are their own.