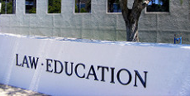 By Deirdre M.W. Lok and Malya Kurzweil Levin
Aging in America is changing rapidly, as is what it means to identify as LGBTQ. As shifting national demographics create an increased number of older adults, and as LGBTQ individuals achieve greater rights and visibility; the confluence of these two identities becomes increasingly relevant to a new generation of legal professionals. To compete in today's job market, new attorneys must be well versed in both the full range of legal issues facing older LGBTQ adults, as well as the tools and remedies available to them.
This is why I (Deirdre Lok), and Senior Staff Attorney Jane Landry-Reyes (at South Brooklyn Legal Services) decided to focus our semester-long seminar around the theme of LGBTQ aging. Each clinic student is working on a project focused on a different aspect of the LGBTQ aging experience and its legal ramifications.
First and foremost, older LGBTQ adults face complex issues surrounding visibility and cultural sensitivity. While issues of sexual identity are hot topics in the swiftly changing legal landscape, pervasive ageism means a majority of this work is focused on younger people. Among students, particularly, education and extracurricular events around LGBTQ issues tend to focus on the younger person's experience. By way of illustration, Brooklyn Law School's "Sex and the Law" week, a yearly tradition with a packed schedule of diverse events, generally does not include an event focused on issues of sexual identity and aging.
This is especially deleterious because older adults need legal education and advocacy around issues of sexuality for a number of reasons. Members of this population may have lived much of their lives with prevailing cultural attitudes that were highly discriminatory toward the LGBTQ community, and may be especially alienated from legal and healthcare systems. Older adults may also identify with specific language based on their unique experiences, and sensitivity to that language is required to communicate effectively and appropriately. New attorneys must be well versed in these issues to provide effective services without making assumptions about a client's sexual identity or preferred ways of expressing their identity.
To combat this youth-centric focus and provide critical education, HELP Clinic students are organizing a school-wide event educating other students around issues of language particular to older adults who identify as LGBTQ. The panel will include an attorney who is also a member of the transgender community. The goal, beyond the specific information conveyed in the presentation, is to combat the youth-focused culture and help effectuate a shift in which conversations around lawyering for LGBTQ populations are more inclusive of older adults.
The HELP Clinic also researches and publishes articles geared toward legal practitioners that highlight issues of concern to LGBTQ older adults. Last year's students began this tradition with an article on the increased vulnerability of older adults aging outside the traditional family structure and the legal tools useful in ensuring their safety and dignity. The article, "Aging Outside the Traditional Family: Problems and Possibilities," was published in the New York State Bar Association Elder and Special Needs Law Journal. This semester, students are researching an article on LGBTQ-identified veterans. In both cases, the HELP Clinic's goal is to raise the profile among practitioners of this population and its unique legal issues.
Beyond the shifting landscape of rights and benefits available to this population, and the unique cultural challenges they may face, LGBTQ older adults are more likely to be aging alone, and may be particularly vulnerable to abuse and exploitation. They are statistically less likely to have children of their own, and are often alienated from their families of origin. This makes isolation, a significant risk factor for abuse, more likely. There is also an increased chance that, in an absence of proper planning documents, decisions may be made on an individual's behalf that are inconsistent with that person's wishes or values.
Current law actually increases this likelihood via the Family Health Care Decisions Act (FHCDA). The FHCDA creates a list of people who are empowered, in descending order, to make healthcare decisions for an individual who has become incapacitated, when that individual lacks a healthcare proxy. This law can have extremely positive effects when it ensures caring and timely decision-making for individuals by family members. However, the law is structured so that the rights of biological family members take precedence over those of close friends.
In the case of an older adult who identifies as LGBTQ, biological family members may not be best equipped to make decisions in line with the older adult's wishes. To prevent this scenario, this population must be educated about healthcare proxies, the Family Health Care Decisions Act and the practical impact of failing to execute a proxy. To that end, HELP Clinic students will visit SAGEDay—New York City's first comprehensive LGBT-inclusive social adult-day program created and operated in partnership with the Hebrew Home in Riverdale, New York, and offer to execute healthcare proxies and other advanced directives for participants. Due to the marginalization, isolation, and concomitant increased vulnerability of this population, the Weinberg Center has also partnered with SAGE to screen clients for increased risk of elder abuse and provide appropriate follow up support to those in need.
Guardianships are another legal issue that can be particularly common and complex among the aging LGBTQ population. A party who initiates a guardianship proceeding seeks to prove that a person lacks capacity, and therefore a court ought to appoint a third party to make decisions on behalf of that person. Because guardianship involves divesting the incapacitated person of civil rights, petitioning for guardianship is a measure of last resort. Properly executed advanced-planning documents, such as powers of attorney and healthcare proxies, should obviate the need for a guardian.
Because LGBTQ-identified individuals are less likely to have traditional familial supports and planning documents, they may more commonly be the subjects of guardianships. Furthermore, it may not be clear to social services agencies or individuals involved in the guardianship process that the incapacitated person was LGBTQ identified, particularly if they were closeted, as is the case for many older adults. These complicating factors will be included in the HELP Clinic students' education on the guardianship process.
Obergefell v. Hodges, the Supreme Court case that legalized same sex marriage throughout the United States, underscored the ways in which the factors that define a family are ever changing. It is critical that lawyers be well-versed in current thinking on this topic to effectuate clients' goals, particularly where clients are members of a historically vulnerable and marginalized demographic. Approaching the topic from several vantage points, the HELP Clinic's goal is to provide new attorneys with the understanding, sensitivity and skills required to zealously and effectively advocate for LGBTQ identified populations.
---
Deirdre M.W. Lok, Esq. is assistant director and general counsel for Harry and Jeanette Weinberg Center for Elder Abuse Prevention at the Hebrew Home at Riverdale, New York. She also works as an adjunct professor at Brooklyn Law School and co-directs the law school's HELP (Helping Elders through Litigation and Policy) Clinic. Lok was appointed by Mayor Bill de Blasio to the Age-Friendly NYC Commission, and is co-chair of the American Bar Association's Senior Lawyer's Division, Elder Abuse Prevention Taskforce.
Malya Kurzweil Levin, Esq., is staff attorney for the Harry and Jeanette Weinberg Center for Elder Abuse Prevention. She is a co-author of "Changing of the Guardians: A Criticism and Analysis of the New York Guardianship Statute's Impact on Elder Abuse Victims," (National Academy of Elder Law Attorneys) NAELA Journal 10(2), 2014. 
Image via Flickr user slasher-fun