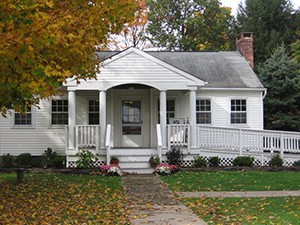 By 

Carol R. Hegeman
This is a blog about a small adult learning center scaled for a small rural community and run by a local library.  The library itself is tiny, about the size of a small two bedroom ranch, but as our Board President once said, "We play above our league." The blog is also about how this little and informal learning center enhances civic engagement, health and confidence.
The program, operating out of the North Chatham Free Library located in Columbia County NY about 18 miles southeast of Albany NY,  has been in existence for seven years and has grown from 97 participants in its first year to about 250 participants in its last completed year.  It was started because its founder (the author of this blog and the current volunteer chair of this learning center) realized that there was no similar program in our area and approached the library about submitting a grant to run a pilot version.  It worked, and it became a full program the next year.
This adult learning program became "Enhancing Life, Increasing Knowledge (ELIK)" and until this year has enjoyed funding from a local community foundation, the Fund for Columbia County of the Berkshire Taconic Foundation.  Now the library is operating ELIK on its own, with volunteers seeking sponsorships to keep it going to augment limited library support.
We offer 10 to 18 free two-hour programs a year on weekday mornings with topics ranging from those you would suspect to entice seniors to attend: Medicare 101, Brain Health, Estate Planning, Exercise Samplers for Seniors (participants sample classes in Zumba Gold, Chair Yoga, Tai Chi, Mediation, Exercises for a Healthy Back, etc.). We also include ones that engage the mind in new topics: Decluttering, Creating Garden Ornaments, TED talk showings with subsequent discussion, All About Antique Road Show, Computer Skills, Healthy Cooking  (one session featured both West African and Egyptian Cooking) and much more.
ELIK earns a consistent 4.7 rating on a 5 point Likert scale, completed anonymously, by participants after each session.
A committee of volunteers, varying in number from 7 to 12 in any given year, selects the programs after reviewing suggestions from participants, arranges for area expert speakers, runs the sessions and completes reports and evaluations. These committee members, of course, gain the most from the program, some utilizing skills dusted off from careers they retired from and others taking on a management role for the first time in their lives.  More than one volunteer went from being willing only to pass out handouts to becoming a confident leader and planner for multiple ELIK programs.
In the orientation for volunteer committee members, volunteers learn about the benefits of civic engagement and increased socialization they are experiencing. The most exciting research used in committee training is:
Individuals with adequate social relationships have a 50% greater likelihood of survival compared to those with poor or insufficient relationships. This magnitude is comparable to quitting smoking,(Italics added.) from Holt-Lunstad, J., Smith, T. B., & Layton, J. B. (2010). Social relationships and mortality risk: a meta-analytic review. PLoS medicine, 7(7), e1000316.
Can this model work elsewhere?  Sure.  Other libraries run similar programs. I think the interesting fact about ELIK is where it operates. Columbia County, NY is designated rural, with a total population of about 61,000. Our particular region of this county is about 275 square miles with no public transportation and is 15 to 25 miles from the closest city with shopping and hospitals. It also has the 3rd highest percentage of people over 60 in New York State.
It does, however, have one usual demographic that may have affected the success of ELIK. The county has seen growth in the New York City "transplants," who were drawn to the rural life style. It is possible that this sub-group adds to our attendance.   However, our committee and participants include all people from the area. 
In addition to demographics, ELIK also benefits from other assets which are found in many other rural areas: Recently retired people looking to contribute to the community, early funding by a community foundation (and later smaller awards from a local bank) and most importantly, a board that envisions a library as more than a place to pick up and return books and videos. 
A program like ELIK could, in fact, be done anywhere without grant support if the Library is willing to allocate funds for the program. Costs are minimal. 
Our grant award started at $750 for a six-month trial of the feasibility of ELIK and rose incrementally to $3,000 before funding ended. These awards covered the $100 honoraria for speakers (some donated their time), any needed travel and material costs, a share of publicity costs and some staff time. These costs, plus in-kind donations from the library for heating and flyers, and some minimal staff time, were really all that was needed.  The library and volunteer fund-raising are replacing the small grant. A recent increase in a small grant award from a local bank fill the gaps, as well.
The real cost is volunteer time. The ELIK Chair consistently spends about 15% volunteer time on the program each full year in differing percentages throughout the year. Each volunteer committee member spends a smaller amount of time with their program responsibilities.  For the Chair, this work, while time consuming, is a contribution to the community she has been happy to make.   It is critical to find someone (or, ideally, more than one person) who feels the same way, to spearhead a program in your own library.
Author Carol Hegeman, MS, will be speaking at ASA's Aging in America Conference in New Orleans on Monday, April 15, 2019 from 10 AM-11:30 AM in a combined symposium titled Tips and Tools for Fundraising and Grantwriting Success.  Her first symposium component, entitled First Time Out: A Primer for New Grant Writers will include approaches she took to get funding for ELIK from a community foundation and a local bank. Her second symposium component is entitled Easy and Creative Ideas for Fundraising for Smaller Aging Services.
Carol Hegeman is the recipient of the AAHSA 2008 Gloria Cavanaugh Award for Excellence in Training and Education, the former Director of Research at the Foundation for Long Term Care. Albany NY (a component of LeadingAgeNY), a member of the ASA awards committee, and a board member of an evolving Village Movement to be called "Neighbors of Northern Columbia County." She conducts workshops on grant writing and fund raising for aging service providers nationally. Along with William Lane, PhD, she is co-author of the 2017 book Grant Writing for Aging Services and Programs.  Questions about obtaining the book at an ASA discount or the guide for ELIK volunteers can be addressed to either hegemanconsulting@gmail.com or lanewc@verizon.net.