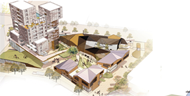 Victor Regnier, FAIA, is an ACSA (Association of Collegiate Schools of Architecture) Distinguished Professor of Architecture with a joint appointment in the Davis School of Gerontology at the University of Southern California (USC) in Los Angeles, Calif. Regnier holds the country's only joint appointment in both an architecture school and a school of gerontology, and is a fellow of the American Institute of Architects and the Gerontological Society of America.
Professor Regnier is best known for the design of housing and community settings for older adults. He is highly enthusiastic about the Dutch Apartments for Life concept, which is becoming a very popular choice for universal design–long-term care in Northern Europe. This past summer, he published a 60-page monograph featuring the work of 10 master's students for a 60-unit apartment for life, lifelong learning and civic engagement center on a corner of USC's campus.
ASA recently spoke with Regnier by telephone to hear his ideas about designing buildings we all might like to live in—at any age.
ASA: How does this USC project differ from Apartment for Life housing projects in Europe?
Victor Regnier: This building type is centered on the European idea that you move into a purpose-built independent apartment with say, 60 to 90 units. Each unit is probably 600 to 900 square feet—either a one or two bedroom. You have a full kitchen, an accessible bathroom and balcony. It is like any conventional apartment, but built to adapt to your needs as you age.
Forty to 50 percent of residents in Apartments for Life buildings in the Netherlands (where these are most common) are couples. In this arrangement one can have beginning dementia, and the other could be in a wheelchair because of a physical problem or the beginning of Parkinson's.   They rent or buy this type of unit with the expectation that if not now, then in the future their spouse or they themselves will need care. They might move when they're 75 and this building type allows them to live together, and age together and die in the apartment without having to move to assisted living or a nursing home.
There are usually partnerships that put these projects together—one partner is often a housing developer and the other is a care provision organization. Care provision involves a geriatric care manager who is continually assessing residents and arranging for services that are required for independence.
In Northern Europe you could move into this unit, and when you get to the point where cleaning is a problem, somebody comes in and cleans for you. Then when you get to the point of having difficulties with activities of daily living, someone will come in to do those tasks.
The problem in the United States is that we have a one-size-fits-all 'licensed option' in assisted living or skilled nursing facilities. The whole system is professionalized and many decisions are taken away from the family and the older person. In Northern Europe, you are still making lots of decisions about how you will live. If you want someone to come in every three days to give you a shower, cool, if your daughter wants to help you, that's okay, too.
What makes it slightly easier in Northern Europe is that long-term care is entitled (paid for by the state)—although subsidies are often on a sliding scale. We tend to package everything in the United States. Compare normal independent housing versus a licensed assisted living or skilled nursing facility. In a retirement center they're feeding you, doing your cleaning, a van takes you places, activities are programmed, etc. You pay $3,500 a month because you're paying for housing plus a lot of other services—maybe a lot of stuff you do not need. Unfortunately, you're also not doing a lot of the things that were keeping you independent. You're not going out to buy food, or taking care of the house—and when you buy care it is all or nothing.
It has always bothered me how it works [in the United States]—The Apartment for Life model is choice-laden. You do as much as you can for yourself and the system takes care of the rest.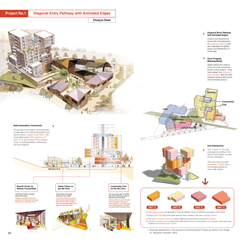 Architecture student Zhuojun Shen's rendering of a proposed Apartment for Life building on the University of Southern California campus. Read details below on the monograph featuring the rest of the projects. 
Courtesy Victor Regnier. 
Click here to enlarge.
ASA: Describe the USC architectural graduate student project that led to the monograph.
VR: This project has several components. Having elder housing on campus that can be connected to all the amazing opportunities available is the biggest benefit. When we look at similar housing for alumni or older adults on most college campuses, the units are often located some distance away. At universities that have extra land (for example—land grant colleges in small towns) they have a big continuing care retirement community spread out on 20 acres. But it's rarely within walking distance of the university campus. In this project, you can get in an elevator, walk out and go to the library (like students in the nearby dorms can).
When you place a mid-rise building on campus, residents can take advantage of everything nearby. In our project there is a medical clinic set up for faculty and students 1,500 feet away. There's a huge swimming pool, a great gym and the school of cinema is nearby. You're on a campus where there's a lot of cool stuff happening all the time, and most of it is free.
Our site had barriers in the form of a nearby parking garage, baseball diamond and tennis courts, but it was located on a corner that made it possible for the housing and the community-oriented components to function as a bridge to the surrounding neighborhood. We set aside 20,000 square-feet for civic engagement programs and an Emeriti Center with lifelong learning classes.
USC has had for at least 20 years a strong civic engagement component involving direct service or educational programming for children and families living around the campus—[an area that] is a low-income neighborhood. In our model, emeriti faculty could also become more involved in service programs for kids in the neighborhood.
We wanted to create a presence on the corner (Vermont and Jefferson), with an opportunity center, that advertises the direct services and educational opportunities the university provides. We wanted to make that corner intersection feel as if it belonged to both the community as well as the campus.
ASA: Is there a possibility that one of the designs could be built?
VR: Who knows? Anything is possible. It's an idea that seems pretty good. Several University departments participated in the design through review sessions. Someone would have to pay for it, there would have to be funding set aside for it. But USC is in the midst of a $6 billion campaign—so, like I said, who knows?
ASA: What problems did you set out to solve with this project?
VR: First, we wanted a place for the Emeriti Center. Part of the center contains lifelong learning classrooms similar in nature to the Osher Centers at other campuses [University of California at San Francisco's Osher Center for Integrative Medicine being one] but with art studios, computer studios, a multi-media setting—all tied to the University. This was designed to broaden our current programs in the community. We envisioned retired faculty office space as well as classroom spaces.
It also needed to be a civic place that could attract a lot of people, that's why we added restaurants, cafes, amphitheaters and other types of common spaces, which would attract a range of people to hang out and hopefully get to know one other. The big idea was to create a great place for students to connect with elders for intergenerational exchange. The students created sidewalks on Vermont Avenue, with landscaping and furniture. Each student thought about what they could do to attract people.
It involves 60 units of housing, 11,000 square feet for the Emeriti Center, 9,000 square feet for civic engagement, an auditorium, another 3,000 square feet for shared common space, a restaurant, coffee bar and a catering kitchen.
ASA: How replicable a model is this for other universities?
VR: If you look at most university-affiliated projects out there, they're age-segregated developments, young people are not a part of it. There is utility in having older people live together, you can provide services, and they can have a social life together. But there is a need to set all of that in the midst of a lively campus environment.
ASA: What was the student's reaction to this project?
VR: In a parallel seminar that I teach, I introduced the Apartments for Life idea, assisted living, dementia housing and independent living. They had good exposure to a range of different building types we typically use for elder housing. So they knew all the negatives, too. They were looking at this building as an opportunity to do something different and more exciting—something they would like to live in—when they became senior citizens.
ASA: If the Apartments for Life concept originated in the mid '90s, what's preventing it from large-scale adoption here?
VR: The Apartments for Life concept became popular 15 years ago and it has taken some time to incubate. It will happen here eventually, it will just take time. Our state laws are not structured to make this type of homecare housing hybrid easy to develop and regulate. Today, there are a few CCRCs [Continuing Care Retirement Communities] that have the flexibility (and regulatory flexibility) to produce it.
The model is centered on creating continuity, how to give people control, and how to be able to buy what you need—not what's prepackaged. It gives people more independence, more opportunity to do things for themselves and to help others. There is a homecare agency on the lower floor of the building. The units are set up to be adaptable; there is 24/7 power, larger bathrooms with European roll-in showers, and ways to accommodate oxygen and other equipment.
You can design a building that is adaptable—that's easy, but how to figure out assessment, how to vary the service package, how to do oversight, how to avoid violating the regulations, all of that … is complicated.
What's really important is to figure out how to vary an assisted living service package to meet your needs. Ultimately most people are interested in living independently with help for specific problems.
Most people would like to stay at home. But, say your mother is no longer ambulatory, needs assistance with toileting, needs help showering or maybe to dress every day. Most homecare agencies will insist on 24/7 care—someone that stays in her apartment. You end up paying that person $25 an hour for three shifts. So for $18,000 per month, we can fix the problem. Using homecare that way is just not sustainable.
In Northern Europe, the Apartment for Life concept is cheaper and better. It pushes overall responsibility to the older person and there are many older people helping one another in these buildings.
---
A free PDF of the USC Apartments for Life monograph is available through the author—for more information contact Victor Regnier at regnier@usc.edu.