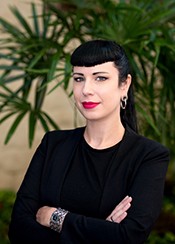 By Sandra von Doetinchem
It is my greatest pleasure to contribute to the American Society on Aging as the chair of the Lifetime Education and Renewal Network (LEARN) Council. I would like to thank the whole council for their amazing work, their enthusiasm and passion in the field of lifelong learning, as well as for the time they have devoted to LEARN. I would also like to thank those members who will complete their terms of service at the 2019 Aging in America Conference: Joshua Berrett, Florence Dimitroff-Garcia, and Janna Overstreet.
In addition, we are welcoming our newest appointees to the council: Patricia Baldwin, Maureen Feldman, Donna Hearn, Susan Hoffman, Lucas Livingston and Karon Uzzell-Baggett, whose terms begin right before the conference. Please join me in wishing them all the best, great success, and an enjoyable time working on the council.
The 2019 Aging in America Conference is coming closer and I hope that you can join us in New Orleans, LA. I am thrilled to present to you the program that the LEARN council designed, which will all take place on Tuesday, April 19 in room Celestin H (Level 3), under the sobriquet Lifelong Learning: Do You Know When You See It? wherein we will explore the question of what lifelong learning is, and also showcase successful and innovative programs and approaches that enhance the life of older adults through non-formal education.
In advance of the LEARN day, LEARN council members will also address the question through several blog contributions that I hope you find illuminating.
What Is Lifelong Learning?
Humans learn over their entire lifespan. Learning in general can take place in a variety of contexts, which are commonly divided into formal, non-formal and informal settings. While formal learning takes place within a traditional hierarchical and chronological education system and typically finishes with a degree or credential, non-formal learning consists of organized and systematic educational activities that are presented to selected population groups, such as older adults, and that do not lead towards a degree or credential. Informal learning takes place outside of these contexts and can be understood as a non-intentional and often unconscious form of learning, like learning from experience. The majority of organized education for older adults occurs in the context of non-formal learning.
Lifelong learning has become the most glamorous term in adult education. Although in the U.S. the term is nowadays mainly used in regard to learning in older adulthood, lifelong learning emphasizes that humans learn in different contexts and forms over the entire life span. The idea of the importance of lifelong learning goes back to the early 1970's when the UNESCO commissioned a report, which provided governments with strategies for the development of lifelong learning opportunities. Central to the report, which helped to establish lifelong learning as a global educational concept, is the understanding that learner-centered learning opportunities should be available to everyone, regardless of age, race or class. This democratic and inclusive view of lifelong learning can be understood as intrinsic to learning in later life.
In addition to lifelong learning, other terms such as elder learning, later life learning, older adult learning, older adult education, learning in later life, education for older adults or geragogy can be found in the educational theory and practice with older adults.
Older adult education consists of three activity fields that are also inter-related: (a) educational opportunities for older adults, (b) educational opportunities for the public about old age and aging, and (c) educational opportunities for professionals working with older adults.
Why Is Lifelong Learning Important?
Many developed countries in the world, including the United States, experience aging of their populations, which results in a reversal of the population's age structure. Important factors for this global population growth and aging are decreasing fertility, declining mortality rate, and an increased life expectancy due to improvements in public health and health care. While the number of adults in retirement age increases, the number of individuals in working age decreases (demographic change). The time after retirement has developed into an independent and expanded life stage and the individual can expect to spend more than twenty years in retirement. These developments consequently lead to the question of how the workforce and current retirement systems can be maintained in the future as well as how retirement time can be filled with meaning. As a strategy, society and educational politics need to increasingly acknowledge and utilize the skills and knowledge of the elderly as an important resource as well as provide possibilities for ongoing participation in organized education and professional development over the life span.
Research suggests that continuous learning provides numerous benefits for the older individual in regard to cognitive functioning, health and well-being, civic participation, and self-confidence.
Although learning in old age can be beneficial for both the society and the individual, older adults are underrepresented in organized education. Enrollment statistics show that older adults who do participate in educational programs are typically in their 60s or early 70s while oldest-old or frail elders do not appear addressed. Considering the benefits of ongoing learning for the older individual, expanding the view towards these audiences is necessary.
Where Does Lifelong Learning Take Place?
Lifelong learning can take place in a variety of settings – basically everywhere organized courses, for and with older adults, are offered. Some of the most well-known providers in the U.S. are the Lifelong Learning Institutes, RoadScholar, OASIS, Shepherd's Centers of America, and higher education institutions (guest auditing programs, community education courses). However, lifelong learning opportunities can also be found at senior centers, museums, libraries, theatres, and health providers.
What Makes Older Adults as Learners Special?
Characteristic for learning in older adulthood is a high level of autonomy and self-directedness. While learning in younger age often occurs in mandatory and specific institutional settings, (older) adult learning is much more voluntary and driven by intrinsic motivation rather than external factors. In addition, the individual biography and life experiences gain relevance for learning with increasing age. Since the individual tends to only learn what appears to be relevant and integrable, learning in older age can therefore be understood as a highly individualized and self-structured process, for which the learner is self-responsible. However, older adults learn differently than younger individuals as the brain and its memory functions are subject to aging processes. A decreasing functionality of the short-term memory affects learning abilities in old age. Learning processes become more prone to interference and recently learned items may be harder to recall. In addition, simultaneous information is more difficult to learn and the pressure of time negatively impacts the learning results. To address the decreasing memorizing abilities in old age in educational settings, instructors need to provide sufficient assistance in the learning process by repetition and additional time. Furthermore, clear and structured collateral materials, as well as a positive and intimate learning atmosphere, can enhance memory and learning performance.
Sandra von Doetinchem is Chair of ASA's LEARN Council.
Sources:
Boshier, R. (1980): Towards a learning society. Vancouver, Canada: Learningpress
Faure, E. et al. (1972): Learning to be: The world of education today and tomorrow. UNESCO/Harrap. Paris. Retrieved from: http://unesdoc.unesco.org/images/0000/000018/001801e.pdf
Himmelsbach, I. (2012): Bildungsangebote. In: Wahl, H.-W./Tesch-Roemer, C./Ziegelmann, J. P. (Ed.): Angewandte Gerontologie. Interventionen für ein gutes Altern in 100 Schlüsselbegriffen. 2., vollständig überarbeitete und erweiterte Auflage. Stuttgart: W. Kohlhammer
Hof, C. (2009): Lebenslanges Lernen. Eine Einführung. Stuttgart: Kohlhammer
Kade, S. (2009): Altern und Bildung. Eine Einführung. Bielefeld: Bertelsmann 2. aktualisierte und überarbeitete Auflage
Kruse, A./Rudinger, G. (1997): Lernen und Leistung im Erwachsenenalter. In: Weinert, F. E./Mandl, H. (Ed.): Psychologie der Erwachsenenbildung.  Enzyklopädie der Psychologie. Band 4. Göttingen u.a.: Hogrefe-Verlag, pp.45-85
Leipold, B. (2012): Lebenslanges Lernen und Bildung im Alter. Stuttgart: Kohlhammer Verlag
Manheimer, R. J. (2007): Education and Aging. In: Birren, J. E. (Ed.): Encyclopedia of Gerontology. 1. Oxford: Academic Press, 463-475
Schuetze, H. G. (2006): International Concepts and Agendas of Lifelong Learning. Compare: A Journal of Comparative Education, 36(3): 289-306
Siebert, H. (2003): Didaktisches Handeln in der Erwachsenenbildung. Didaktik aus konstruktivistischer Sicht. 4. Auflage. München/Unterschleißheim: Luchterhand