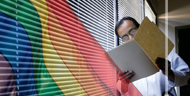 By Kathryn Ward
The Patient Protection and Affordable Care Act of 2010 (ACA) was enacted to ensure affordable and comprehensive healthcare to all Americans. In 2011, Kathleen Sebelius, Secretary of the Department of Health and Humans Services (HHS), remarked that the ACA probably is the strongest foundation this nation has ever made in closing LGBT health disparities. The ACA definitely has had and will continue to have a significant impact on all minority groups once negatively impacted by the difficulty of accessing quality healthcare and comprehensive health insurance coverage.
Lesbian, gay, bisexual, and transgender (LGBT) baby boomers are the largest population of elders who have been and will be openly gay as they age. LGBT elders face barriers affecting their financial and healthcare stability unlike any other group of elders, and the ACA's impact on this group is of great importance.
LGBT elders face social barriers affecting their access to quality healthcare, including social stigma and prejudice, reliance on informal families for social connections, care and support; and laws and programs that fail to address social acceptance, financial security and better health and well-being. Baker and Krehely posit that not only do LGBT elders face economic and social barriers, but also they have distinct health challenges, such as lack of access to good health insurance coverage, the need for culturally competent healthcare services, high rates of HIV/AIDS, mental health issues and chronic health conditions.
Full implementation of the ACA will have a positive effect all older Americans, but its effect on LGBT elders, because of their specific health and healthcare challenges, is noteworthy. Tax writes about how the HHS' clarification of Section 1557 of the ACA will affect LGBT elders. Section 1557 bans discrimination on the basis of gender identity and sex stereotyping in any health program or activity receiving federal financial assistance, administered under the executive branch, or established by Title I of the ACA. Tax adds that many forms of discrimination based on one's sexual orientation can be framed in a way that can fit into the definition of sex stereotyping. Accordingly, LGBT elders receiving services from programs that fit within the clarified definition under Section 1557 are now federally protected if discriminated against.
The ACA also implements education, research and cultural competency programs that will provide a more understanding and tolerant healthcare workforce to better serve LGBT elders. Bailey, Jones, Lim and Pace report on the ACA's impact on LGBT elders from a nurse's viewpoint. Although nursing and healthcare provider curriculum lacks adequate training in areas specific to LGBT elders, the report outlines ways in which the ACA is implementing broader competency training. HHS promotes cultural competency training and resources to the healthcare workforce, and is working toward building community health centers to provide broader access to disadvantaged minority populations, including LGBT elders.
The ACA also will significantly impact Medicare beneficiaries by reducing prescription drug costs, including eliminating the "donut hole" by 2020; providing one free annual visit to a beneficiary's provider of choice; and, providing free coverage of vital preventive services. The ACA both protects patient's rights and will end insurance company abuses, too. In 2010, lifetime limits on coverage were prohibited and by 2014 annual limits on coverage will be phased out. 
Reducing drug costs and eliminating coverage limits is essential for those LGBT elders who suffer from chronic health conditions, including HIV and AIDS, whose annual and lifetime healthcare expenses are higher than most consumers. Also prohibited by the ACA is the health insurance company practice of denying coverage for those with pre-existing conditions, including HIV, and those with transgender medical histories. Insurance companies also will be prevented from arbitrarily canceling a sick person's policy.
Other provisions of the ACA that will have an impact on all Americans generally will benefit LGBT elders specifically. In states that opt-in, the ACA will expand Medicaid coverage to all adults whose income falls below 133 percent of the federal poverty line. And individuals whose income is above the 133 percent mark but still below 400 percent of the federal poverty line are allowed access to health insurance exchanges, which provide essential benefits at a premium cost.
The ACA's impact on LGBT elders and all Americans will be better understood once the law is fully implemented, however, its broad and comprehensive provisions are more than promising to those who have lacked quality healthcare. LGBT elders face unique barriers that impact more than just their access to healthcare, and the Affordable Care Act is a large step forward in ensuring that this group of older Americans has a deserving quality of life in their later years.
---
Kathryn Ward is a law student at William Mitchell College of Law in St. Paul, Minn. 
This article was brought to you by the editorial committee of ASA's LGBT Aging Issues Network (LAIN).
Help us improve AgeBlog and rate this post by clicking here!