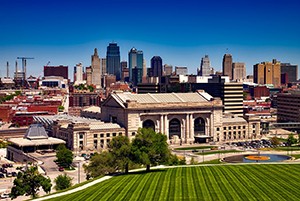 By Laura M. Keyes and 

Cathy Boyer-Shesol
Enjoying a local park, getting around your community to visit with friends, affording housing and staying actively engaged in our communities can be more challenging as we age. Barriers may exist for individuals, such as losing the ability to drive or living alone, that may make it difficult for older adults to age in place. As we get older our communities may no longer support our ability to remain independent, active and engaged. Some cities are working hard to transform this reality.
"I've lived in Raymore (Missouri) for 24 years. I served on the City Council and Parks and Recreation Board and developed many friendships over the years. The ability to remain in this town as my needs evolve is important to me," states Monique Lewis. Cities that do not accommodate changing needs would be detrimental to the health and well-being of older adults. This is why city leaders in the Kansas City metropolitan area are planning a different future for their residents.
Cities in the MARC region are increasingly aware of the growth in the number of older adults aged 65 and older amplified by the doubling of the baby boomer population. They recognize that to support a diversified population where older adults are valued, certain policies are needed to create age-friendly community supports and implement policies and programs that make it easier to age in place.
In fact, cities are participating in a structured livable community program culminating in a highest gold-level standard as a recognized age-friendly community. The Communities for All Ages program, an initiative of the Mid-America Regional Council (MARC), the regional planning agency for the Kansas City Metropolitan Area, is designed to create incentives for the region's cities to become age friendly. The program encourages cities to create awareness on the issues using an all-ages lens, assess the local needs, and tailor an approach of local policies, services and programs to implement an all-ages plan. Cities apply for bronze, silver and gold levels of recognition. To date, 16 cities are bronze, 11 are silver and 6 are gold.
In mid-December the Communities for All Ages Professional Network, a group open to all elected officials and city/county staff from the 119 municipalities in the region, convened to reflect on lessons learned about age-friendly communities, examine current local applications of polices and explore the next frontier for age-friendly policies and programs.
John Feather, Ph.D., CEO of Grantmakers in Aging, shared his wisdom on the lessons learned from funding seven years of age-friendly projects throughout the nation, including the three-year Community AGEnda project, funded in partnership with the Pfizer Foundation. MARC, one of five Community AGEnda grant recipients, developed its age-friendly community program through this initiative.
Dr. Feather reminded the audience that every day, 10,000 individuals of the baby boom generation turn 65 years old. He praised the Kansas City communities for their investment of time and resources to get ahead of the aging of America with tangible solutions that will yield positive outcomes for our older adult friends, family and neighbors. He drew attention to the fact that the aging experience is not isolated to the American urban landscape but touches the lives of many individuals living in rural America as well. According to Dr. Feather, "Any approach to age-friendly communities must respond to a diverse population with differing needs."
Important lessons learned included:
"One size fits all" models don't fit. In a rapidly diversifying aging population, age-friendly communities must provide opportunities that meet the differing needs of older people.

Think big, but work small (start with programs that have quick, visible success and build from there).

Age friendliness is long-term (this work takes time so stay focused for the long term).

Listen (older adults must be actively engaged in the planning process).

Services, programs and housing must be integrated (the community must be accessible).

Communities must work together from the beginning to ensure programs are sustainable.
"Building an age-friendly community is hard work and messy but it has rewards. It is not a fight for resources between different age groups but an opportunity to make the community better for everyone," said Dr. Feather.
The City of Raymore, MO, Gold Level Recipient of the Communities for All Ages award, provided important insight on the local application of age-friendly policy and practice. James Cadoret, AICP, Development Services Director and Assistant to the City Manager said, "The city's efforts to be age friendly start and end with the city council." The city's efforts are directly incorporated into the city strategic plan including four distinct strategic focus areas, 13 goals, 41 strategies and 123 action steps.
A critical goal is to create opportunities for all citizens to feel valued and connected within the community. Tangible outcomes include audible crossing signals at major intersections, sidewalks on every street, gaps in sidewalks filled in, additional pedestrian lighting, a farmers' market to create a sense of place and provide gathering and socialization opportunities, accessible public buildings, and improvements to parks and open space. All projects and programs are products of inclusive and integrated planning processes.
"A notable step taken by the city council is support for an accessible dwelling units (ADU) policy," said Mr. Cadoret. Legalizing ADUs is an effort to maintain housing affordability throughout the city. The code does not place any limitations on where the ADUs may be located. The lack of restrictions means that options will exist for individuals from a broad range of income levels to be able to find affordable housing in Raymore.
Raymore's approach to including age-friendly principles in all city plans and the city's strategic vision is an important step to ensuring all phases of a community for all ages are interconnected across the areas of housing, arts, public facilities, arts, healthcare, healthy living, transportation and mobility, social inclusion and civic participation.
Dr. Laura Keyes stated, "Recent research findings of a national sample of cities provide support and credibility for the hard work and dedication of the Community for All Ages cities working towards higher levels of recognition." Findings from a national sample of 1,050 cities show that there is an important operating space for local governments in the area of age-friendly policy action including mobility, housing, built environment, recreation and other city services.
"Age-friendly policy action is greater in communities with a commitment to older adults reflected in their management principles and where advocacy for aging services and inclusion of older adults in the planning process is high," stated Keyes.
These management principles include integration of older adults in the city's strategic vision, needs assessment, engagement plan and budgetary principles. Keyes further stated, "Age-friendly principles are not relegated to a single agency or department." A comprehensive response to creating a community for all ages requires strategic action across city departments. Keyes highlighted, "This response is more likely to occur when a strategic vision that includes age-friendly goals for the city is guiding departmental policies." Cathy Boyer-Shesol, MARC's Project Manager for KC Communities for All Ages, indicated a lesson learned among participating Recognition Program cities is the critical importance of City Manager stated support for participation in an age-friendly community initiative as it strongly influences ownership of age-friendly principles across departments.
Looking ahead, communities that proactively plan for diverse populations from the young to the old inspire a more sustainable community, creating efficiencies in public programs, services and resources. As an effort to collect more information on tangible age-friendly actions, this article encourages readers to leave comments on successful local age-friendly strategies in your communities. What exciting programs are working locally?
Cities that are just beginning to initiate efforts in creating age-friendly communities are encouraged to perform a needs assessment to understand the demographics and community context of its residents. Demographic shifts have strong implications for cities. City leaders should mobilize leadership and organizations already working in the aging space. Cities may empower their residents and include individuals of all ages in meaningful processes to participate and identify needs, challenges and opportunities across all dimensions of creating Communities for All Ages.
Future research should continue to identify objective approaches to age friendly policy and inform on the short-term, mid-term and long-term financial feasibility of age-friendly policy action for communities.
Laura Keyes, Ph.D., an AICP certified planner, holds a position of Lecturer and Undergraduate Program Coordinator for the Nonprofit Leadership Studies and Urban Policy and Planning degrees for the Department of Public Administration at the University of North Texas. She is the current Chair of American Society on Aging's Committee on Network on Environments, Services and Technology (NEST).  She has published a number of scholarly journal articles on aging policy and text book chapters on public administration.
Cathy Boyer-Shesol, MPA, is the Project Manager for KC Communities for All Ages (KCC), an initiative of the Mid-America Regional Council designed to help prepare the Kansas City region for the anticipated dramatic increase of older adults over the next several decades. She has over 35 years of professional and volunteer experience in the nonprofit sector, holding executive director positions and serving as an officer and/or board member for numerous nonprofit organizations in Illinois, Kansas and Missouri. She is a member of American Society on Aging's Committee on Network on Environments, Services and Technology (NEST). She earned her Master's in Public Administration from University of Missouri-Kansas City