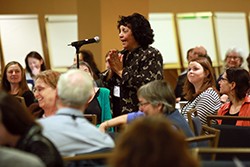 By Alison Hood
As ever larger numbers of older people in America approach later life, their preference is to age in place. But this involves considerable challenges: are there adequate services in the community, including healthcare? Are communities "livable," with safe and affordable housing, efficient and accessible transportation and age-friendly public spaces and buildings?
These questions and more were answered in the Second Annual Summit on Livable Communities at the Aging in America Conference in San Francisco. This full-to-capacity event featured two panels and two interactive "world cafés"—discussions that engaged attendees, uniting planners and professionals working in aging to share ideas and collaborate on shaping ideal age-friendly communities.
Sponsored by AARP and presented by ASA, the American Planning Association (APA) and AARP, the Summit began with a welcome from Blanca Castro, Advocacy and Sacramento Metro manager, AARP, who introduced panel one moderator Stephanie Firestone, Senior Strategic Policy advisor, AARP Office of International Affairs.
What Are Age-Friendly Communities?
Firestone, in conversation with panelists Rodney Harrell, AARP's director of Livability Thought Leadership, and Jennifer Raitt, director of Planning and Community Development for Arlington, Mass., first defined an age-friendly community—it would be well-designed and livable for people of all ages and abilities, and help sustain economic growth. Also it would include walkable streets, better housing and transportation options, access to key services and a chance for residents to participate in community-oriented activities.
Firestone then asked Harrell and Raitt, both planners by profession: What do planners and professionals in aging actually do?
Raitt, a municipal planner, said her biggest goal "is to create livable communities," to find elements that work for everyone. It is crucial, she said, to find ways to build bridges, to look at and think about what other planners are doing to work on issues that affect residents. "There is [a] great opportunity to capitalize on and engage at the local level, to [spark] conversations [at the] local level," Raitt added.
Harrell said that, as planners, we "have to look broadly, to look across communities and at [interested] partners," such as people who serve older adults and area agencies on aging, to ensure planners consider the older adult perspective.
Firestone cited a survey of planners across 33 countries, which asked, "Why did your local government incorporate an aging lens as part of the planning process?" It garnered nearly 600 responses, the prevalent answer being, "Because it was a priority identified during a community planning process."
 "When we do anything in community," said Firestone, "when we figure out a new action that impacts lives of residents, we make sure that their needs—all needs—are met." Raitt and Harrell agreed, discussing the importance of having regulations in place, such as ADA compliance, affordable housing practices and (universal) design standards.
"We can raise the effort up [to a] higher [level]," Raitt said, if planners embrace the opportunity to advocate with state government to develop senior housing.
When asked, "What contributions can you make to make livable communities?" Raitt cited "Understanding politics, community advocacy, engagement and education; these drive change in community."
Harrell said that with his background in community development, he has learned that "aging is not a monolith." No one set of rules applies to every person. "People have different preferences and needs."
Wrapping up the conversation, Firestone asked, "What are the most important needs in your profession that professionals in the other sector can support?
Said Harrell, "I would hope for a commitment from planners to incorporate aging voices; to add your voice to the conversation. And to commit to having that perspective at the table." Raitt wanted aging professionals to "please attend public meetings and please speak out. Also, embrace community change. Help others to see the importance of community change to get to something better."
Promising Practices in Age-Friendly Communities: What Are the Trends?
Panel two, moderated by Wendy Cosin, Berkeley, Calif.'s, former deputy planning director, was a conversation about promising practices around outdoor spaces/built environment, housing and transportation in age-friendly communities. Panelists were Matt Raimi, principal, Raimi + Associates; Denise Pinkston, partner, TMG Partners; and Naomi Armenta, senior associate, Nelson/Nygaard Consulting Associates.
"Communities are not built to be age-friendly," said Raimi, instead they are built for "separate uses." So, how to make communities age-friendly? One trend is to "retrofit suburbia" with mixed-use areas, integrating accessible parks and open spaces. This manifests in minimal [building] setbacks, sidewalks being scaled to pedestrian (not vehicular) access and creating culturally relevant, active open and communal spaces.
These types of changes are achievable, Raimi said, if different professionals participate in the planning process, and become familiar with zoning, financing plans, street master plans, etc.
Data-informed decision-making is key. Interested parties should analyze the demographics around older people in the community, and "map them," Raimi said. Build partnerships, especially with people and agencies working in city planning, housing, health, climate change, local law enforcement, parks and recreation and social service agencies. "Diverse engagement," he said, " is critical."
Panelist Denise Pinkston admitted she is a self-styled "planner from hell." Her work, which focuses on livable communities and accessory dwellings, includes a mission to "solve [the Bay Area] housing problem! … California is becoming the 'golden state' because only wealthy people can [afford to] live here anymore," she said.
Pinkston provided possible solutions (and statistics to back them up) to help ameliorate the housing crisis: use Accessory Dwelling Units (ADU); and exploit underused housing space in single-family residences by sharing with family, friends, older adults, children).
In January 2017, California adopted state law to require all municipalities to enact an ADU ordinance, said Pinkston. This was accomplished via a huge coalition (city governments, employers, environmentalists, senior housing advocates, unions, equity advocates and planners), plus evidence from Oregon and Washington and researchers from UC Berkeley that proved local zoning barriers prevented ADUs.
"They all came together to support the bill … this is helping real people," Pinkston added. Now, California is the leader in the West for ADU use—a positive development, especially as ADU use is invaluable in providing a response to the urgent need for housing in the wake of natural disasters.
Panelist Naomi Armenta is a mobility advocate, who emphasized the community need for a transportation plan, which includes paratransit that serves everyone in a safe, cost-effective and convenient manner.
The first step toward such a plan, said Armenta, begins by asking: Where are seniors going?  In working on a transportation needs assessment plan for the Bay Area, Armenta and her colleagues found that older adults were going out for groceries, medical appointments and recreation. If transportation services were in place, they'd be motivated to go out more often.
Plans require sustainable funding (such as city-based programs, sponsorships, taxi voucher and Clipper card programs, partnerships with ride-sharing companies and volunteer drivers) and mobility management, an approach for delivering coordinated transportation services to customers.
Best practices begin with clear communication to city and county transit officials, nonprofits and advocates. Identify support resources such as the National Aging and Disability Transit Center, the National Center for Mobility Management and the Easter Seals Project Action Consulting. "Get mobility management champions, put on summits!" Argenta said.
Ideas Shared, a Movement Begun
At the Summit's close, attendees participated in roundtable discussions, sharing ideas and inspiration for how communities could implement and sustain better housing, transportation, open spaces and built environments. As Raimi, Pinkston and Armenta circulated between tables, they picked up some takeaways.
"You need a diversity of people working together to make better places," said Raimi. Pinkston heard that attendees found "we need more flexibility in housing as people age; and we must work to change people's hearts and minds" to make communities more livable for all, but especially for older adults.
Armenta heard concerns about "walkability, the need for 'travel training,' and the use of technology for way-finding." Also, there were questions about "who are the gatekeepers" of the information needed to foment change, and how communities could find and talk to isolated elders, to bring them into the community conversation.
In closing, Harrell urged participants to access information on the AARP livable communities website, as well as the Northern California APA site, and hoped that all present would remain connected to each other online and continue the movement to improve America's communities.