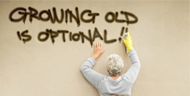 By W. Andrew Achenbaum
Now in the Third Quarter of Life, baby boomers know that the years between ages 50 and 75 rarely prolong the prime time of their lives, physically or professionally. Nonetheless, most look forward to possibilities unimaginable in youth. "Sixty is the new 40," promises the media. Yet do baby boomers accentuate the positives of aging without facing up to the challenges of advancing years?
British gerontologists like Susan Pickard focus on the vulnerabilities of "deep old age," as she did in a 2014 article for Ageing and Society (34:8). Americans hope Gloria Steinem's claim of "this is what 80 looks like" applies to them. Blessed with good genes, great looks and gumption, Steinem, each decade since turning 40, has demonstrated that beauty can grace any age.
But what if the new 80 basically resembles the old 80? What if the present shortage of geriatricians and healthcare professionals increases? What if we fail (because of gaps in the current system) to address older Americans' future mental health needs, as Frederic Blow and colleagues discussed in the Fall 2014 issue of Generations?
Still Frightened by Aging
The Fourth Quarter of Life scares us. High blood pressure, bad cholesterol, heart disease, arthritis and diabetes afflict many Medicare beneficiaries. Multiple chronic conditions increase with advancing years: a quarter of all beneficiaries older than age 85 present with six or more conditions. Medical costs rise. Roughly half of surveyed older adults with multiple debilities in 2010 had 13 or more physician visits; and a quarter went at least three times to an emergency room, according to the Centers for Medicare and Medicaid Services Chartbook: 2012 Edition.
Few baby boomers save enough to pay potential healthcare bills. Boston College's Center for Retirement estimates that 44 percent of men and 58 percent of women older than age 65 at some time will need nursing home care. Annual costs for nursing homes vary extremely, the average exceeding $85,000. (The hourly rate for home care tops $21.)
But only 13 percent of the U.S. population buys long-term-care insurance. Debt in elder households doubled since 2000, so Fourth-Quarter bills could deplete resources even for those fully covered by Medicare and Medicaid, according to Steve Vernon in Yahoo Finance (2014).
Like it or not, troubling issues face us as aging Americans approach the land of denial. Why do we spend so much time and money seeking to preserve youth, rather than investing in our future selves? Why does an anti-aging impulse permeate consumer choices and healthcare decisions? Why do researchers and practitioners pay scant attention to Fourth-Quarter contours and dynamics?
Ageism at the Root of Denial?
Readers of Aging Today have hunches. Ageism over the life course, Robert Butler taught us in 1969 in The Gerontologist (4:1), severs generational ties—diminishing a sense of selfhood over time. This is nothing new: Americans since the founding of the Republic have valorized youthful vitality, as I wrote in a chapter in Our Aging Society (New York: W.W. Norton, 1986).
Christopher Lasch, our modern-day Alexis de Tocqueville, argued in The Culture of Narcissism (New York: W.W. Norton, 1979) that "the dread of age originates not in a 'cult of youth' but in a cult of the self." The Fourth Quarter, contended Lasch, undermines confidence that medical technology can mask or eliminate vicissitudes. People, fearing overwhelming losses, discount the mysterious, meaningful ways in which the human condition might unfold at advanced ages.
Americans' aversion to decline with advancing years feeds their collective negation of finitude. Ernest Becker, in The Denial of Death (New York: Free Press, 1973), said, "The idea of death, the fear of it, haunts the human animal like nothing else: it is a mainspring of human activity—activity designed largely to avoid the fatality of death, to overcome it by denying in some way that [it] is the final destiny for man." Heroic efforts to sustain existence until an "appropriate" moment ultimately prove ephemeral.
Possibilities exist for adapting to the Fourth Quarter, however. Hospice grows more appealing, available and affordable, as does palliative care. Pioneers such as visionary geriatrician Dr. Bill Thomas and Keren Brown Wilson, founder of Concepts in Community Living in Clackamas, Ore., have created prototypes for omni-friendly nursing homes and assisted living communities, respectively. The Affordable Care Act provides incentives to deliver services through accountable care organizations and "patientcentered medical homes."
Baby boomers will become catalysts for change in the Fourth Quarter, just as they once reformed education and work. Having witnessed their parents' deaths while enduring their own aches and pains, baby boomers must demand alternative ways of dealing with chronic conditions and of facing death. They will insinuate spiritual practices into their promotion of physical, psychological and social well-being.
"Isn't it time [for baby boomers]," philosopher Martha Nussbaum asks in her 2014 New Republic piece, "to lay claim to that uncharted territory that we try so hard, and in so many ways, to avoid?" My cohorts cannot invade the land of denial alone. As we grapple with inequities caused by race, ethnicity, gender and income, Americans must remap the frontiers of aging. Young and old must summon the courage to mobilize resources to create a continuum of care and concern for people in life's Fourth Quarter—people who need opportunities to sustain meaningful well-being in the face of death. 
---
W. Andrew Achenbaum, Ph.D., a baby boomer, is a professor of history and social work at the University of Houston in Texas.
Editor's Note: This article appears in the March/April 2015 issue of Aging Today, ASA's bi-monthly newspaper covering issues in aging research, practice and policy. ASA members receive Aging Today as a member benefit; non-members may purchase subscriptions at our online store or Join ASA.