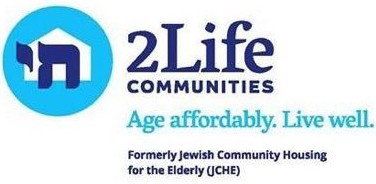 By Kerri Schmidt and Jen Rich
The Living History Project developed out of an urgency to capture and video record the stories of our oldest generation, those who have seen the greatest changes in our lifetime, including WWII Veterans and Holocaust Survivors. Working with limited resources, 2Life Communities collaborated with local schools and youth organizations to capture our residents' stories. Through these partnerships, we developed an intergenerational project that harnesses the power of storytelling to collaborate, connect and build bridges between generations.
2Life Communities staff members, Kerri Schmidt, Director of Intergenerational Programs and Jen Rich, Director of Resident Services at the Shillman House, will lead The Living History Project workshop. 2Life Communities (formerly Jewish Community Housing for the Elderly) is a mission-based, affordable housing agency for older adults. Over 1500 residents of all income levels live at four campuses located across the metropolitan Boston area. 2Life Communities provides safe and affordable independent housing where older adults of all backgrounds can age in community. Our programs and services enable residents to live a full life of engagement, connection and purpose in a dynamic and supportive environment.
Many intergenerational benefits have developed from this project. We have seen bonds form and stereotypes transform as meaningful relationships and greater understanding develop between generations. These results are important as recent studies show that both younger and older generations face isolation and loneliness. A 2018 Cigna study of generations between the ages of 18 years old and 72+ years old reports that younger generations experience greater loneliness than older generations. This data suggests that opportunities for meaningful intergenerational connections are mutually beneficial in mitigating loneliness and isolation while connecting individual across generations.
Storytelling is another powerful intergenerational vehicle for improving social and mental health. According to Harvard University's Joint Center for Housing Studies, lonely older adults are twice as likely to have dementia as those who don't report being lonely. No matter what one's age, it is helpful and therapeutic to share ones story and feel heard. For older adults to share with a younger person helps both parties gain insight about our similarities and differences across the generations, create friendships, build bonds and dispel biases about age.
At 2Life Communities, we learn about residents throughout their lives. However, often we learn some of the more interesting facts about people after they have passed away. The Living History Project attempts to change this trend. Giving our elders an opportunity to tell their stories is a powerful tool, and reminiscing has been shown to help older adults with end of life issues by giving their lives meaningful context. A video recording also leaves their stories as a true legacy for families and friends.
Talking about one's life and memories is something that anyone can do no matter what their cognitive status may be. An elder with dementia will still be able to have a meaningful conversation about their youth and adulthood. From an intergenerational perspective, it is important to record and share these stories. Because we do not want to lose this important history or these experiences as the generations after the Baby Boomers will not have the same experiences.
The outcomes and opportunities of this project continue to develop and we are excited to share our journey so other organizations can create their own Living History Project. Join us at the 2019 ASA conference for this interactive and multimedia session. We will explore the power and benefits of storytelling, highlight our best practices and lessons learned, provide participants with a 'how-to' road map, and use smart phone technology to practice recording each other's stories.
Don't miss The Living History Project: An Intergenerational Approach to Telling and Sharing our Stories on Monday, April 15 from 12:30 PM to 1:30 PM in Bolden 4 (Level 2) during the 2019 Aging in America Conference.
Kerri Schmidt is  Director of Intergenerational Programs for 2Life. 2Life Staff Member Jen Rich is Director of Resident Services at the Shillman House.