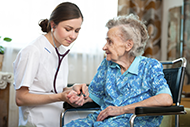 By Janet Spinelli
In order to ensure that nursing facility residents are receiving optimal high quality services in the most appropriate setting consistent with our Olmstead efforts, it is essential that we leverage the long-term care initiatives that are currently underway. Addressing the unique needs of each resident can be challenging, but these challenges provide an opportunity to be innovative and inclusive. At the Aging in America Conference in Chicago this March, I and my colleagues Lila Starr, and Andrea Womack from the National Association of PASRR Professionals (NAPP) will discuss "Effective Strategies for Long-term Care Program Integration." This discussion will focus on the intersection of the federally mandated Preadmission Screening and Resident Review (PASRR) program with key initiatives such as Nursing Facility transition programs that incorporated the Minimum Data Set (MDS) to identify and link residents to services, and the Federal Reform of Training Requirement for LTC facilities by assimilating PASRR program training and person-centered care into related training initiatives.
The National Association of PASRR Professionals is a non-profit educational organization dedicated to advancing the profession of individuals and organizations working to implement PASRR across the country. The organization provides education and training opportunities through conferences, workshops, webinars and other means to enhance competencies. The organization also monitors and provides information pertaining to the development and implementation of new state and federal rules, regulations and policies, and promotes innovation and improved quality of behavioral health, developmental disability, and long-term care services.
One of the most important keys to proving quality services is an informed and knowledgeable workforce. Nursing facility staff need training on how to identify new and emerging resident issues, behavioral health and other disability-related service options and how to prepare residents for successful transition to lower levels of care. The strategies employed in PASRR training programs are excellent resources to maximize workforce time as well as provide opportunities to meet the CMS Requirements of Participation for Long Term Care Facilities described in the Federal Register (Vol. 81, No. 192; Tuesday, October 4, 2016, Rules and Regulations). As we develop these educational programs it can benefit the entire community if materials are disseminated across multiple state programs. Leveraging trainings such as those provided by PASRR programs will educate the workforce and result in a positive impact on staff competencies.
Understanding how these programs interact enables the development of strategies that foster integration. The integration of PASRR training, LTC regulation reform, Olmstead initiatives, and community integration efforts can have a powerful impact on the lives of nursing facility residents and positions us to provide improved programs and resident health care and behavioral health outcomes. It not only personalizes care but improves the potential for success in community transition and integration. Residents are in constant transition, whether transitioning from one care setting to another, from one provider to another, from one caregiver to another or from one issue to another. There is no one way of identifying and meeting all of their multiple needs. However, by integrating our efforts we are able to provide better outcomes, enhance recovery, improve quality of life, address needs, and maximize the potential for community living.
Janet A. Spinelli, PhD, PCNS, is Board Chair, National Association of PASRR Professionals, Tallahassee, Fla.