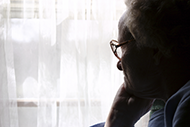 By Rachel Pagones
Pain, you could say, is the great equalizer. Young athletes, women in childbirth, sedentary office workers, manual laborers, old athletes—everyone deals with it at some time. Often it goes away on its own; sometimes you need a little help: aspirin, acetaminophen, liniments, or the like. In many instances, it's no big deal; it goes away, and you forget about it.
But what if pain won't go away? Like an uninvited guest who sets down roots in the spare bedroom, helping himself to your food, your clean towels, and your attention, chronic pain drains a person's resources and energy. When this happens, daily activities become harder and depression can set in. These problems are particularly significant among older people. As age advances, chronic illnesses tend to accumulate. The result is many symptoms—collectively referred to as "symptom burden"—each of which may be treated with a different medication, often prescribed by a different specialist doctor. Nonetheless, even for people with numerous medical conditions, pain is often the most burdensome symptom and it can have insidious long-term effects, not only on the sufferer's physical state but on their social life and emotional health as well.
A Swedish research study published in 2015 found that pain was the most common symptom (reported in two-thirds of the people studied), occurred the most frequently (more than 40% experienced it frequently to almost constantly in the past week), and was both the most severe and the most distressing symptom reported by a group of nearly 400 people aged 75 and up who had multiple chronic health conditions. (None of the people were hospitalized, lived in a nursing home or other care facility). In fact, to their surprise, the researchers found the pain scores for these older people living fairly independent lives were similar to those of late-stage, hospitalized cancer patients. While their severity of pain may be startling, the fact that it was not well treated is less so; several previous studies have found that older people tend to underreport their pain to their doctors, while their doctors tend to undertreat it.
Two related studies, conducted in Britain, found that social isolation was one common outcome of chronic pain for older people living at home, and for those who were married the isolation extended to their spouses as well. Planning ahead and coordinating with family, for instance, became just too difficult for people who didn't know when the pain would strike, or how bad it would be. Meanwhile, multiple studies have suggested the link between pain and depression is even stronger in older adults.
So the social and psychological ramifications for older people with chronic pain are profound and well-documented yet, as mentioned earlier, such pain may not be well treated. A recent American study discovered some key reasons older adults may not seek treatment for chronic back pain, including the beliefs on the part of both patient and doctor that pain is inevitable with age, and that other conditions the patients were under care for were more important.
Acupuncture is best known for treating pain, although the insertion of fine needles into designated points on the body has many other, broad-ranging effects on health as well. It has been much studied for alleviating pain, with many promising results, but less scrutinized for use specifically in older people. Nonetheless, a lot of older people use it. Unfortunately, they get no help from Medicare, under which the vast majority of Americans 65 and over are insured. Instead, they pay out of pocket, or with private plans or, more rarely, at free clinics for seniors. Such places are actually becoming more prevalent, at least in coastal California where I live. I conducted my doctoral research at one such clinic treating low-income people aged 60 and up who suffer from multiple chronic conditions. Essentially, I talked to them about what benefits they believe they get from acupuncture therapy, and why they keep coming back (in one case, for 15 years!).
The results showed that this group of people value acupuncture for much more than just pain although pain relief is a key component for most of them. But for some, it has affected their daily lives in other ways, including their social selves and even their self-image. These effects may have something to do with the relationship between pain and isolation and pain and depression, or possibly something else. I welcome you to come to my presentation on March 22 during ASA's 2017 Aging in America Conference to learn more.
Rachel Pagones, L.Ac., is a doctoral candidate at Yo San University of Traditional Chinese Medicine in Los Angeles, Calif.