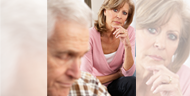 By Lorie Eber
Imagine you married your soulmate and raised three children together. Then your husband, at age 65, suffers a massive stroke, can no longer speak and becomes incontinent and cognitively impaired. Emotional support is a one-way street and intimacy is nonexistent. You devote all your time to meeting his needs and juggling financial worries as medical expenses exhaust the family assets. Your only outing is a monthly caregiver support meeting. The stroke has imprisoned you in the unsolicited role of mother rather than wife.
This is Mary's story. She has coped for five years, concentrating her energies on caring for her husband. But, she says, a "switch went on" when, at age 61, a longtime acquaintance expressed a romantic interest in her. She reciprocated, thinking she had earned the chance to create a happier future for herself.
"I feel like a woman again," says Mary, who credits this companionship with enabling her to finally abandon her desperate longing for her pre-stroke life. She doesn't feel that she's cheating on her husband. Rather, she describes her situation as "married, with special circumstances."
The Casualties of Caregiving
One in 10 Americans, about 25 million, lives with chronic diseases such as multiple sclerosis (MS), Parkinson's, cancer and stroke, all of which cause major limitations in daily activities. Alzheimer's disease afflicts 5.4 million in the United States, and that figure represents only 60 percent of those with dementia. Most Alzheimer's patients are 65 or older, but 200,000 have the early onset variety, which occurs when patients are in their 40s and 50s.
Most of those with chronic conditions are cared for at home, often by a spouse. And spousal caregiving isn't the exclusive purview of older adults. Seventy-five percent of the members of the Well Spouse Association, the only organization exclusively devoted to spousal caregivers, are age 65 or younger. The group's members are trending younger, too, in the 20- to 45-year-old age range; they are tending to veterans who have returned home with traumatic brain injuries, amputated limbs and post traumatic stress disorder.
Of the 48.9 million informal caregivers in the United States, 36 percent care for marital partners. Research documenting the chronic stress experienced by family caregivers abounds: Sixty percent are clinically depressed, and self-neglect is the norm. Their health and careers become low priorities. Caring for a person with dementia is so taxing that 30 percent of caregivers die prematurely, outlived by the care receiver.
Loneliness, loss of identity and lack of intimacy are constant companions of long-term caregivers. Not surprisingly, some seek to meet their emotional and sexual needs outside marriage.
Caregivers Navigate Difficult Waters
This confluence of long-lived people with chronic disease and relatively young caregivers looking at years of sacrifice is creating novel moral and ethical dilemmas that evoke strong reactions. Does a marriage still exist when the ill spouse is incapable of providing love and affection? Does "in sickness and in health" obligate caregivers to devote themselves to their partner's needs, at the expense of their own, for the duration? In grappling with these thorny issues, caregivers are navigating uncharted waters. Each responds in his or her own way.
At the time Joe and Sue met, Joe's wife had been suffering from MS for 20 years. Sue's husband was diagnosed with vascular dementia five years earlier, when she was only in her 40s. This couple has been romantically involved for a year and a half. Before she met Joe, Sue felt she was "drowning." But now, she says, "We no longer hate our lives." In forging this new path, the couple struggled with guilt and felt condemnation from others. They share their personal story to embolden others to "come out" and tell their stories to "pave the way for acceptance and respect."
Suggested New Rituals
The phenomenon of finding solace outside of marriage is openly discussed in the religious community. Television evangelist and former presidential candidate Pat Robertson recently described Alzheimer's disease as "a kind of death," and suggested to a listener at an appearance on the Christian Broadcast Network that he "wouldn't put a guilt trip" on a caregiving spouse who took a lover. 
Rabbi Richard Address, who was instrumental in creating the Sacred Aging Project to provide support to aging baby boomers on their spiritual journeys, reports that this issue "comes up constantly, in every single workshop." The Project was founded to raise awareness and create resources for congregations to address the emerging longevity revolution.
Rather than condemn caregivers who take lovers, Address recommends instituting a ritual in which spouses agree to a continued commitment to care for their spouse if one of them should become ill, but the agreement would also give the caregiver spouse permission to have a relationship outside the marriage.
Rabbi Philip Bazeley created such a ritual, founded in the Jewish concept of an agunah—a concept that describes the legal limbo of a wife whose husband has abandoned her, or other situations, such as a spouse who is missing in combat. The ceremony is designed to reaffirm the caregiver's commitment, while at the same time acknowledging that "the mind and essence" of the partner "can no longer be found despite the fact that his [or] her body is still alive." It concludes with this statement: "Our lives now take different paths." For some, such a rite may assuage the guilt feelings inherent in finding intimacy outside the marriage.
As an attorney, I envision a contractual agreement. At the time of a dementia diagnosis, the spouses might discuss the implications of long-term caregiving and reach a consensus on their views of marital fidelity. In some cases, the ill spouse may decide to grant his or her partner permission to take a lover if and when he or she is no longer capable of intimacy.
Other Caregivers Choose Different Paths
Then there's Barbara. In her early 60s, she devotes every waking hour to caring for her husband, who has a rare neurodegenerative disorder. Although Marty is incontinent and mute, she still finds him to be "a strong, soothing presence" and vehemently rejects the idea of seeking companionship outside her marriage, relying on her faith and support from other well spouses. Still, she does not condemn those who find comfort elsewhere, simply saying, "Everyone is different."
How can eldercare professionals help well spouses who may face many long, difficult years of caregiving? First, apply standard caregiver advice: make time for yourself and reach out to others for support. Then withhold judgment—realizing that for some caregivers such support will mean seeking intimacy outside the marriage when there is none within.
---
Lorie Eber, J.D., is a gerontologist and certified personal trainer who teaches gerontology at Coastline Community College in Fountain Valley, Calif. Her website is www.AgingBeatsTheAlternative.com. In order to protect their privacy, individuals' names in this article's personal anecdotes have been changed.
Editor's Note: This article appears in the November/December 2012, issue of Aging Today, ASA's bi-monthly newspaper covering issues in aging research, practice and policy nationwide. ASA members receive Aging Today as a member benefit; non-members may purchase subscriptions at our online store.
Photo: istockphoto/rmonkeybusinessimages