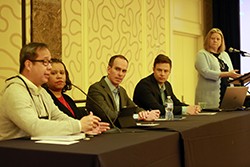 By Alison Hood
For five decades, the AARP Foundation has worked to improve the lives of low-income older adults—to end senior poverty and improve well-being and quality of life. It addresses food insecurity, housing, income and social connections, and collaborates with individuals and organizations on innovative solutions and problem-solving.
On March 26, the AARP Foundation sponsored and presented "Innovation for Impact: What We Have Learned?" featuring four experts and entrepreneurs from the Foundation, sharing best practices for ending senior poverty.
Moderated by Emily Allen, senior vice president, Programs, panelists included Paolo Narciso, director, Income; Kimberly Perry, director, Food Security; Marc McDonald, vice president, Grants and External Initiatives; and Zach Leverenz, vice president, Impact Areas—all from the AARP Foundation.
Ideas—the Basis for Good Solutions
Part of the Foundation's mission, Allen said, is to change society's perception of aging, to elevate issues affecting older adults and to educate others about these issues.
What has the Foundation learned? Allen asked. "Over-investment in our own solutions" is to be avoided. In the team's quest to problem-solve, they often were so enthused about solutions in development that they tended to "seek a problem to fit that solution."
They now aim for the reverse, said Allen: to identify problems in community and shift the mindset to collecting comprehensive data about elders and their needs, and get their ideas and insights. The team uses this data, hypothesizing and testing to develop programs that serve the community.
First, Talk to People!
"[Focusing] on the person who we are solving for" is of key importance, said panelist Narciso.
Perry, the Foundation's expert in food insecurity, said they have instituted nine programs over the last years and though six were successful, three were not. "Looking through the lens of success and failure" is a must, she said. To Narcisco's point, she noted the importance of getting consumer buy-in for any program—to not just observe elders, but to talk with them and build in their input—which is imperative to creating human-centered programming.
Leverenz said those conversations are "purposeful and intentional. [We] listen first to what the problems are, get people's insights and then organize ideas and begin to design a model, with potential avenues and solutions that emerge from idea themes."
The Process and Outcomes
During the next step, the team develops a couple questions pivotal to addressing problems, and "time test" ideas in the community in accelerated "sprints," after which they test the full program—a process that can take up to three years.
"The scale and measures for how we define success is important for designing solutions," said Leverenz. "We had to define what the outcomes would look like," added Allen.
"What we're doing is … a relentless process," said Narcisco. He underscored the constant need for analysis: First, understand the problem. Then ask how to make the solution easy for people to act upon or use. Who is the customer? What is the demand?
Perry said the team has discovered, for example, that people want solutions to food access and insecurity "that preserve dignity" and empower them. "There's a piece of our work that's called the 'customer journey,' " she said, noting they must guard against being "biased in our agenda [to help]. We take the journey with them and we listen—that deletes our bias."
As an example, Perry cited the Foundation's Fre$h Savings program, a shared-value partnership (with Kroger) that gives people a $20 incentive, accessed via SNAP, to buy fresh fruit and vegetables from brick-and-mortar grocery outlets and farmers markets. People swipe their SNAP card and receive $10 coupons, twice monthly. Finding that uptake was lower in grocery stores than at farmers markets, the Foundation tweaked the program to allow users to get immediate savings at point of purchase. In 2017, the program served 125,000 people, but in 2018 served more than 500,000 because of the program change.
Strategies for Successful Funding Outreach
Shifting the discussion to grantmaking—Allen asked panelists for insight on grant management and outreach. "How do we talk to funders?"
McDonald, who manages the Foundation's grantmaking process, emphasized program outcomes and the importance of maximizing these to have solid results to show to funders. First ask: What are the best opportunities to improve programs? Securing funding, said McDonald, is "less about trying to get funders to fund, but more about continuous improvement in programs and exponential return."
He emphasized knowing "how to scale the program, not just stick to budget." The biggest challenge, McDonald said, is that "most strong event-space programs are really expensive," as often they involve one-on-one interaction with a social worker or case worker, driving a high cost-per-person to implement.
The question remains: How to create a portfolio that influences funders to want to invest in high-touch, effective programs? Leverenz said one strategy is to continuously test solutions and success measures, and flow this data to the grantmaking team.
Partnering Up for Shared Value
Allen brought up partnerships, noting that the Foundation sometimes works with partners outside the nonprofit arena. She asked: How can we work with these shared-value partners? And how to work across sectors for best program operation and outcomes?
Narcisco emphasized looking for ways to make programs sustainable, and urged looking at shared value: Is there a potential partner in the for-profit world that can benefit from how we solve the problem? For instance, garnering a partnership with a real estate developer to provide access to affordable housing for low-income elders could be a win-win outcome.
McDonald stressed that an effective funding discussion was key, advising a "shared-value approach," which takes into account the needs of the customer, the provider partner and-or the funder. To co-create programs with partners, "make sure you know what your provider's values are. The intersection of what the Foundation wants to provide and what the partner's values are must be clear," he said.